Craft beer fever is sweeping the globe and La France is not immune. Numbers of artisanal brasseries have almost tripled in a few short years. Here in the P-O young skilful brewers are discovering our cool crisp gin-clear sweet water is the perfect ingredient. A native of Normandy, Mt Canigou's snow melt drew Jean-Fabien Casteuble here 10 years ago. Since then he and his wife have built up Brasserie Alzina in the heart of Bouletenere and now lovingly produce 60,000 litres a year of high quality craft ales. We visited, asked a few questions and sampled his beer.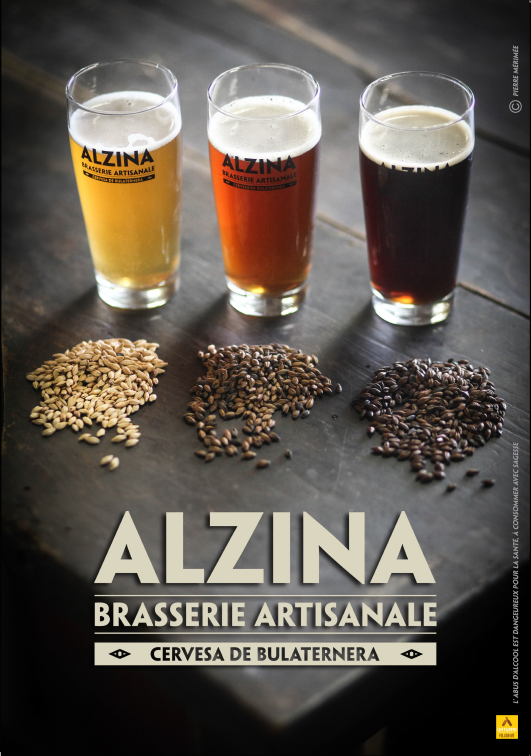 La Ginade – Blonde Sur Lie 5%
A lovely session ale perfect for a match day BBQ or something to sooth a parched throat. Slightly cloudy of course with balanced hops, good body yet quite light. Seafood tapas, or rich local tapanade smeared over fresh baked bread. Chilled of course
Blanche 5%
A totally beguiling ale. Brewed with orange blossoms yet not overly floral. A hard to describe slight cardamon or coriander linger. Toothsome full bodied ale yet light. Lovely pale tawny colour, try it with a luscious tagine or a vegetable dahl. Chilled but not too cold.
Ambre 5.5%
A northern style ale brewed with a hint of wild mountain thyme. Slight floral, good head without being frothy. Lovely red/brown colour. It will look after you on cooler evenings beside the fire with a good book. Hard cheeses, perhaps a few lightly salted cashews or pistachios. Not too chilled, it's winter.
Brune 6% A full bodied brown ale that would be at home in Newcastle, lovely nutty flavour with plenty of hops aroma. Chocolate brown colour, appropriately dimensioned creamy head. To be respected, it will make a statement at the dinner table. Roast beef and Yorkshire pudding. Take the heat out of it but not too much.
Your visit
This is a genuine boutique brewery, tastings are conducted among pipes, stainless steel tanks and bags of barley. To help visitors Jean-Fabien asks that Tuesdays be the day for tastings and tours. Taught his trade by an English craft brewer so he speaks your language.
Good facilities and parking.
His ales are also available at local outlets, details ON THE WEBSITE.