Journée des Femmes
International Women's Day 2018 will be held on Wednesday 7th March, with activities taking place 5th-11th March.
 #PressforProgress
In England, 2018 marks the centenary of the Representaion of the People Act, when (certain) women won the right to vote for the first time. One hundred years on and the World Economic Forum predicts that gender parity is still over 200 years away!
There have been several important international gender equality movements over recent months, including #MeToo and #TimesUp. Although these campaigns gave an indication of the worrying extent of the problem, they also showed the huge global support for finding a solution.
As the International Women's Day group says, we cannot be complacent. We must continue to motivate and unite friends, colleagues and communities to #PressforProgress.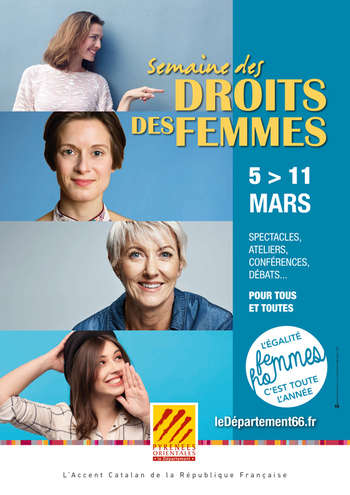 With many events across the region, now is your chance to be a leader within your own sphere and participate in purposeful collaboration to enhance the roles and rights of women around the world.
Programme
| | | |
| --- | --- | --- |
| Monday 5th | Schools across the region | Filles-Garçons, Demain nous appartient. Theatre production and discussion aimed at engaging young audiences on the themes of gender equality, sexual violence, sexism, consent and online safety. |
| Monday 5th 2pm | Maison Social de Proximité Perpignan Nord | Frida. Film screening and debate of the life and works of the Mexican artist that fought so hard for gender equality. Free entry. |
| Tuesday 6th 3pm | Maison Social de Proximité Conflent | Contraception: tout SEXplique. Opening of exhibition by French family planning association with the aim of opening a dialogue on contraception and abortion. Exhibition open 5th – 11th 9am – 12pm / 2pm – 5pm. |
| Tuesday 6th | Schools across the region | Rapports Filles-Garçons. School activities aimed at preventing gender related violence. |
| Wednesday 7th | International | International Women's Day & Day Against Gender Stereotypes |
| Wednesday 7th 10am | Palais des Rois de Majorque, Perpignan | Contes à Rebours. An anti-sexism rewriting of classic faerytales, bringing agency to our favourite childhood heroines. |
| Wednesday 10th 2pm | Palais des Rois de Majorque, Perpignan | Buzzons contre le sexisme. Launch of video competition, with screenings of short films created by local young people on the theme of sexism. Winner elected by public vote, awards ceremony at 4.15pm. |
| Wednesday 7th 3.30pm | Palais des Rois de Majorque, Perpignan | Le Grand Chaperon Rouge. Big Red Riding Hood takes to the stage in an alternative, gender-equal version of the faerytale classic. |
| Wednesday 7th 7pm | Palais des Rois de Majorque, Perpignan | Contes à rebours. A performance inspired by real accounts and experiences of women fighting for their rights in everyday life. |
| Thursday 8th 9am – 12pm / 2pm 4.30pm | Centre de Formation La Rouatière IUP, Perpignan | L'évolution de la place des femmes dans la société. Open day for local associations and linked with gender equality, women's rights, social and professional inclusion… Conferences, debates and exhibitions. |
| Thursday 8th 10am – 5pm | Salle des Libertés, Perpignan | Journée d'information et prévention des AVCs chez les femmes. Stroke is the principal cause of death among women in France. A series of conferences and workshops aim to inform the public on identifying symptoms and finding means of reducing the risk. |
| Thursday 8th 6pm | Café Pams, Perpignan | La liberté, a-t-elle un sexe? Exchange and discussion of the work of French feminist anthropologist, Françoise Héritier, particularly her time spent in Burkino Faso. |
| Thursday 8th 6.30pm | Maison de la Catalanité, Perpignan | Alexandra Kollontaï: La révolution, le féminisme, l'amour et la liberté. Reading and debate on the life and works of the Russian politician and equal rights activist. |
| Thursday 8th 7pm | Centre Culturelle, Cabestany | Itinéraires de Femmes. Meeting and exchange with women engaged in different domaines: humanitarianism, solidarity, sport, health etc. |
| Thursday 8th 7.30pm | Parc des Sports, Perpignan | Soirée Handball. Mini tournament for all women over the age of 16. |
| Friday 9th 2pm / 6.30pm | Maison Départementale des Personnes Handicappées / Hôtel du Département, Perpignan | Prévention des violences sexuelles contre les femmes. Conference hosted by Emmanuelle Piet, president of the Moth and Child Protection & Feminists against Rape associations. Repeated in different locations for a maximum reach. |
| Saturday 10th 11am | Maison de la Catalanité, Perpignan | Résurgence. Opening of photography exhibition with poetry reading on the themes of overcoming childhood violence and the development of the female psyche. |
| Saturday 10th 1.30pm | Maison de la Catalanité, Perpignan | L'Agonie de Gaïa. Reading of novel, Strange as this Weather has Been, by American eco-feminist, Ann Pancake. |
| Saturday 10th 3pm | Maison de la Catalanité | Empow-her. Conference on the eco-feminist movement, empowering women through their connection with nature, based on accounts from indigenous Canadian communities. |
| Saturday 10th 8.30pm | Palais des Rois de Majorque, Perpignan | Micheline. Theatre performance retracing the life of a woman sharing the same destiny as her mother and grandmother before her: exile during La Retirada. |
| Sunday 11th 4pm | Palais des Rois de Majorque, Perpignan | La Puissance Lyrique des Vois des Femmes. Choral performance and conference on the power of women's voices. |
| Throughout the week | Cabestany | Le Nom des Rues de Femmes Engagées. Discover the stories behind the streets bearing the names of socially and politically engaged women. |