Taking, and Passing, our 'Permis Bateau – Mer Côtier' Exam
by Sally Rose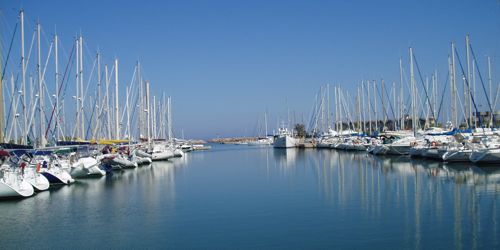 Two years ago while on holiday in Croatia, we thought how nice it would be to hire a boat for a day and motor around the small islands just off the coast, but neither my husband, Han, nor I knew anything about boats.
In June I bought Han a training course to take his 'Permis Bateau – Mer Côtier' as a birthday present. This would give him the necessary knowledge to hire a motor boat with confidence.
In fact, it was such a great idea that he insisted I also took the course. The license allows you to motor on the sea up to 6 nautical miles (11 km) from a place of shelter ('abris') and on inland lakes; so is fine for taking a trip along the Catalan coast.
I had enrolled him with Luc Bateau Ecole at Canet, so we went to see them and sign me up too. We handed over a cheque for their fees (395 euros each) and one for the Tresor Public (108 euros each for administration costs). We also needed a medical certificate signed by our GP, verifying there were no physical reasons why we shouldn't be able to drive a motor boat, and a couple of passport photos.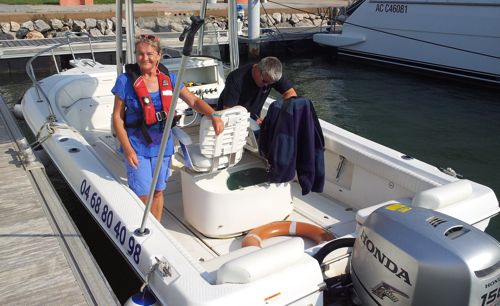 There are three stages required to obtain your license:
☛ A theory test in French, consisting of 30 multiple choice questions – you can make 5 mistakes and still pass.
☛ A 1.5 hour safety lecture given by Luc.
☛ A practical session on the sea in Luc's motor boat – 2.5 hours for two people.
We received a booklet of information and a user id and password for Luc's website. The website contains 12 tests, each of 30 questions, so 360 questions in all. This they told us was entirely sufficient to pass the theory exam. Really? The rule book of facts and regulations is a serious tome, so we were slightly doubtful about Luc's confidence in his summaries.
We decided to go to Luc's optional 2 hour lecture on Monday morning during which he goes through his booklet in more detail. This was worthwhile attending. Afterwards, we had lunch in Canet and spent the afternoon on the beach. Off to a great start.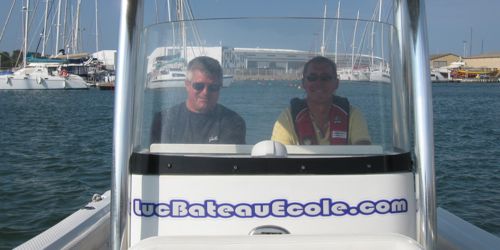 We both went through all the online tests 3 times during the following week, finally getting virtually every answer correct. Han is pretty fluent in French, but I'm not, so I put together a list of about 60 nautical (and other) terms in French with their English translation. Han found a useful website to supplement the information we had been given (www.permisbateauonline.com/permis-cotier/).
Early Friday morning we found ourselves in a hall in Port Vendres for the official test along with 23 other nervous candidates. The questions were projected on a big screen and everyone was given a handheld gadget to select the correct response(s) from a list of A, B, C, D. Their answer is automatically sent to the official's PC, so it's pretty nice technology when it works well, but it didn't. Technical hiccups meant the test started 45 minutes late. We didn't know the answer to the first question and had to guess, but thereafter, we recognised every question from Luc's online tests.
17 of the 19 people registered with Luc passed. Two other schools were represented with 3 people from each and none of these passed. So well done Luc. And well done us, because we passed.
After the test we drove to Canet for our safety lecture. One recent law is that you must have a ladder permanently attached to the side or back of a boat. So, when everyone gets drunk and jumps overboard for a swim, they can get back on-board afterwards. Apparently, there have been occurrences of people being stranded in the sea because no one thought to fit the ladder and there was no one left on-board to do so; resulting in multiple drownings.
After lunch we went out with Luc for a 2.5 hour training session on the sea. It was blowing a gale and the waves were enormous, so not ideal conditions for first-timers, but we did OK, not great, but well enough to get ticks in all the right boxes: steering a straight line; steering a course using the compass; doing a U-turn; man overboard rescue; anchoring; mooring; tying knots.
Now all we need to do is wait for the postman to bring our official permis.