A refreshing change
Tired of sand in every orifice? When the sea is calm and the sun is smiling, the beach is always a pleasure in the PO but sometimes it's refreshing to leave the coast behind and head inland to visit some of the many lakes of the region. Often sheltered from the Tramontane, some with beaches worthy of any reputable stretch of sand, and providing water sports, fishing or just a chance to get away from the crowds, the lakes of the Pyrenees-Orientales are worth a visit. Here are just a few…..
Lacs du Massif du Carlit

This cluster of of a dozen lakes of various sizes, nestled amongst the wild and beautiful landscape of the 'hautes Pyrénées' make the climb to a height of 2100 – 2300 metres worthwhile and rewarding. Quiet, remote and atmospheric, the views will take your breath away.
A fisherman's paradise, it is necessary to check out the fishing regulations before setting up at the side of one of the lakes as there is a section of 'no kill' area where all fish must be thrown back. Some of the lakes are natures reserves and fishing is not allowed. The lakes are supervised by 'mounties' on horseback.
In case of stormy weather, or just somewhere to get out of the sun at siesta time, there is an 'abri' or shelter between the Estany Sec the Lac de la Comassa , close by to the lakes del Viver and Negre
For a walk with a difference, you can hire a donkey from Puyvalador to accompany you on your tour around the lakes and carry your rucksack! (for more info, tel: 04 68 04 41 22 Rieutort)
Les Bouillouses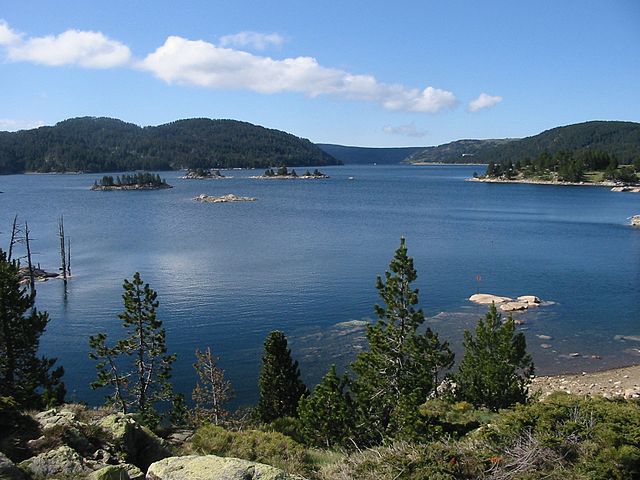 Between Font Romeu and les Angles, the man-made lake of Les Bouillouses is one of the most beautiful lakes in the area at an altitude of 2070 metres. A dam was built here at the turn of the century (an important water reserve : 16 million cubic metres) which provided some of the electricity necessary to run the little yellow train), and a pathway leads to the summit of the CARLIT peak at an altitude of 2921 metres.
It can be accessed by road from Mont-Louis but because of this ease of access, it becomes very busy in Summer, when shuttles operate from nearby car park la Borde in order to limit traffic.
The best way to visit this lake is, of course, on foot. From the lake at Matemale, also worth a visit for lake fans, visitors can take the chairlift to the station at the Roc d'Aude (2325m high). From there, there is a walk of about two hours to Les Bouillouses.
Villeneuve-de-la-Raho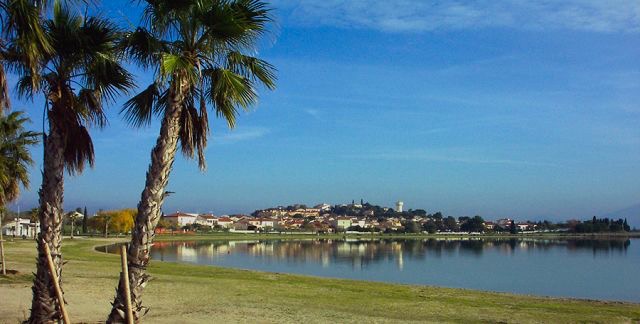 <doc1809|left><doc1807|right>Originally intended as a reservoir to supply local agriculture, the lake at Villeneuve-de-la-Raho quickly became a leisure area for sailing, fishing and sunbathing on the beaches specially created to accommodate the growing number of locals and tourists attracted to it for its easy access. Only 15 minutes from Perpignan centre (direction Porte d'Espagne/Barcelona) this lake is used all year round for walkers and joggers and also provides the water neccessary for the 'canadairs' in case of forest fires.
Vinça and Caramany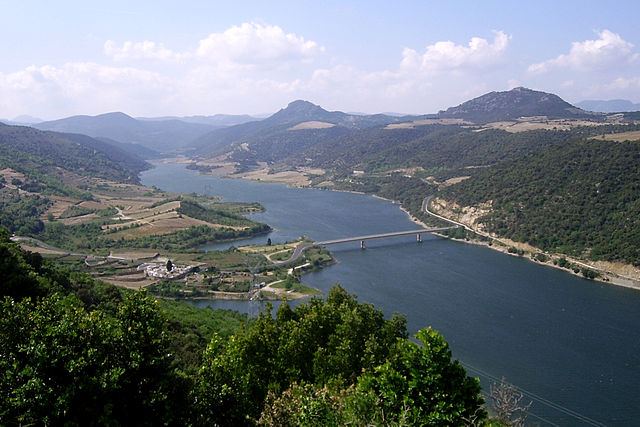 <doc1813|right><doc1815|left>Originally created from dams to supply water for agriculture, the lakes at Vinça and Caramany (Agly) are respectively thirty and ten years old, therefore very recent in 'lake years'. Both have become 'leisure lakes' with beaches, sailing, and supervised swimming as well as picnic areas, fishing etc. The lake of Vinça is easily accessible, just off the main road from Perpignan to Prades, and the Caramany lake is just outside Caramany (known for its excellent wine) near Ille sur Tet.
Marti, Palau de Vidre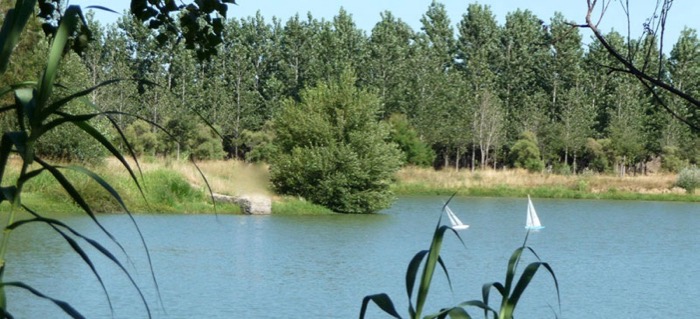 How about a spot of fishing, no permis required, for only 10 euros, payable on site? The Sant Marti lake is stocked with trout and carp, has a 'parcours de sante', (fitness trail) to encourage you to hop, skip, and jump around the lake, and makes a delightful day out with a picnic, the dog and the kids.