Out for the day : Walk the Dolmens
with Tim and Chris Parker
What you need to know before you go
A circular walk of 11 kilometres exploring the group of dolmens above the pretty village of St Michel de Llotes. Allow 4 1/2 hours.
Although there is 460m of ascent, both the beginning and end sections of walk are on DFCI forest roads, so good for those who like a gradual ascent/descent.
The sections of footpath in the middle are in shady cork oak woodland and offer excellent views.
Walking boots essential and poles recommended.
Take plenty of water and use sun protection (hat/sunscreen).
Access
map IGN 1:25,000 Thuir ; Ile sur Tet; 2448 OT
Take the D2 to St Michel de Llotes from centre of Ille sur Têt. Plenty of parking next to Mairie or just after it on the other side of a small park with picnic tables.
Toilet available at second car park.
Start of walk
As you set off, notice the wonderful collection of metal animal sculptures which start at entrance to car parks. Turn right out of car park, pass Museum of Agriculture and turn left over bridge, direction Caixas. After 200m, on bend, take DFCI piste on left.
The walk
Enter valley, soon taking sharp left bend and heading upwards to reach junction. Turn right and continue upwards above the Ravin des Canalettes.
Forty mins from start, when directly under the electricity cables, note large blue arrow on left indicating start of path to Los Masos (below), an incomplete dolmen. Path is steep and overgrown and once past the pylon, it is difficult to spot the dolmen as it is not visible from the path.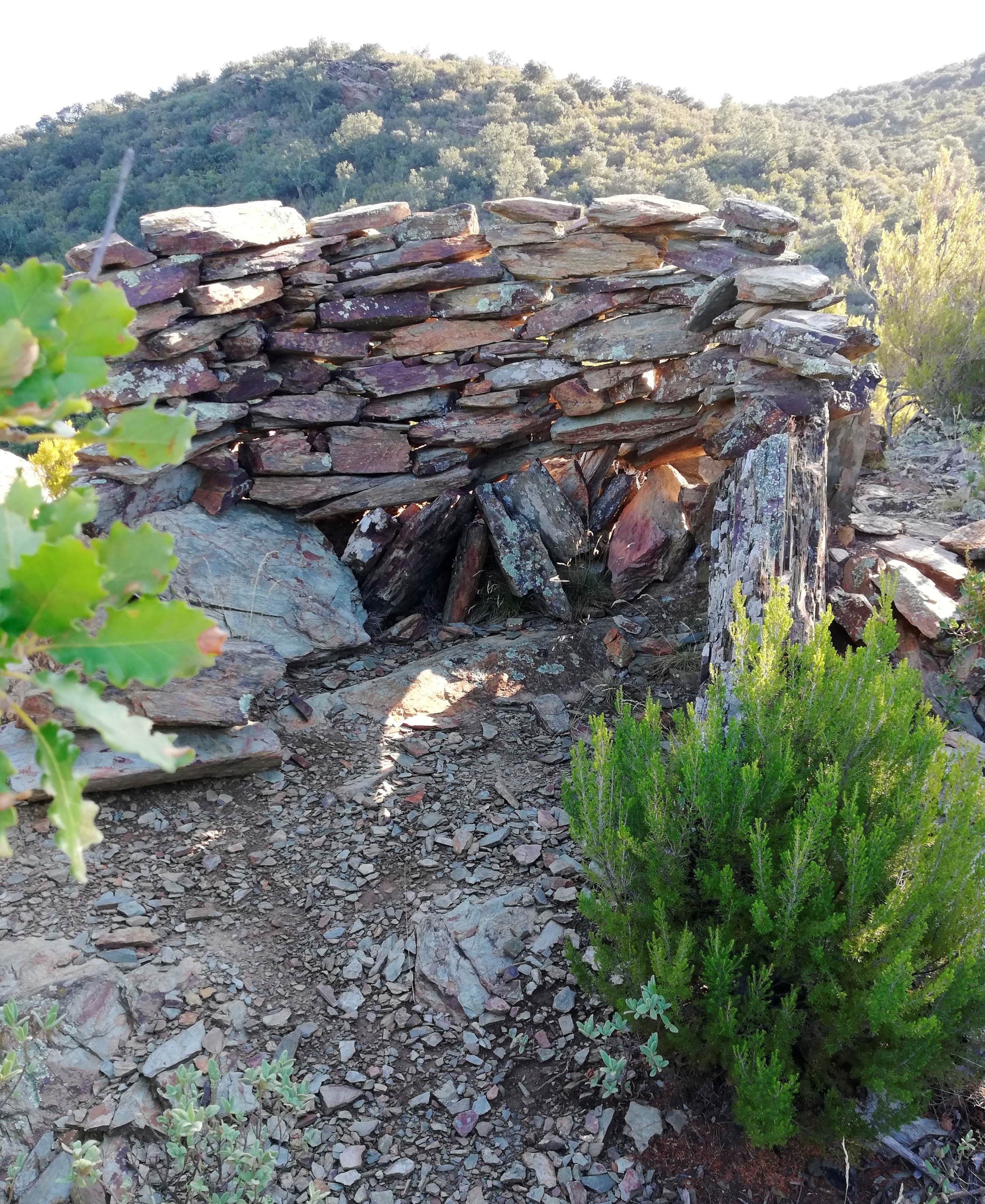 (We did this climb, which is an aller/retour, taking about 35 mins but we would not necessarily recommend it. If you are a complete-finisher, add the time and a climb of 70 metres to the walk!)
Continue up piste and eventually reach a rough tarmac lane. Turn left and soon take a piste to right, indicating direction Mas d'en Peyrot.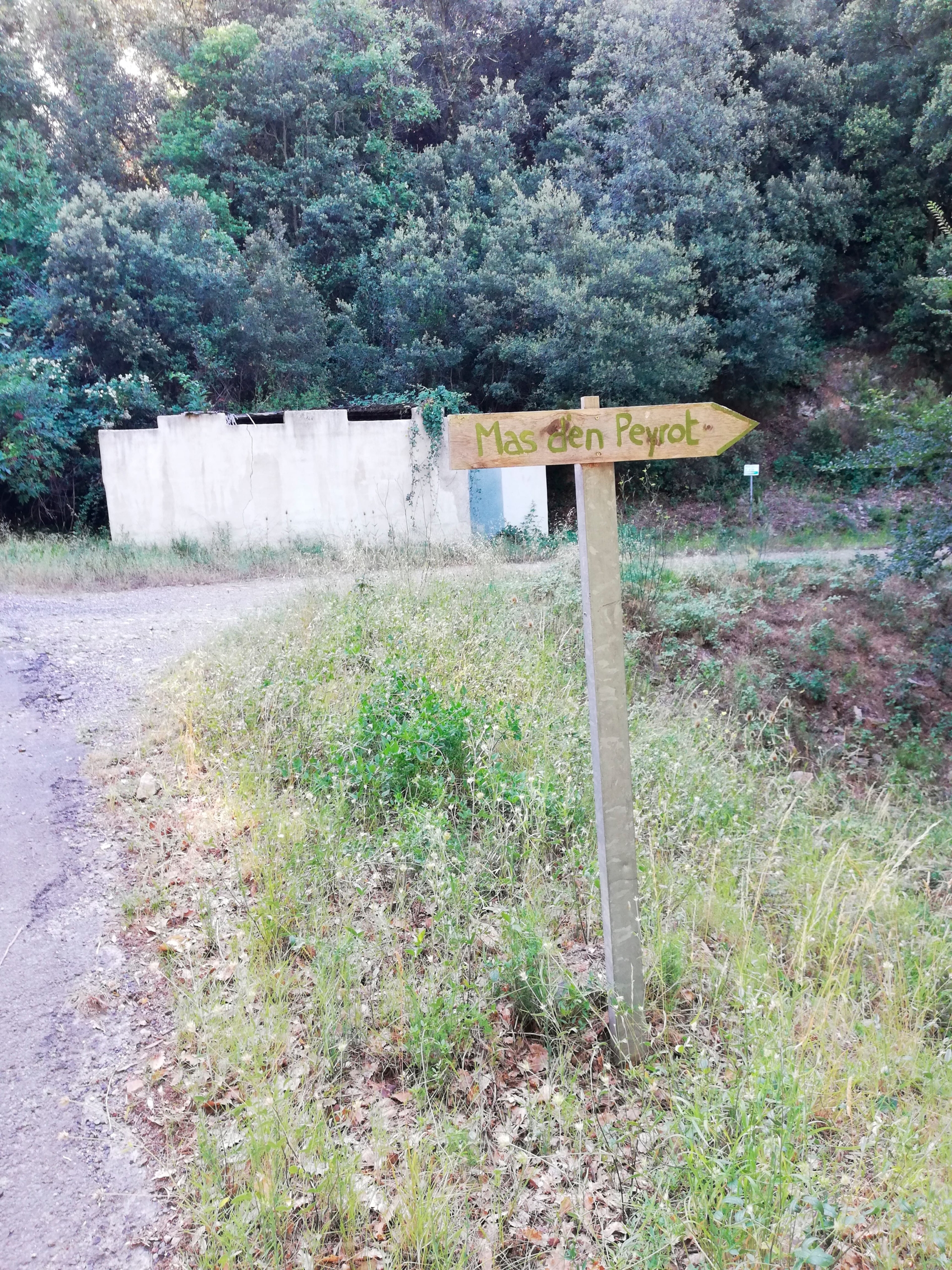 After some distance keep right at Mas d'en Peyrot. Notice the huge cork oak tree by its entrance on left.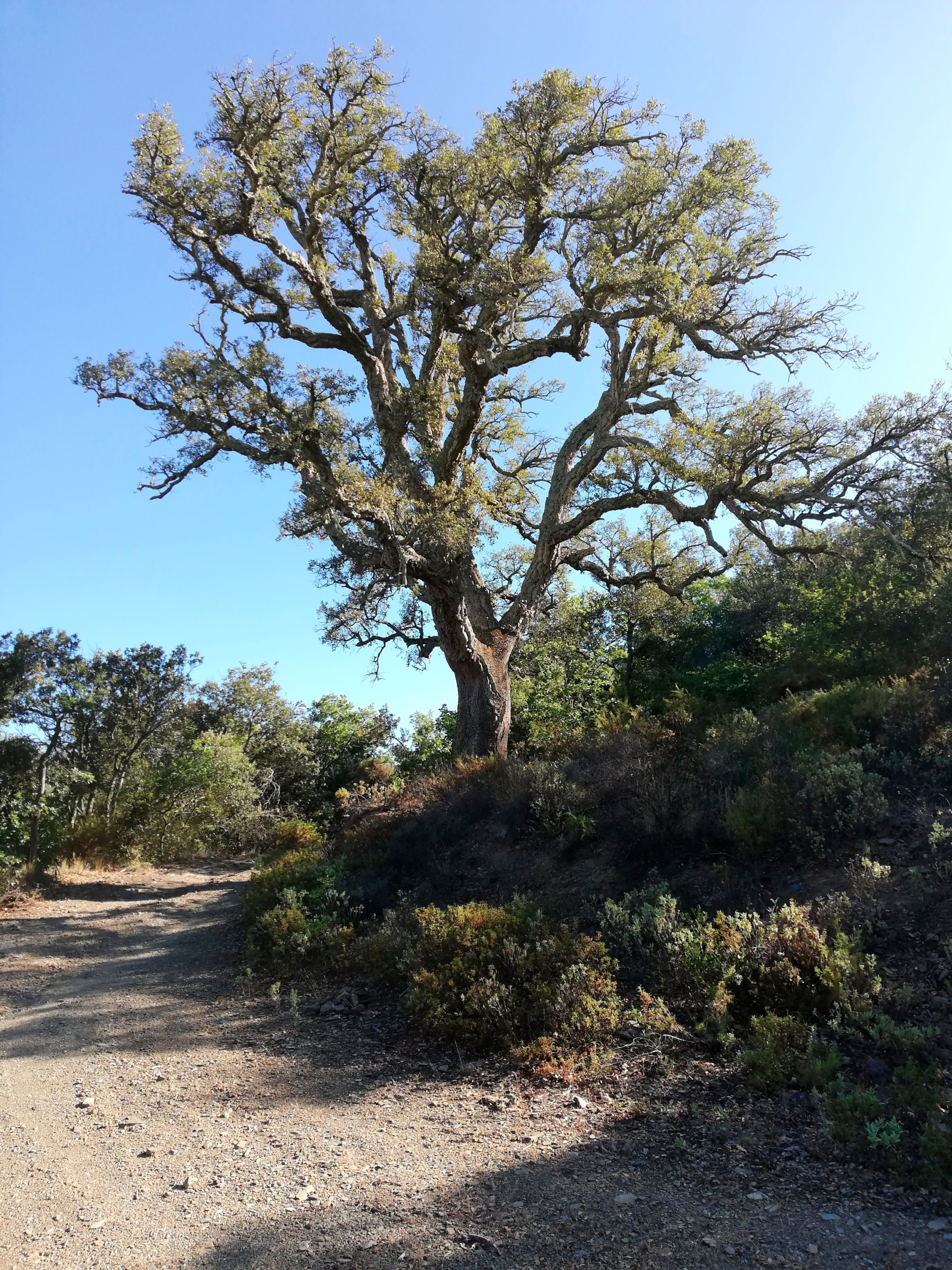 About 45 mins from the blue arrow, on a sharp left hairpin bend, find a footpath on right leading up through the oak trees. At top, arrive at dolmen of Puig Fournas (below). The chamber in the centre is about 2 metres long.
Explore the covering stones to find many cupules, some linked in the form of a cross and apparently used when pouring liquids.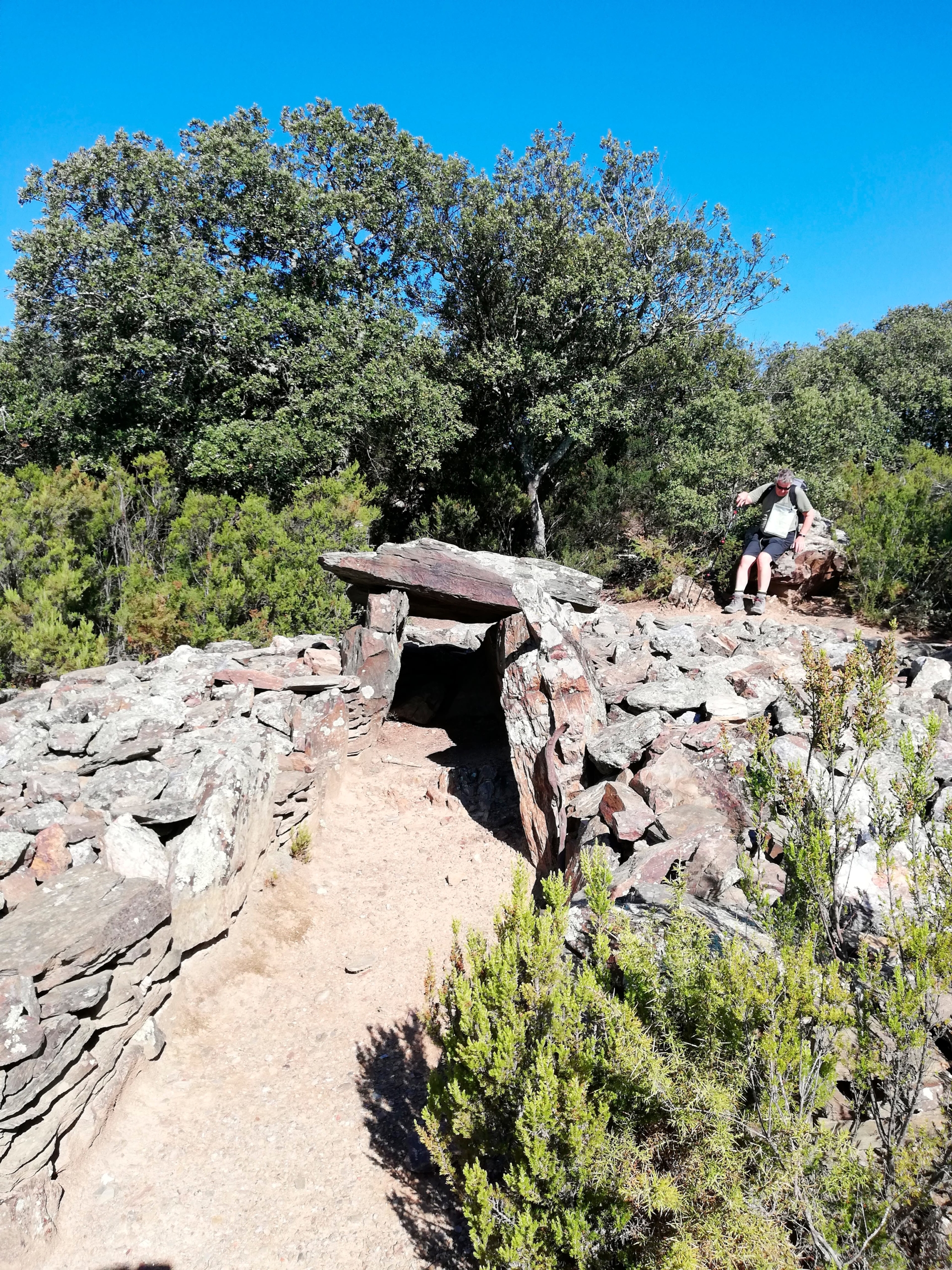 Footpath continues downwards. Emerge on piste and find the dolmen of la Creu de la Llosa. This also bears the marks of cupules and crosses.
A cairn at the site marks the start of path uphill towards the final dolmen, Serrat d'En Jacques. Views of le Canigou open up behind as you climb.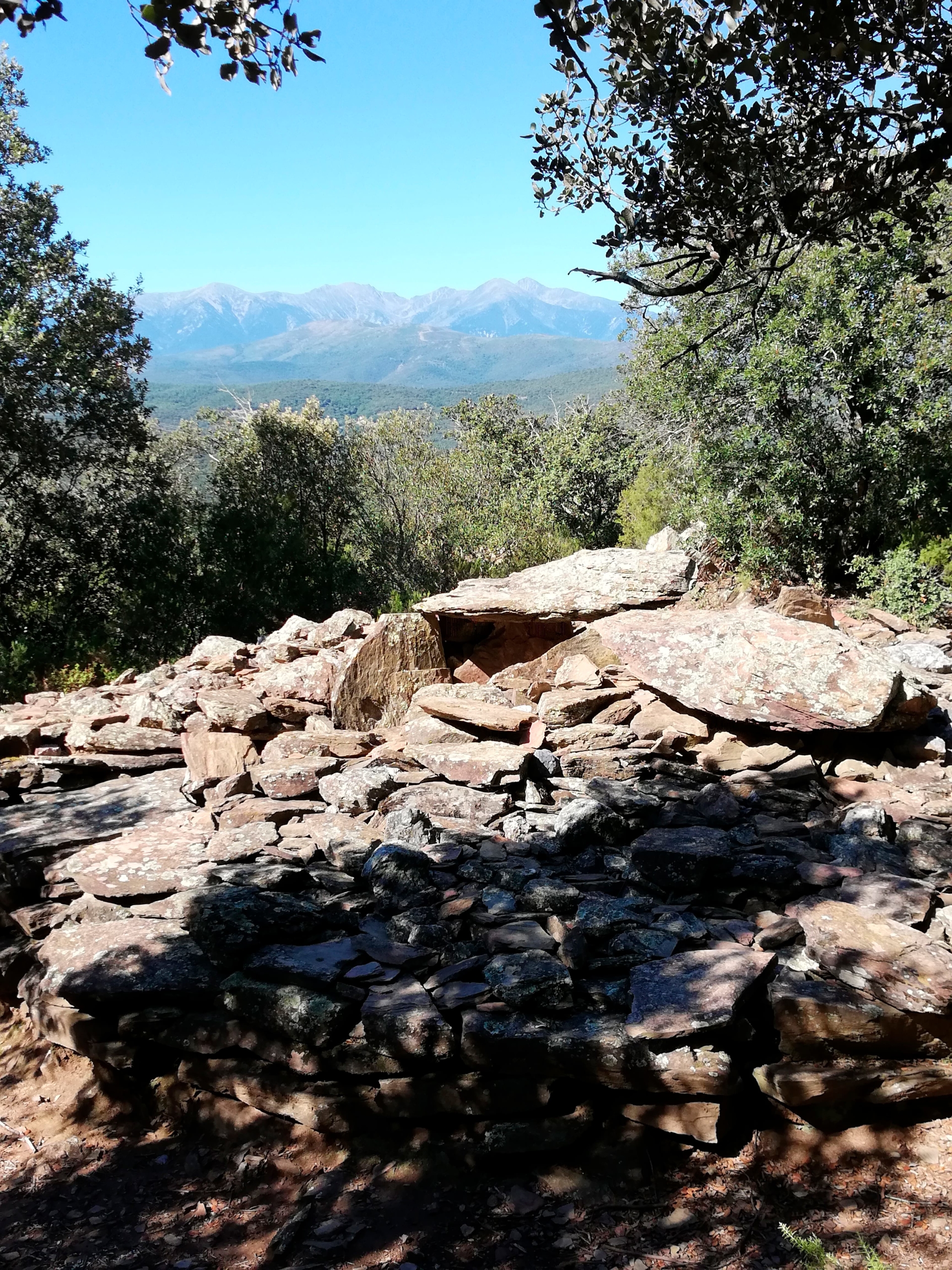 Behind the dolmen is a very large cairn or sculpture in a circle of stones. Pass to left of it, take the footpath downhill and arrive at a crossroads of pistes – with a pink water cistern and an armchair!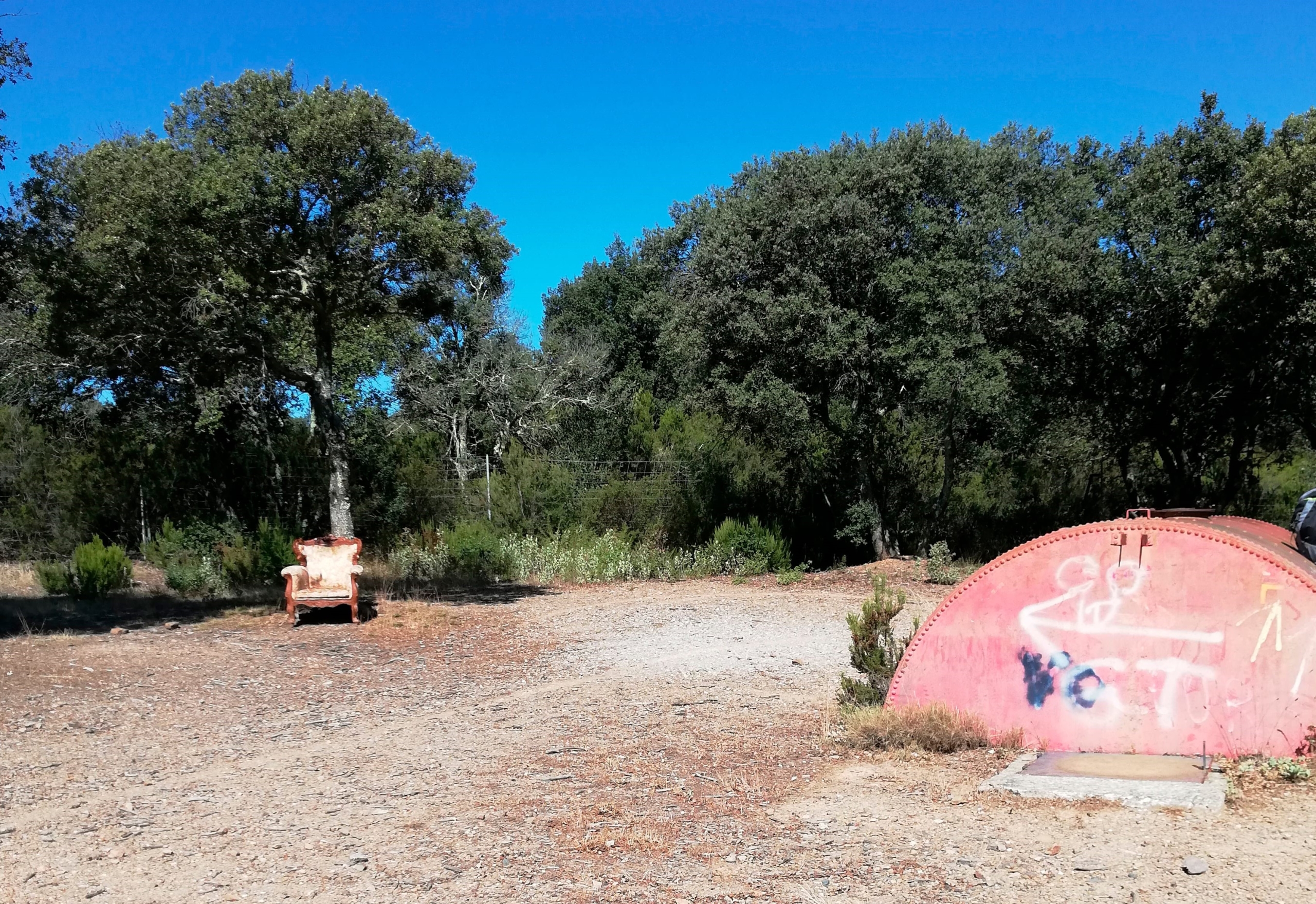 Cross to the pink water cistern, pass behind it and follow footpath with high metal fencing visible left. As the path gets close to fencing, bend right and see crossroad of paths: turn right downhill (marked by cairn).
Path drops and crosses a glade, with piste to right. At far end of glade reach top of small cliffs and take in great views of the Ribéral valley and mountains beyond.
Path descends to right of cliffs into another glade of trees. In this dip, at crossroad of paths, take path on left which leads down to the car park of the Ermitage St Maurice. Proceed left to site of Ermitage.
As you approach the Ermitage notice a small footpath on right. After your visit take this path down to the piste. Follow piste downhill, turn left at junction and continue for 3 kilometres or more.
Pass entrance to Mas Montplaisir halfway. At junction of pistes maintain the level you are on and continue to contour the hills.
When St Michel de Llotes comes into sight in the valley – a few houses and church evident on left in distance – look for a footpath on right which descends to village. It is just after a bend and another footpath descends from the hill opposite. Footpath emerges near a bridge over dry river bed. Cross bridge, turn left to return to car park.
(If you miss the path, emerge from piste at start point, onto D2, turn right to St Michel de Llotes and right again after bridge to find car park).
There are no refreshments available in the village but nearby Ille sur Têt has several cafés and restaurants, including our recommendation if you enjoy Asian food, La Table de Mai Li