The Easter Omelette, or 'Omelette Pascale is more than just a recipe in Catalonia – it's a whole tradition!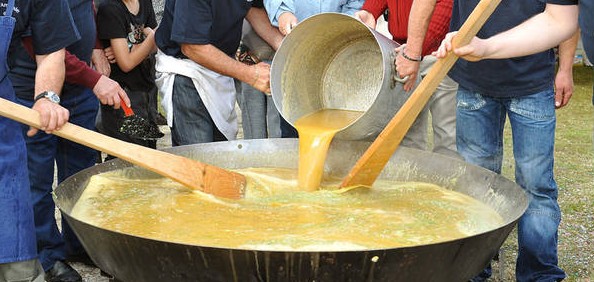 According to legend, Napoleon Bonaparte was travelling across southern France with his army when he first tasted an omelette prepared for him at an inn near Bessières. He was so impressed that he had a giant omelette made for his troops the very next day. What a nice man!
Fact or fiction, the omelette de Pâques became a tradition to feed the poor at Easter. Choirs would roam the streets in traditional Catalan costume, singing solemn Easter songs, ancient hymns signalling a return to life after the sadness of winter.



Families would stand in their doorways and listen in fervent silence to the religious 'goigs dels ous' (joy of the eggs) before placing, in thanks for the music, gifts of eggs, black pudding, charcuterie, wine into the 'cistella', a basket for carrying home the spoils. The singers would end up with everything they needed to cook up a delicious Easter omelette the next day, preferably over a roaring fire out in the open air, often as part of a picnic or get together to symbolise friendship and fraternity.
CHECK WITH YOUR LOCAL TOURIST OFFICE FOR A GIANT OMELETTE EVENT NEAR YOU