Market days in the Pyrenees Orientales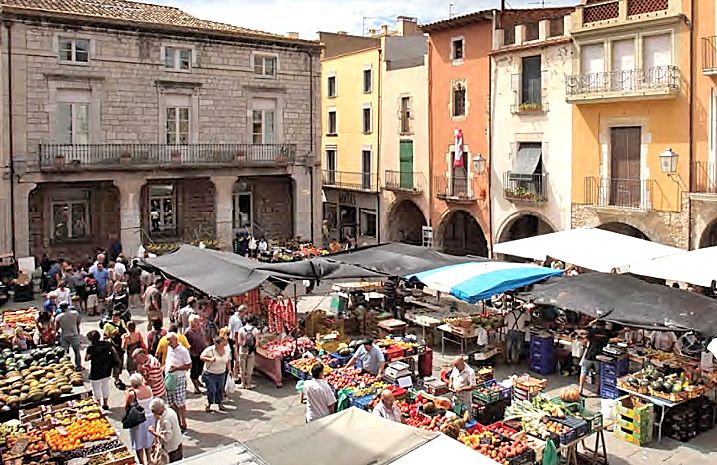 See also our list of terroir events in the Pyrenees-Orientales and summer night markets.
Days and dates are subject to change and it is worth checking with the local Tourist Office beforehand.
---
What do you think?
What you think of these markets?. Which ones have you been to? Was it good? Not so exciting? Are there other things going on? Have we got the days right?
Leave a comment with your insider market info
---
Small market everyday – Place de la République 7H-12H
Thursday: Place de la Sardane 8H-12H30
You say….
The daily market in Amelie is mostly a fruit and vegetable market, there is one stall selling local wine and cheese and another selling honey too. The van selling meat and charcuterie is always there too. However each Thursday there is a general market in the Place de la Sardane. Both markets are good and quite handy to have.

Tuesday
Wednesday and Saturday – village centre 8H-12H
Le Petit Marché – everyday – boulevard de la mer 8H-12H
Marché bio (organic) – Tuesday morning
Craft market – summer season Boulevard des Platanes 17H – 24H
Night market – summer season Avenue de la Liberation from 16H and Rue République from 16

Wednesday 8H-12H30
Monday, Wednesday, Friday and Sunday in the village (seasonal)
Wednesday, Friday and Sunday beach (seasonal)
You say….
(The beach market is…..) big and bustly and there are at least 4 restaurants round the edge of it which do reasonable menu de jour.
Tuesday, Friday
Baho
Wednesday
Baixas
Wednesday
Thursday and Sunday morning
Night market
Saturday

Thursday
Wednesday and Saturday – village
Monday -Canet Plage Sud
Every day except Monday and Wednesday – place foment de la sardane (behind the Casino de Jeux) – Canet plage centre
July and August
Every Saturday – Night market – port
Every Monday morning – Canet sud
Every morning (except Monday) – place foment sardanes
Every Wednesday and Saturday morning – canet village
Every evening – artisans – villages d'échoppes place méditerranée
Canohès
Tuesday and Thursday
Tuesday and Friday 8H – 13H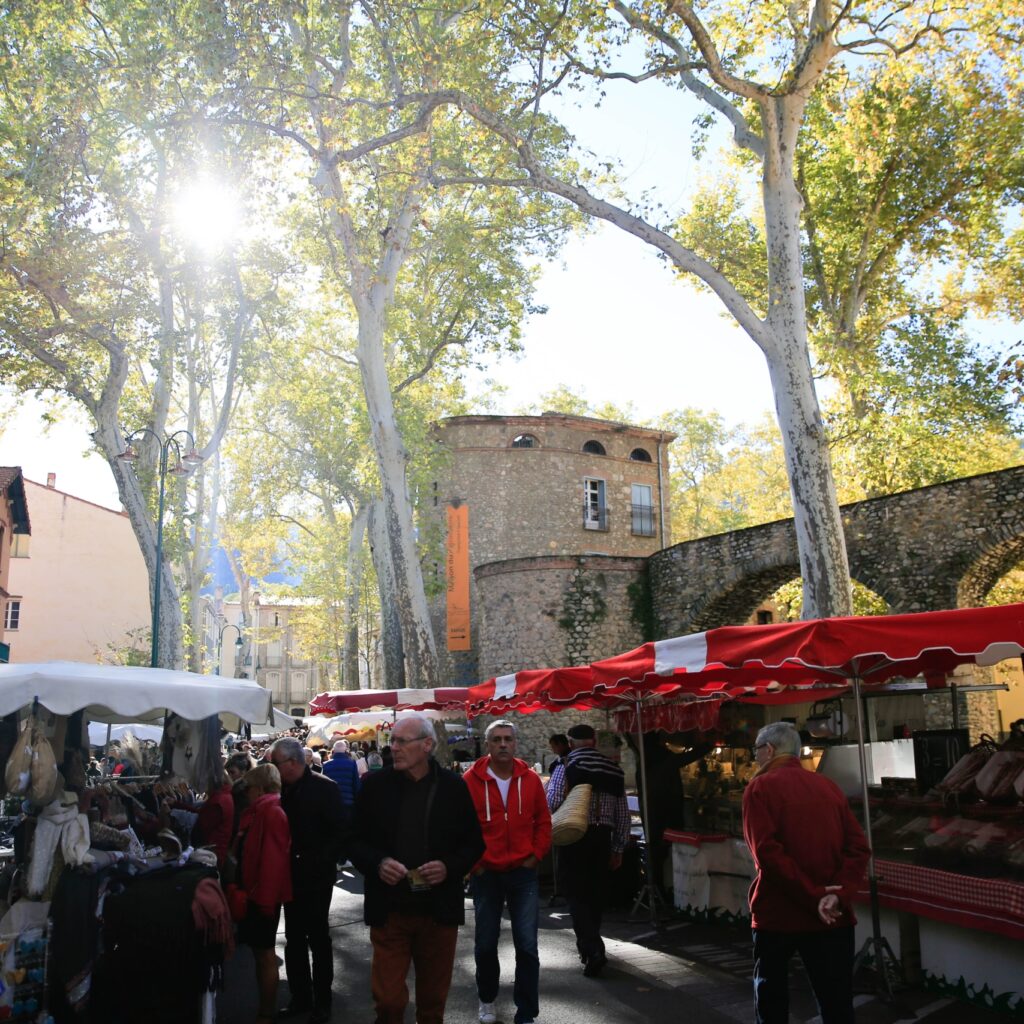 Saturday 8H – 13H
Wednesday mornings – Local produce market – Arcades de la place Picasso
Night market 'Les Vespéralles' every Tuesday from June to end August
You say….
One of the best markets in the region – loads of atmosphere, accordion music etc. Very French. TOO crowded in summer tourist season in my opinion but full of colour, sights and smells.

Claira
Wednesday and Friday
Corneilla-la-Rivière
Wednesday and Friday
Wednesday and Sunday morning 8H – 13H
Monday, Wednesday and Friday
You say….
Elne is a really lively market on a Friday in Summer. I wouldn't really say it's a tourist-trap, offering all sorts of general goods, 3 excellent sewing/knitting stalls, and of course the usual olives, spices and fresh fruit and veg. With our visitors we sat at a café and had coffees, were treated (?) to some local bagpipe band's offerings, and picked up a freshly spit-roast chicken to take home for lunch. Quite easy parking too. Recommended.
Le marché d' Elne je l' ai beaucoup apprécié. Très étalé avec de nombreux commerçants, je l' ai trouvé très attractif et très diversifié.

Monday and Thursday
Monday and Friday
Wednesday and Friday mornings
You say….
Small market but very lively and worth a visit
Wednesday 7H30 – 13H
Latour de France
Fridays
Thursday morning
"Gouts senteurs Catalanes"
Sunday morning
You say….
Food on the side street, clothes and all else on the main street, several bar/cafe's for a break.
Le Soler
Monday, Tuesday and Saturday
Tuesday and Thursday morning
Tuesday, Thursday and Saturday
You say…
Maury has just a veggie stall

Millas
Tuesday and Thursday
Tuesday 8H – 13H Place de la Mairie
Thursday (Summer only)
Thursday
Tuesday and Thursday
Daily – more details
Saturday morning Place de l'Obélisque
Pollestres
Monday, Wednesday and Friday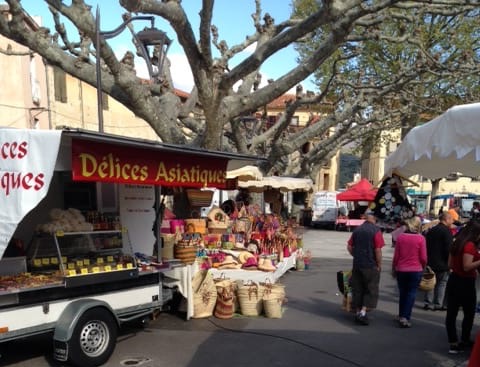 Tuesday morning (with farmers market on Saturday morning)
Saturday morning in the summer – antiques market
Wednesday morning, non food market
Friday morning, foo
Monday
Tuesday and Friday morning, Place Combes
Saint-André
Thursday and Saturday morning
Thursday morning – Place de la Mairie – village
Tuesday and Friday – beach
Catalan produce market from June – September – 17h00 – 24h00 – beach
July and August – Sunday morning – Boulevard Maillol
St Estève
Saturday
Saturday
Sainte-Marie-la-Mer
Wednesday and Saturday – village
Tuesday and Friday – beach
St-Génis-des-Fontaines
Tuesday and Friday morning
Night market in summer
St-Jean-Pla-de-Corts
Tuesday morning
St Laurent
de
La Salanque
Thursdays and Sundays all year round.
You say….
Excellent market with bars along the way
St Paul de Fenouillèdes
Saturdays
You say…
A nice small market
Tuesday and Thursday
Saturday
You say…
Excellent market on a Saturday! Wide range of stalls (best we've seen), reasonable prices, lovely location, plenty of inexpensive cafes and bars – good day out!
Torreilles
Tuesday and Friday mornings all year
You say…
Really not exciting, very few stalls. old ladies' pinafores, one veg stall, fish van and sometimes shoes (for the same ladies!)
Toulouges
Tuesday and Friday
Monday, Thursday and Saturday
Thursday
Vinça
Tuesday and Thursday
AND RECOMMENDED IN THE AUDE….
Esperaza
Every Sunday
You say…
All year round (this market) is a must, a bit of a hippie market, live music, very busy in the summer but a great morning out .

---
I'm sure we've missed loads! If you know of a market in the Pyrénées-Orientales which we haven't mentioned, please send us a mail to with as many details as possible. Merci!