More info on Déconfinement
There is (green) light at the end of the tunnel! As of Monday 11th May, our region has been given green light status, and lockdown restrictions will begin to ease across the P-O.
---
Check out our earlier article, full of plenty of useful information but here's a further update on things that have been discussed and decided over the past few days.
Traffic light system
As of the 11th May, our green region will be able to travel up to 100km from our homes without an attestation. Travel should however be restricted to a minimum with residents urged to use their common sense. If you are planning to travel, it may be useful to know the status of the regions you may be passing through. You can consult an up-dated map here but this is how the situation looked on Wednesday 6th May.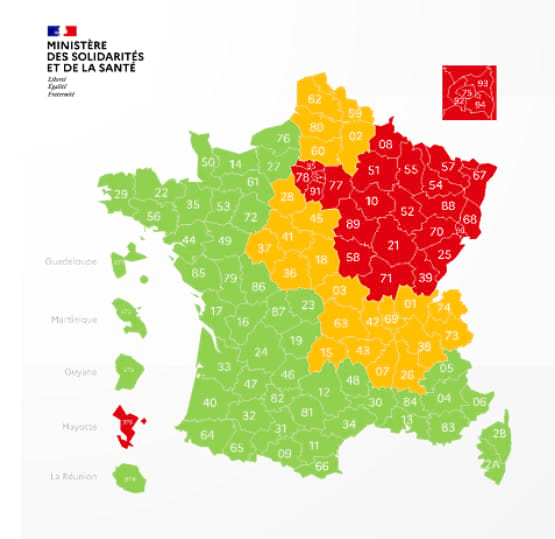 Sport & exercise
The Sports Minister, Roxana Maracineanu, confirmed that as of the 11th May, we will be able to enjoy individual outdoor sports by respecting the rules of physical distance and in authorised open spaces. Remember, the beaches remain shut! More detailed, additional specifications for individual activities will be provided shortly but in the meantime, the government website advises that sporting activities can go ahead:
Without time restrictions
Without an attestation
Within a distance of up to 100 km from home ;
With a maximum of 10 people;
Outdoors.
Changing rooms and shower blocks will not be permitted.
The specific criteria for distance between people are as follows:
A minimum distance of 10 metres between two people for cycling and jogging activities ;
A sufficient physical distance of 4m2 for outdoor activities such as tennis, yoga, fitness for example
Additional news for cyclists
The government has pledged €20 million to develop the use of bikes in the déconfinement period. Predicting a massive increase in the number of personal vehicles on the roads as people try to avoid public transport, two-wheel measures include:
Capping the price of standard bike repairs at 50€ in participating workshops (find our more here)
Providing additional bike parking
Establishing free training programmes for new learners or returners
Funding a 'mobilité durable' (sustainable mobility) scheme for the private sector
Masks & gloves
Many readers have been commenting on the use, or not, of masks and gloves in public spaces. The official, government opinion advises everyone to wear a mask in public as an additional barrier between yourself and others. This in no way replaces other safety/hygiene procedures, which must be respected.
The government clearly states that gloves are not advisable. The virus cannot pass through our skin and gloves, in fact, are another opportunity for contamination. They also provide a false sense of security. It is much safer to simply wash your hands regularly with soap and disinfectant gel.
The government has capped the price of single use surgical masks at 0,95€ in a bid to prevent the usual villains and nasty people making a profit out of the situation. Fabric masks however are not covered by this legislation and can be charged at the vendor/producer's discretion. The government has advised that the cost of a fabric mask, should work out at no more than 0.30€ per use. Be warned!
If you see/suspect fraudulent practices regarding masks, or anything else for that matter, you can alert the relevant authorities here.
If you fancy making a mask yourself, check out the official government pattern and tutorial (in French!)
Socialising
BBQ weather is well and truly here, family and friends are desperate to break out from behind the computer screens… what do the rules say? Well, as per our initial article, social gatherings- whether indoor or outdoor- are restricted to 10 and all other rules must be respected… 100km radius, social distancing etc.
Although it is no longer a legal obligation, at risk groups and seniors are advised to remain cautious, respecting the same confinement conditions as prior to 11th May.
International travel
Emmanuel Macron has confirmed that people coming in to France from Europe, the Schengen Zone and the United Kingdom will not be required to quarantine.