Va-va-voom in the Vallespir
Outside
THE LAKE
Top activities for the whole family! Look out for signs for Plan d'Eau off the main road from Le Boulou to Saint Jean Pla de Corts, and you quickly arrive at the perfect spot for picnics, summer swims, and lakeside walks, with 2 restaurants on site.
Aquajump 66
Diving, jumping, trampolines, slides, diving boards and balance games.
Tel: +33 (0)6 71 36 93 98
Email: contact@aquajump.fun
Website: www.aquajump.fun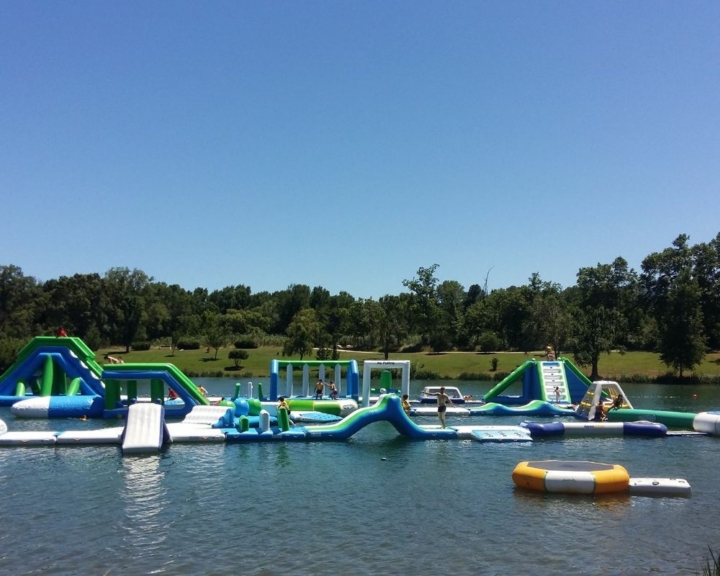 Nautical fun
Paddle, pedal boat, kayak.
Tel: +33 (0)6 30 94 06 92
Les Aventuriers de Saint Jean
9 increasingly difficult runs high up in the trees, nets, ropes, zip wires, Tyrollean splash across the lake….from 3 years old
Tel: +33 (0)6 71 60 37 44
Email: aventurier66@orange.fr
Website: www.lesaventuriers66.com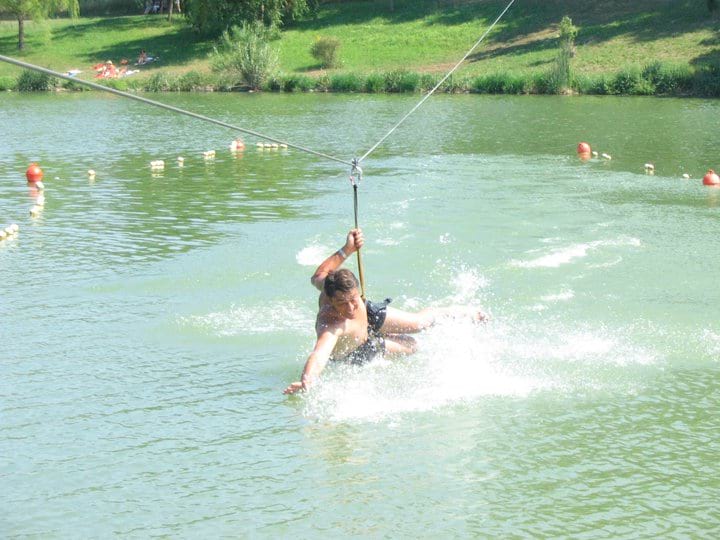 Teleski (second lake)
8 Waterjump runs from 4 years old, ski lessons from 7 years old
Tel: +33 (0)6 67 83 56 62
Email: waterparktsj@gmail.com
Website: www.tsjwakepark.com
Get close to nature
You don't get any closer to nature on the plain than Le col de l'Ullat at l'Albère. Panoramic views, forest strolls, picnic tables – or treat yourself to a meal at the chalet de l'Albère.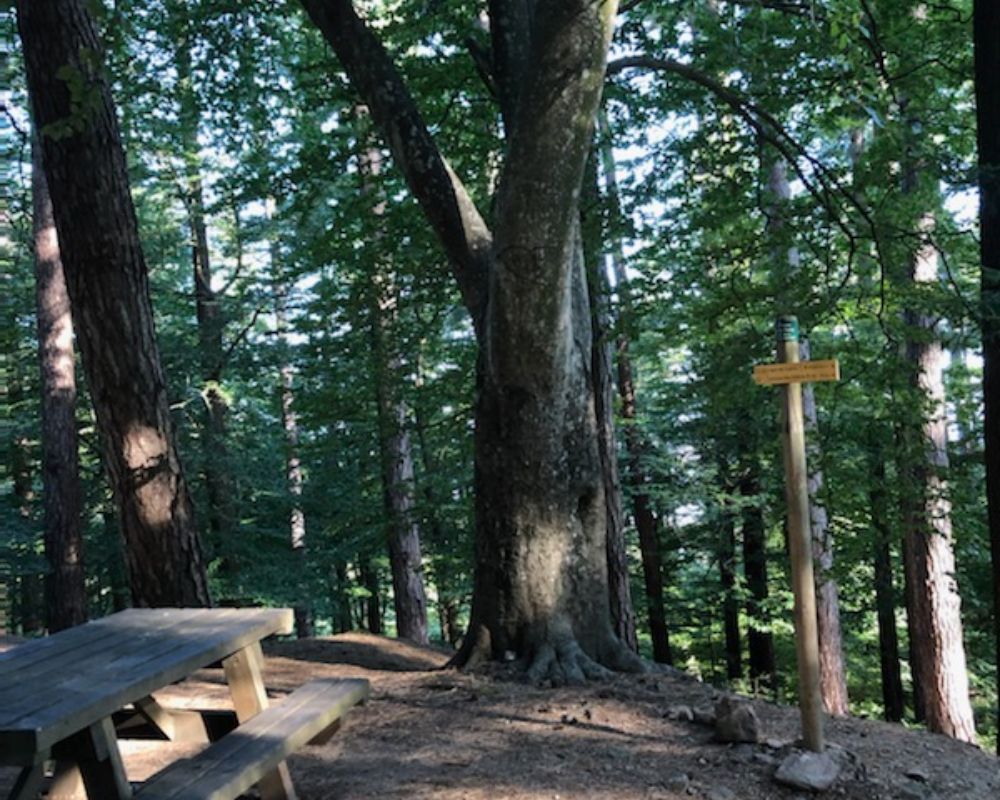 Want to get away from the crowds?
From pleasant stroll to strenuous climbs, try our 16 marked walks. Download here or scan our walking guide with detailed itineraries of great walks throughout the Vallespir or pop into any tourist office for the booklet.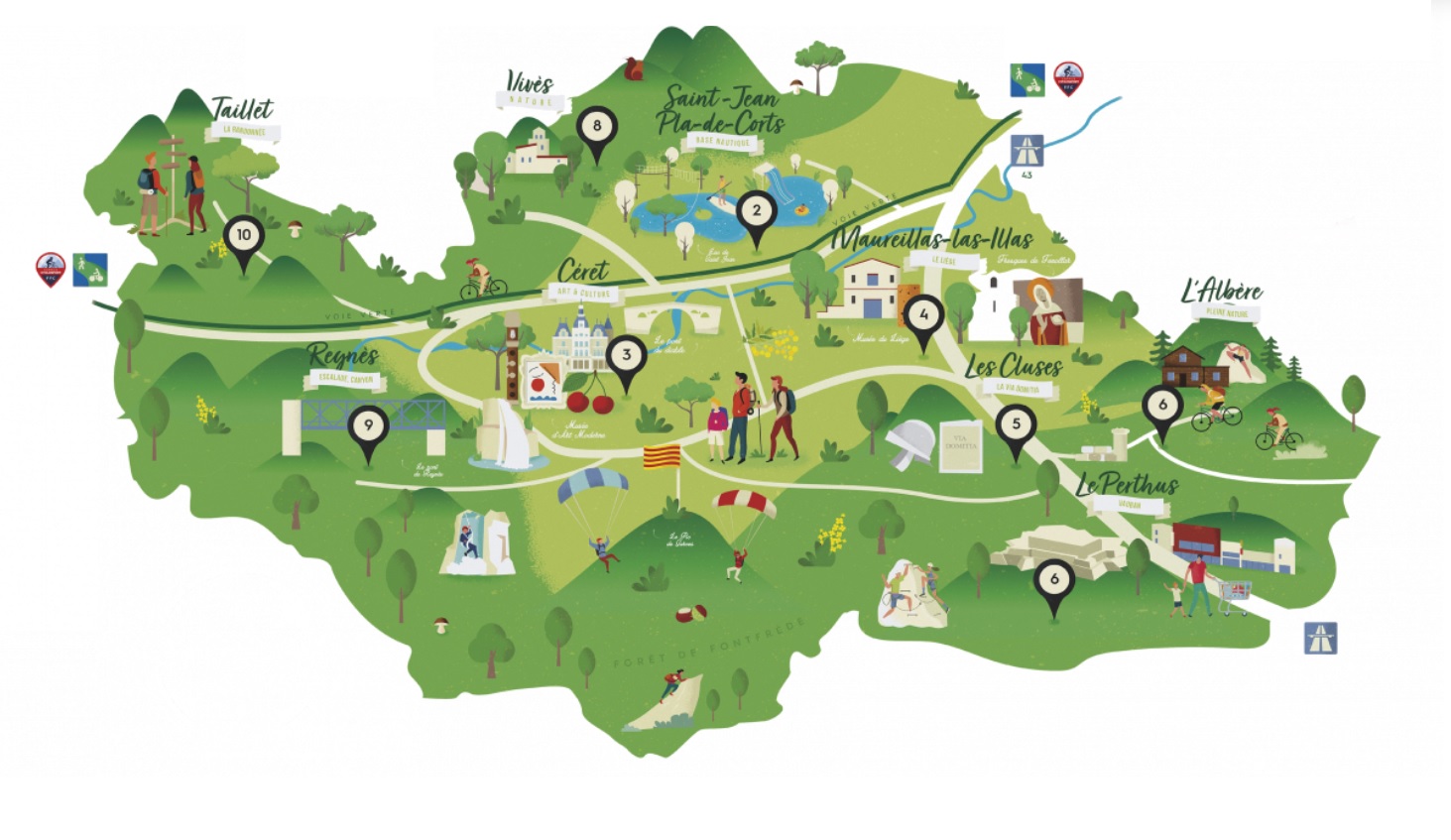 Looking for guided walks, forest bathing and nature activities?
Check out 'En Chemin' with Christian Piquemal…
Tel: +33 (0)6 21 66 42 15
Email: enchemin@mail.com
Website: www.enchemin.com
… or "Randôtrement" with Vanessa Guérin
Tel: +33 (0)6 03 91 28 52
Email: randotrement@yahoo.com
Website: www.randotrement.com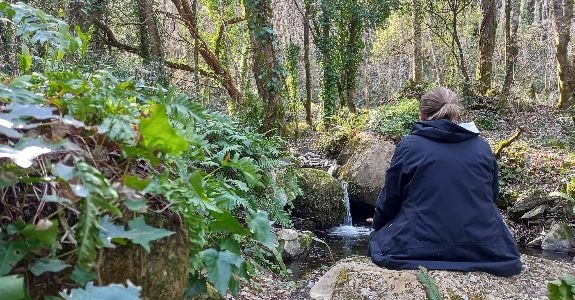 Prefer two wheels to two feet?
Ecological and free, ride the varied itineraries of the 33kms of bike paths and green ways, from completely flat to as steep as you like it!
Forgot to bring your bike? Ne vous inquiétez pas (don't worry!)! Just hire one from Aloha Aventure / Aloha Camping Club
Tel: +33 (0)4 68 39 43 12
Email: info@aloha-aventure.com
Website: www.aloha-aventure.com
Everybody loves a (night) market…
Don't miss Les Vespérales… craft in the streets of Céret every Tuesday evening from 5th July to 30th August.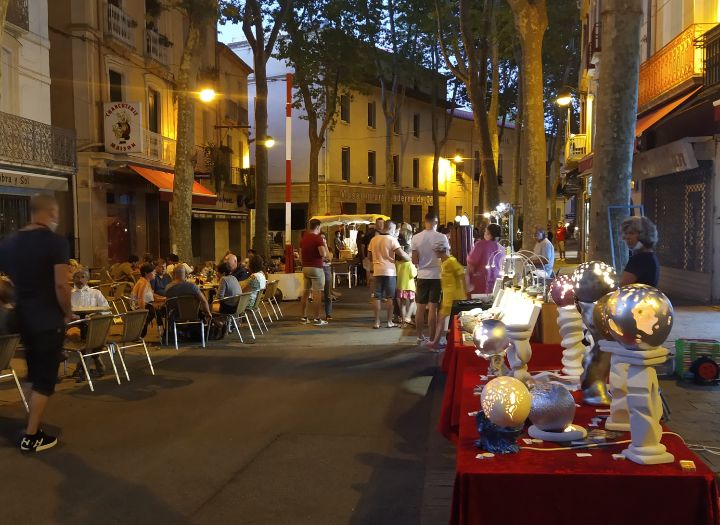 Looking for more of a challenge?
Go on, we dare you…!
Canyons des Terres Catalanes
Tel: +33 (0)6 08 68 95 58
Email: jeanguitard@wanadoo.fr
Website: www.canyons-catalans.com
Adventure Tout Terrain
Tel: +33 (0)6 87 59 92 23 / +33 (0)6 84 45 71 41
Email: contact@att66.fr
Website: www.adventuretoutterrain.com
Canyoning Côté Sud
Tel: +33 (0)6 07 43 41 42
Email: montagne.canyon.66@gmail.com
Website: www.canyoningcotesud.com
In Extremis Aventura
Tel: +33 (0)6 29 56 40 36
Email: info@inextremis-aventura.com
Website: www.intextremis-aventura.fr
Aquacanyon
Tel: +33 (0)4 13 33 10 00
Email: infos@aquacanyon.fr
Website: www.aquacanyon.fr
Parapente 66
Tel: +33 (0)7 69 29 61 05
Email: contact@parapente66.com
Website: www.parapente66.com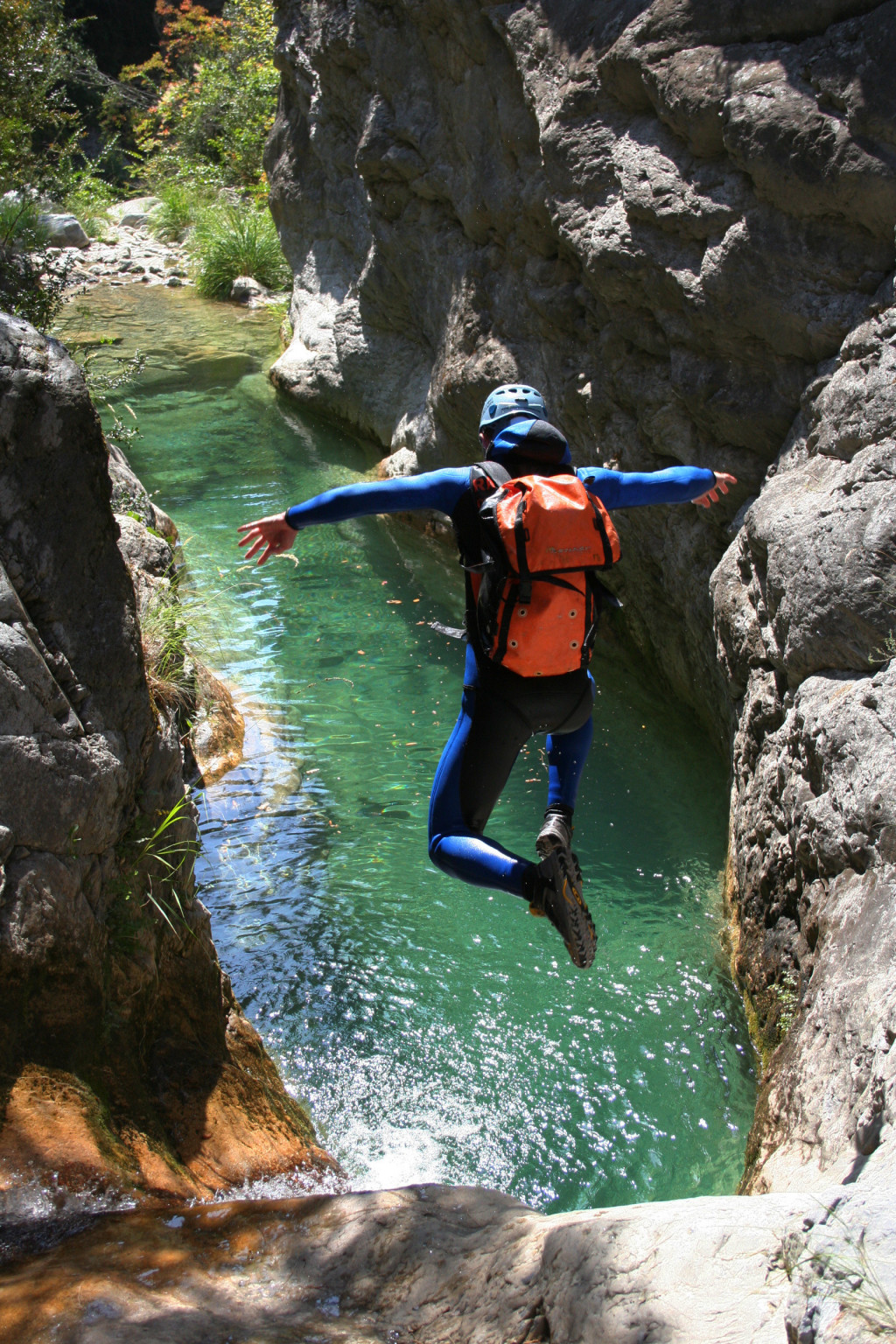 Highlights
15th – 17th July, Céret – Feria de Céret
22nd – 24th July, Céret – Festival de sardanes
18th September, Céret – Ronde Cérétane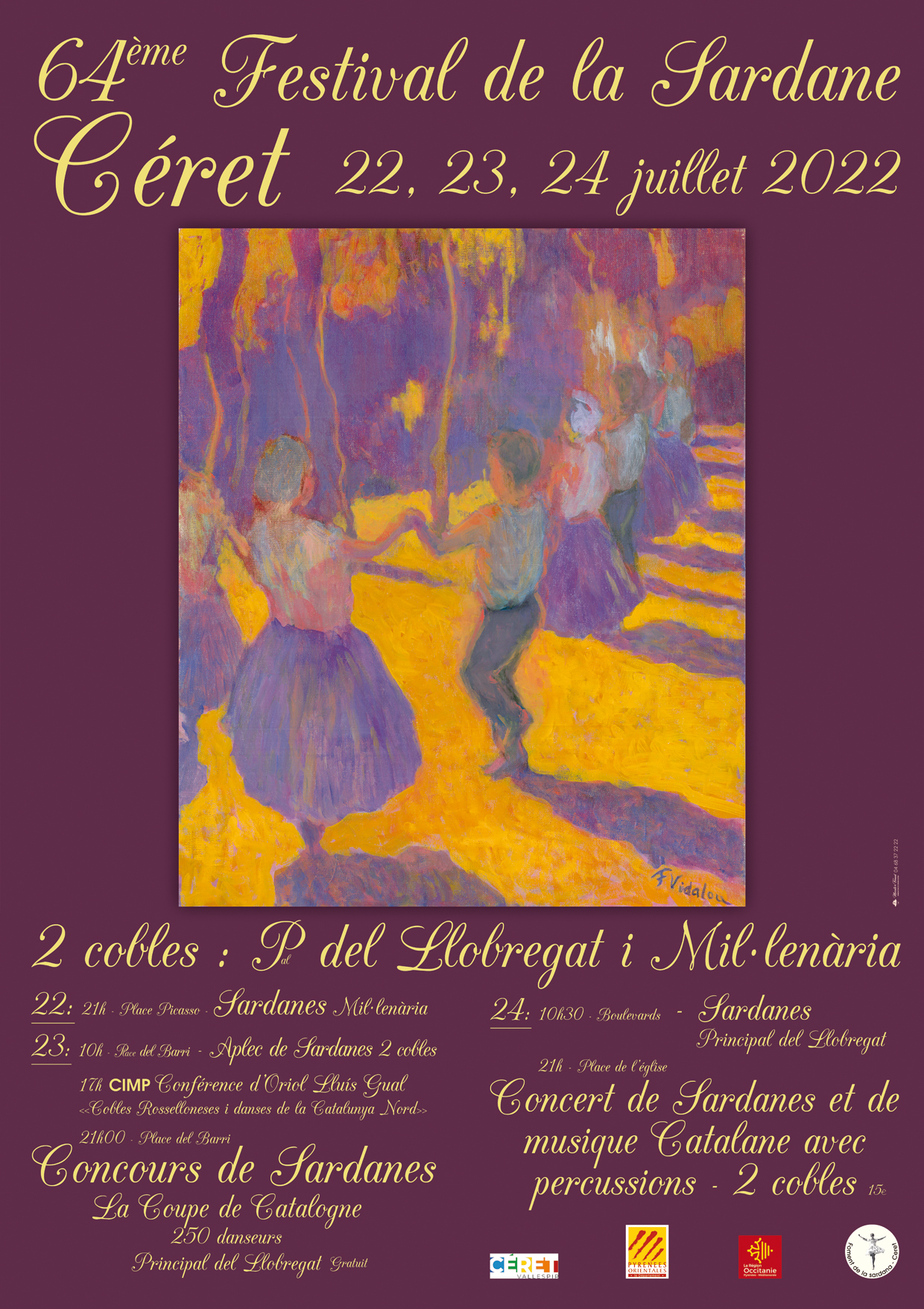 As featured in P-O Life n° 74 (summer 2022)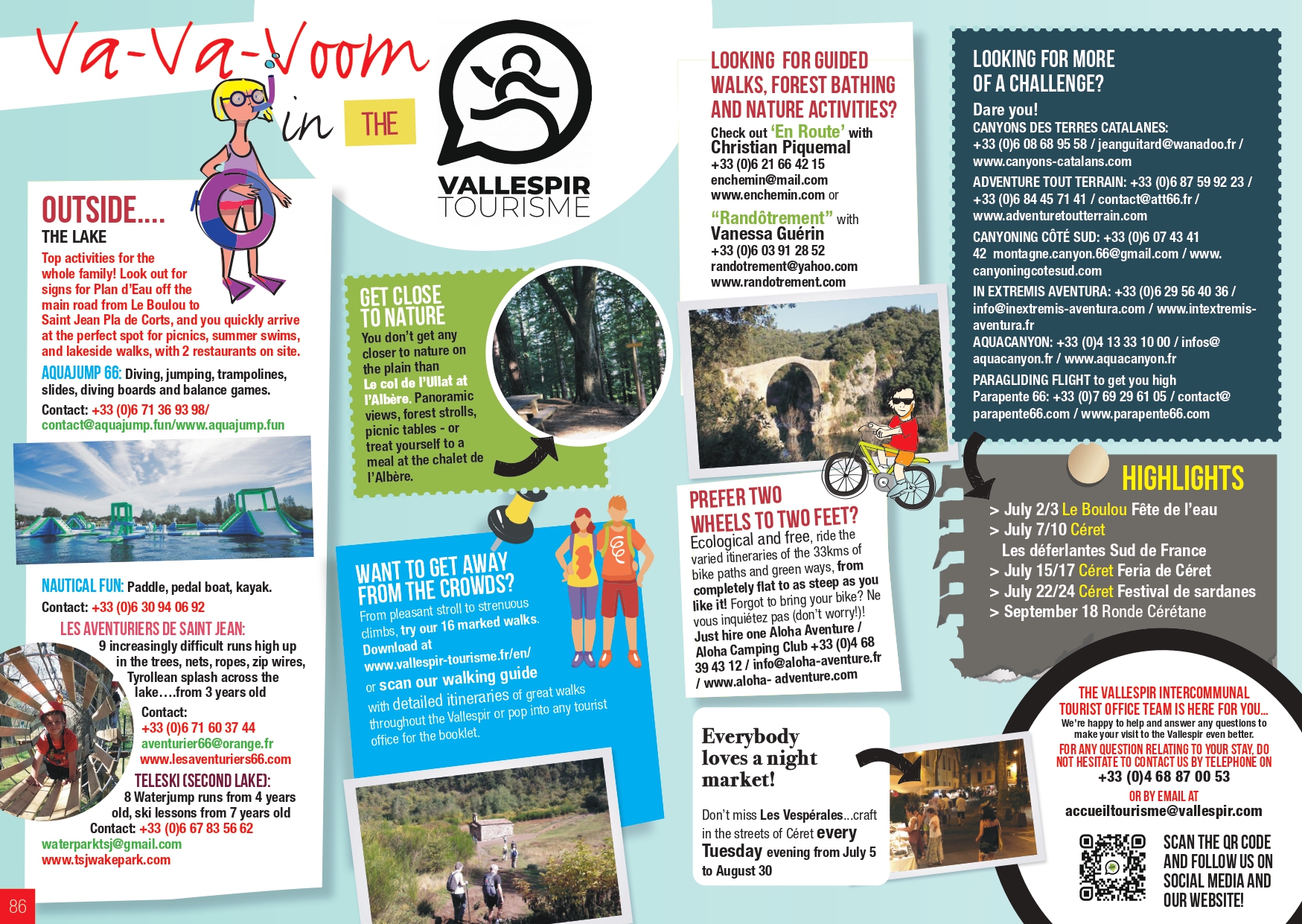 Why not watch a video to get you in the mood and remind you why everyone loves the Vallespir?
Check out our OTI Vallespir Youtube channel for more!
The Vallespir Tourist Office team is here for you…
We're happy to help and answer any questions to make your visit to the Vallespir even better.
Contact
Tel: 04 68 87 00 53
SMS: 06 11 35 71 47
Email: accueiltourisme@vallespir.com
Website: www.vallespir-tourisme.fr
Address: 5 rue Saint Ferréol 66400 Céret
For more info
Follow them on Facebook & Instagram