With Tim and Chris Parker

A very pleasant 3 ½ hour circular walk with 300m of ascent. The walk offers wonderful views to the coast and over the Massif de Canigou and valleys. Walking boots essential on the rocky, sandy paths. Walking poles helpful. Route offers no shade until near the end so we recommend wearing a hat in sunshine. Waymarking is patchy so take care in choice of path at junctions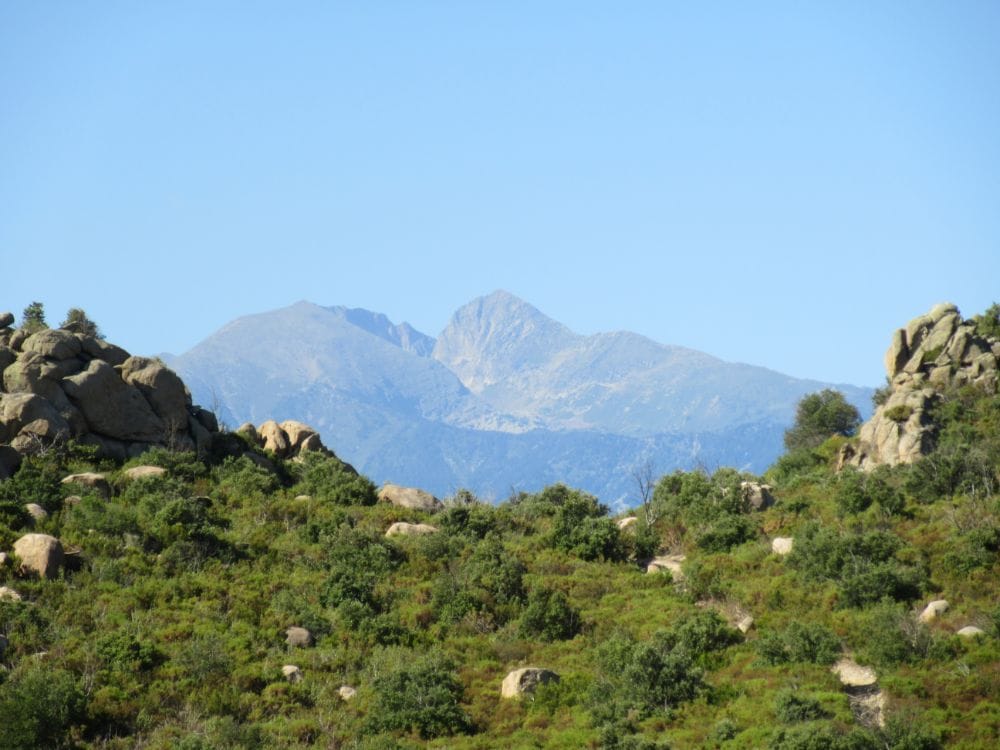 Access: map IGN 1:25,000 Thuir, Ile sur Tet 2448 OT
Take the N116 from Perpignan towards Prades. Leave road at junction for Ille sur Têt and follow signs into the town, cross main square and look out for turning right to Belesta. Narrow street leads to a bridge across river Têt. After crossing it, arrive at roundabout and turn left. Drive to a parking and picnic area alongside the river
Start of walk.
The first impression is one of dramatic sandy, rocky cliffs, similar to those at nearby Les Orgues, which are worth a visit whilst you are in the area.
Walk further into the site for 5 mins to find start of route on right, signed, Puig Pedrous. A steep rocky path leads uphill. Ignore path to left after 5 mins. Soon emerge on corner looking down into gorge.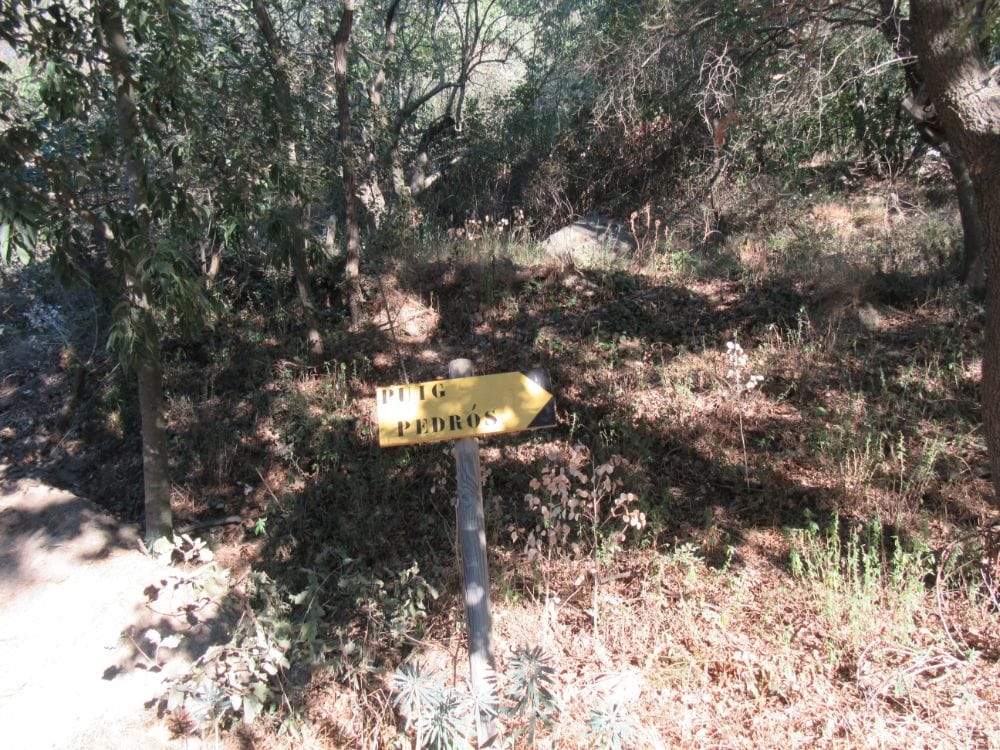 Soon emerge on corner looking down into a gorge.
Continue up and alongside a fence. Where path divides and take the one on right, between 2 small cairns. A little further up and the views of Le Canigou emerge in all their glory. They will accompany you most of the way. See the path ahead winding across the hills.
About 35mins from start of walk, where paths meet, turn right. (Left offers a variation to Casenoves). 5mins further, cross a piste (broad track), up a few metres and turn left. Continue upwards and then contour across head of valley. At junction of paths, turn right and eventually arrive at another piste. Turn right. (Another route to Casenoves on left).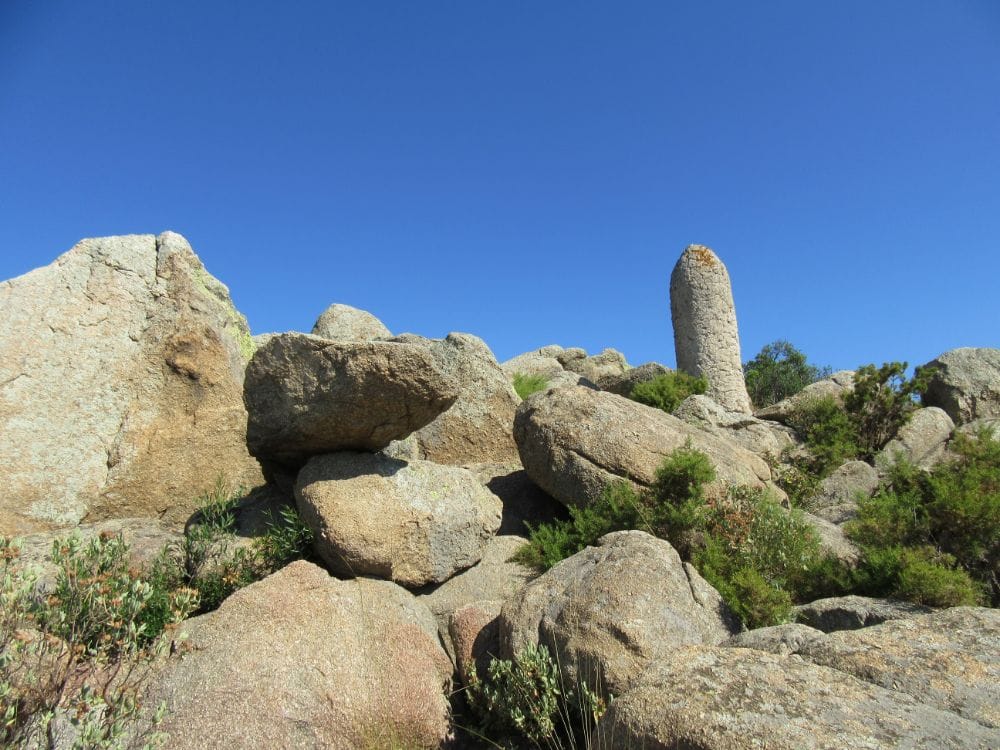 Walk along piste, bending left where it meets another piste. Pass ruined Mas on right, and take piste on left (DPCI F182).
Walk 300m, to take unsigned path on left, at a bend. Path is a steep rocky slope to dry stream bed and rises to then continue through bushes. Puig Pedrous is directly ahead. (If stream is in flow and crossing impossible, continue along piste until you meet path on left heading over to our main route below Puig Pedrous. Add extra time for this longer route.)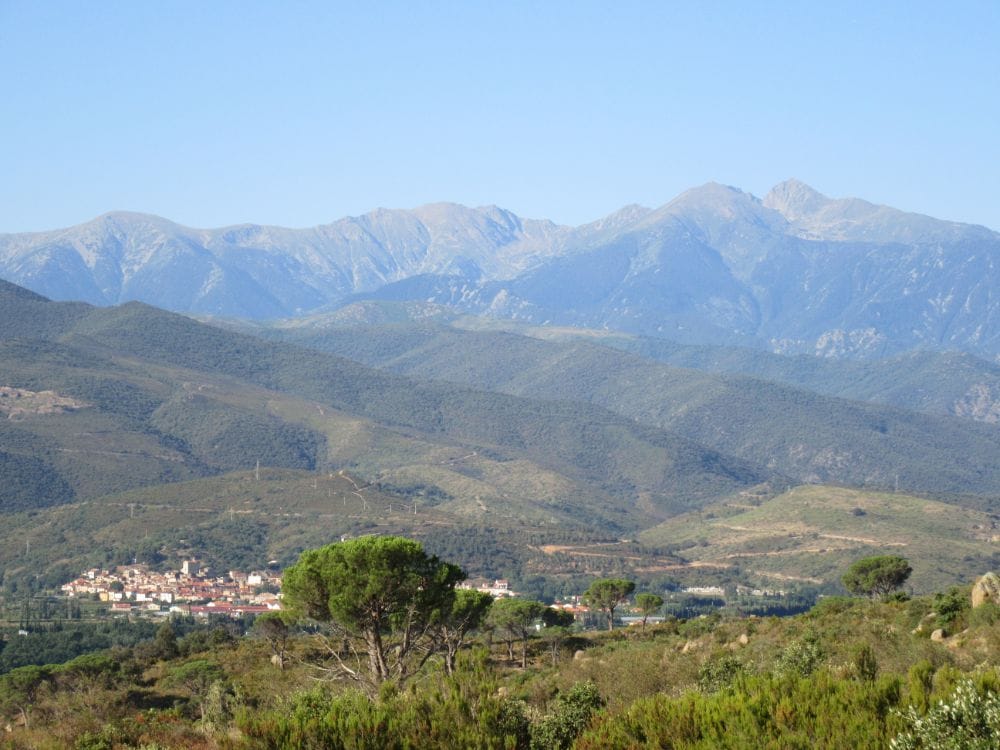 About 1 ½ hours into the walk arrive at Col to left of Puig Pedrous. Turn right, 15 mins aller-retour to the peak. From the top see the whole coastal plain as well as Le Canigou and Midi Pyrenees inland.
Regain Col and continue in direction you were heading to reach it. Drop down the other side and follow the path for about 40 minutes, sometimes with a valley on the right, other times left, and at times both left and right. Emerge at a lone pine alongside the piste you will have seen below you for a while.
Turn right and follow piste to its junction in the valley with tarmac lane. Turn left to head back to picnic site. On the way, as you pass the peach orchards in the valley, make time to visit the interesting, ruins of the hamlet of Casenoves with its 11th century roman church.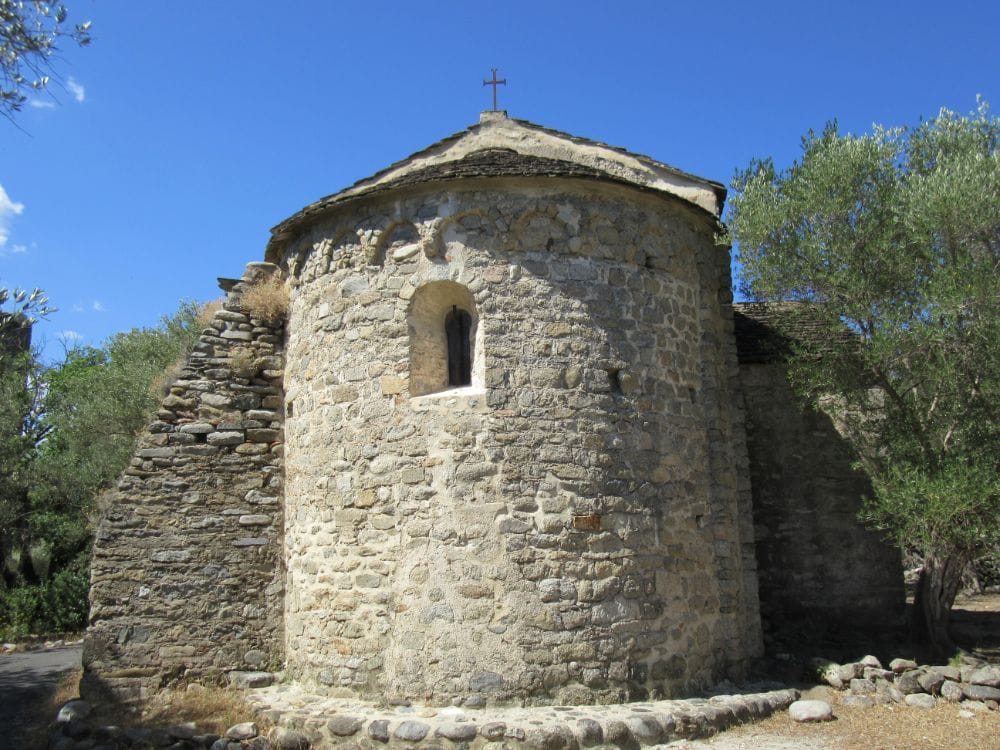 The church has been restored and is surrounded by the ruins of the medieval village, abandoned in 1561. Approach is across dry river bed on concrete, into a lane behind peach orchard. (15mins aller-retour)
The church was found to contain some very ancient frescos in the 19th century and these were removed, leading to legal battles. One or two are reinstated and others can be seen at the Hospice in Ile.
Another 15 mins will bring you back to the start point of the walk.
Refreshments are available in Ile sur Têt – or you may have had your lunch on the Puig Pedrous, at Casenoves or even saved it for the picnic site!. Barbecue areas are available there!