Right now we are nothing more than fragile birds caught in a blizzard. Masks conceal fear in these uncertain times. Plans falter. Frustrations rise. We adjust. Forced to take life moment by moment, we are unsure. We feel mocked by our own arrogant belief that we have any control over our lives. We await new restrictions. We are disappointed. We despair of our world leaders. We continue. We act normally with covered faces, and we maintain space between us; we clean our hands more thoroughly and more often. We think about protecting our loved ones more. We hope they are protecting themselves. We contemplate uncertainty – it is, after all, not staring us in the face but covering our faces. We re-adjust.
All over the world, we are getting used to living in a pandemic. We should be used to change, after all, we see seasons change annually, and yet, we are novices in the face of this bizarre reality. Some need facts; others need to deny them – everyone has their approach. The world, as we know, has, in a way, retired. To adopt an endearing Scottish way of saying things, we are indeed in this "for a wee while yet".
To be situated here in St. Cyprien for the past few months has been like leaning against a grand old oak tree until the rain subsides and we can step out again. Just a few weeks ago at the port, the restaurants were teeming with people dining outdoors as the sun gleamed high in a bright sky. I had a sense that nothing had changed in the world as I continued on the cycle path towards Canet plage.

I pedalled alongside cyclists who had trailers hitched onto the back of their bikes. There were head-rests, portable folding parasols and other seaside accoutrements dangling from handlebars. No-one had just grabbed an apple and a towel: everyone had prepared for their beach excursion with gusto. Bags were filled with packed lunches, books and technological gadgets. Anticipation was putting the wind in our sails as we sped along, hopeful that we would soon be tuning out the world at Canet Plage. On the way, I caught sight of a few white sailboats gliding across the water. There are days when it is more than enough to gaze at them. I was looking forward to a bit of calm.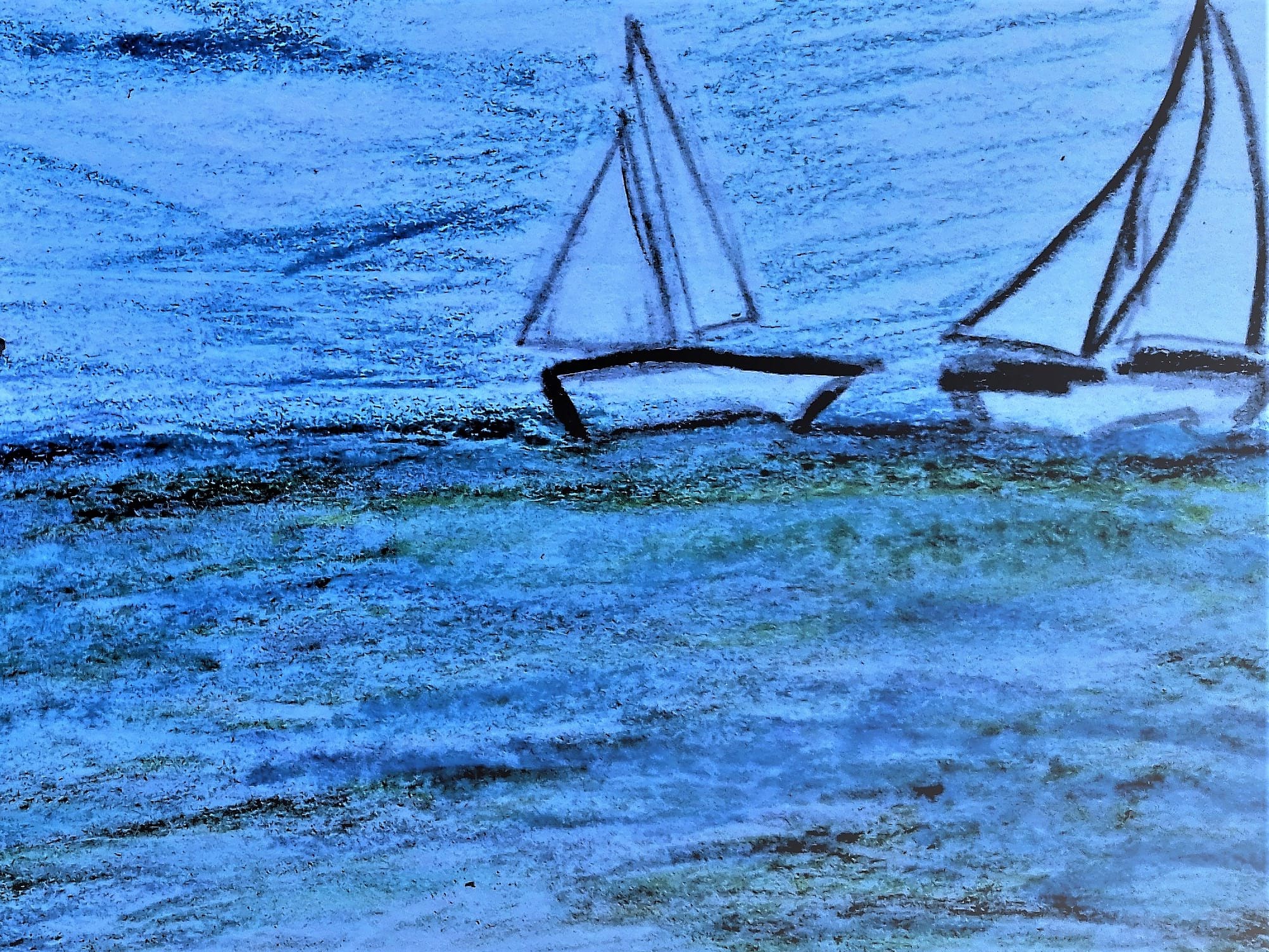 The beach boasted a great beige flat stretch of sand that draped a flat sheet either side of me; in front, the sand slid into the frothy white edge of blue that ran away until it merged with the sky. As a seasoned beach-goer, I appreciate that the effort to get comfortable can take more than an hourglass, or two, of sand-filled time. Finally fixed in a comfortable position, I started breathing in great bouts of happy air observing passers-by.
Winter coats and woolly hats scurried along. Bare-chested men in shorts and bikinis (the ladies, that is) paraded past. Autumn is like that, I thought, no-one ever knows what to wear. Tee-shirts slipped on and off as people felt too hot, or too cold. Autumn lies in its hammock that is suspended between summer and winter and dishes out topsy-turvy days.
Out of nowhere, a boy appeared; he must have dropped from the sky. His head hung low, staring glumly down towards his open-laced over-sized trainers as he slumped along. Behaving as if he had mislaid something in the sand, I wanted to offer him some help, but he was a teenager, and so I didn't want to make his day any worse by conversing with him; in any case, by then I realised that this was his way of comporting himself.
He stopped very near to me, although not enough that I could complain that he was not adhering to any social distancing rules and request that he 'clear off'. The situation worsened when I realised that he was waiting for other people. I caught sight of a shadow pushing a stroller into my peripheral vision. A family was about to enter into my arena. I mean seriously. Canet plage has 9 km of fine sandy beach. There was barely anybody there. What on earth were they thinking? It was my spot!
The most apparent course of action was to move, which I started to but then I hesitated: I realised that I would end up further away from my bicycle and I always liked to keep it within eyeshot. I shuffled back to my spot with the bundle of possessions I had gathered in my arms when I fled the scene. Attempts to show them how irritated I was were futile: they were oblivious to my presence. I kicked up the sand, although an unwanted thought sprung to mind that the beach was a public place and I had no rights: arguing with myself was annoying me even further. I huffed and puffed, but to no avail.
The father started up some spontaneous dancing. A boom-box must have also dropped from the sky because the boy suddenly had one hoisted on his shoulder. I didn't recognise the music, nor did I have a chance to as the father's voice became more audible than the speakers. He was not exactly singing, nor was he shouting, but he was engaged in a form of musical speech. The boom-box supplied a backing beat that aspired to blend with the vocals: this was not a success.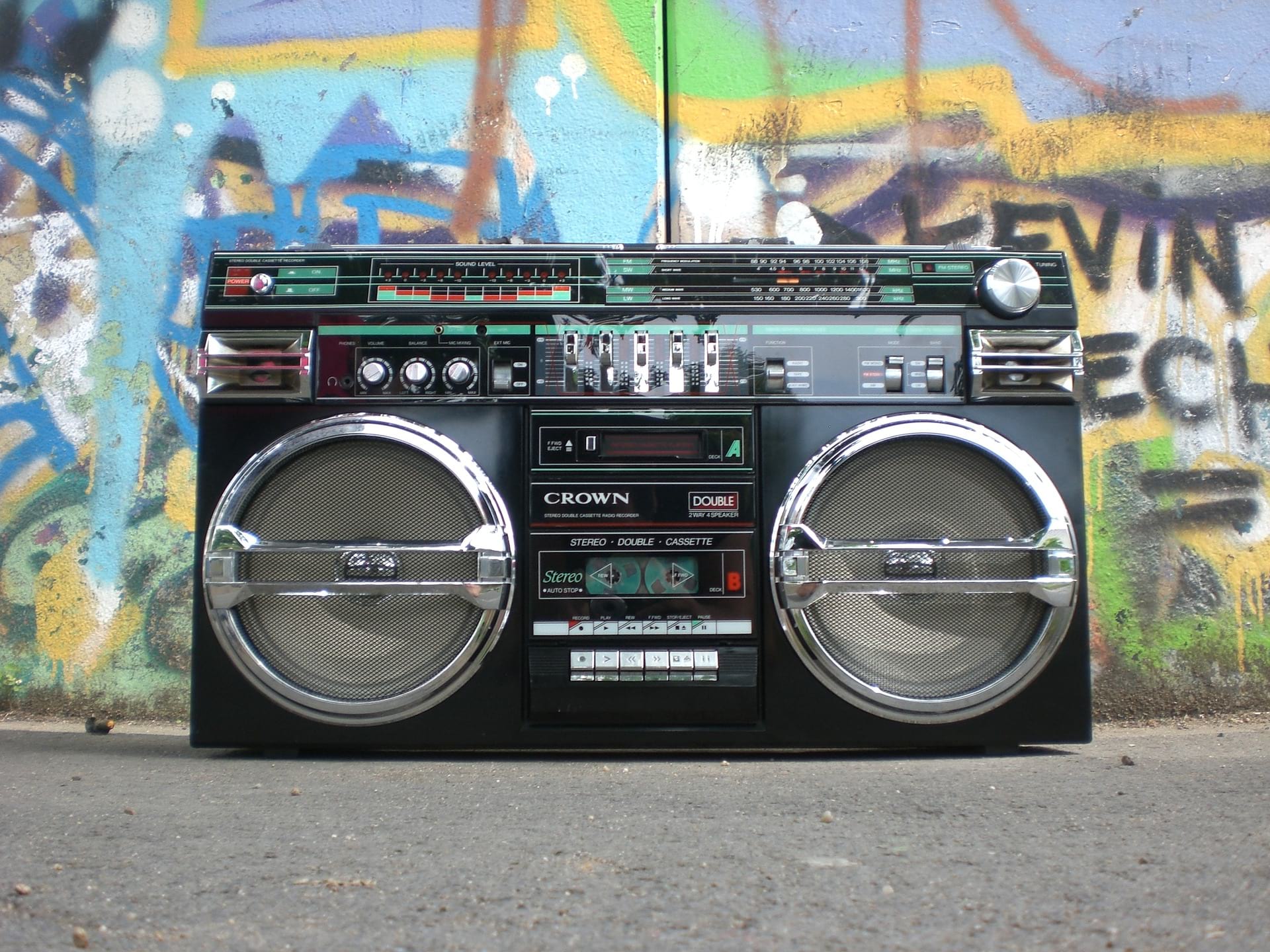 The father used rhythmic hand gestures, I supposed he wanted to keep in time, but any beat was hard to pick up on. I wasn't aware rapping was still in vogue. Yet, there it was in front of me: the man was rapping his heart out. His devoted son was recording the whole event. The rapper father was swaggering back and forth towards its screen, baring his teeth and jiggling around in the sand.
I didn't want to go up and interrupt a live recording; instead, I acted deranged and started talking aloud to myself. In retrospect, I realise it may have looked like I was also attempting to rap, which I certainly was not: I was trying to express myself under strained circumstances. Indeed I too found myself using hand gestures, but the results were, in fact, equally as ineffective as the rapper's efforts. Everyone ignored me.
I thought about moving again, and I even started on my journey. I spied a grey cloud in the distance, moving swiftly. And I knew it would descend and tag along with me and then other clouds would follow and so on until it rained. Staying under the unblemished sky in my designated spot was a better plan: bestowing my dirtiest looks upon the intruders felt like a more effective tactic than doing a rain dance somewhere else.
In all the commotion, I lost my earphones and began hunting for them in the sand. Canet Plage is not unlike looking for earphones in the Sahara desert. I spotted some metal detector folk earlier wandering around which led me to some questions:
Did they feel accomplished whenever they happened upon anything at all, such as a pair of earphones? Perhaps they hovered around hoping to retrieve gems washed ashore from shipwrecks? Was it a past-time like having a lost and found booth? Did they toss everything else they found back into the sand? Didn't they feel guilty about doing that?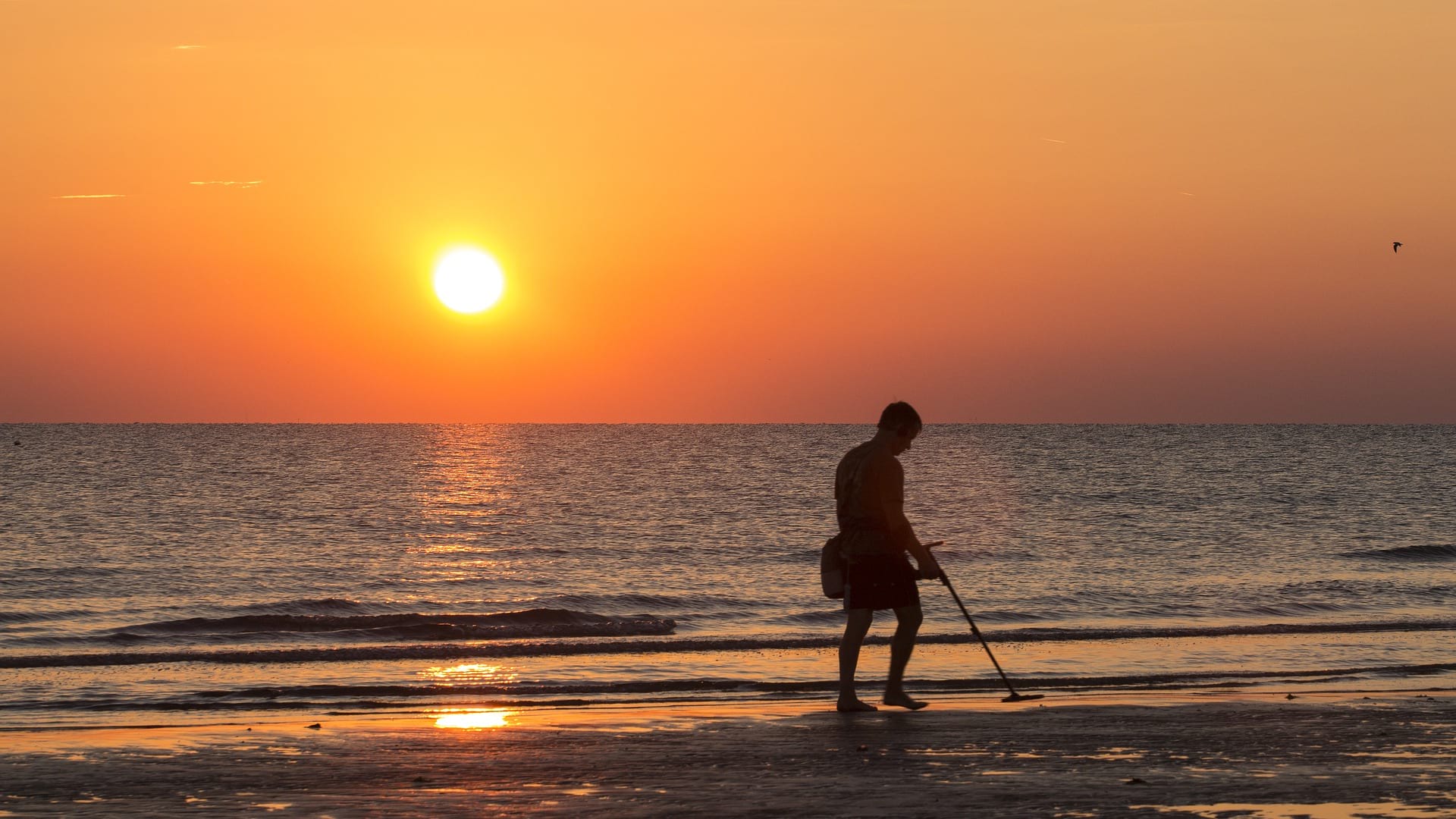 I suspected they would only want earphones from people who have already left the beach, so they wouldn't feel obligated to hand them over to the rightful owner. I had to admit that I hadn't much of a clue about the art of metal detecting, but there certainly seemed to be always one around.
However, I discovered that whenever you need a metal detector person, they are never about. Mine had all disappeared, perhaps swallowed by quicksand or fallen headfirst into a dune. I abandoned my quest and sat exasperated on the beach. Irate and chaotic, I did not feel like I was having a relaxing afternoon at the seaside.
Meanwhile, I saw the rapper's wife was moving further away, wheeling the stroller back and forth in the sand. I imagine she was humming her little tune and lost in it, for she certainly was distancing herself from everyone else. I envied the sleeping baby who seemed to be having the best time of all.
The rap song was about Canet and the blue sea and how in sunny October everything is alright by the seaside. It was catchy and fun, and it would be entertaining to watch if you weren't a grumpy sod like myself. After a few more takes and running up and showing it to his wife for approval, they appeared to be satisfied and disappeared from whence they came.
It occurred to me that they would later be watching their production on a big screen at home and I would have a minor role in the background: hands in the air, outrageous facial contortions, disbelief, moving, pacing, sighing, burying head, jolting up again, fury, outrage, spitting fire. Oh, dear. I hoped our paths wouldn't cross again. I left the beach sheepishly, a reluctant and embarrassed video star.
And then came the news: curfew from 9 p.m. to 6 a.m, then lockdown. No gym, no swimming pools, no bars. We are children with no toys. And it's not easy. But we will adjust. We already are. We have to make new plans. Might I suggest making a rap video on a sunny Sunday afternoon?