Doctolib & video medical appointments
It is now possible to make appointments and consult many doctors and specialists via video call. In fact, 2 out of 3 video appointments take place within 24 hours (although this could change if it becomes too popular – don't tell everyone!).
You can also securely share and receive any documentation linked to your appointment including analysis results, prescriptions and more.
Making an appointment
The dedicated platform Doctolib allows you to search for medical professionals by name if you already know who you're looking for, or by specialism and/or geographical location if you don't.
Note that most medical professionals will want to see new patients in person for their first appointment, but that video consultations are encouraged for follow ups.

You can refine your search by (in order from left to right):
Availability (today / next 3 days)
Additional fees charged by certain specialists (without / with)
Reason for consultation (different depending on specialist chosen)
Languages spoken
Those who are available via video consultation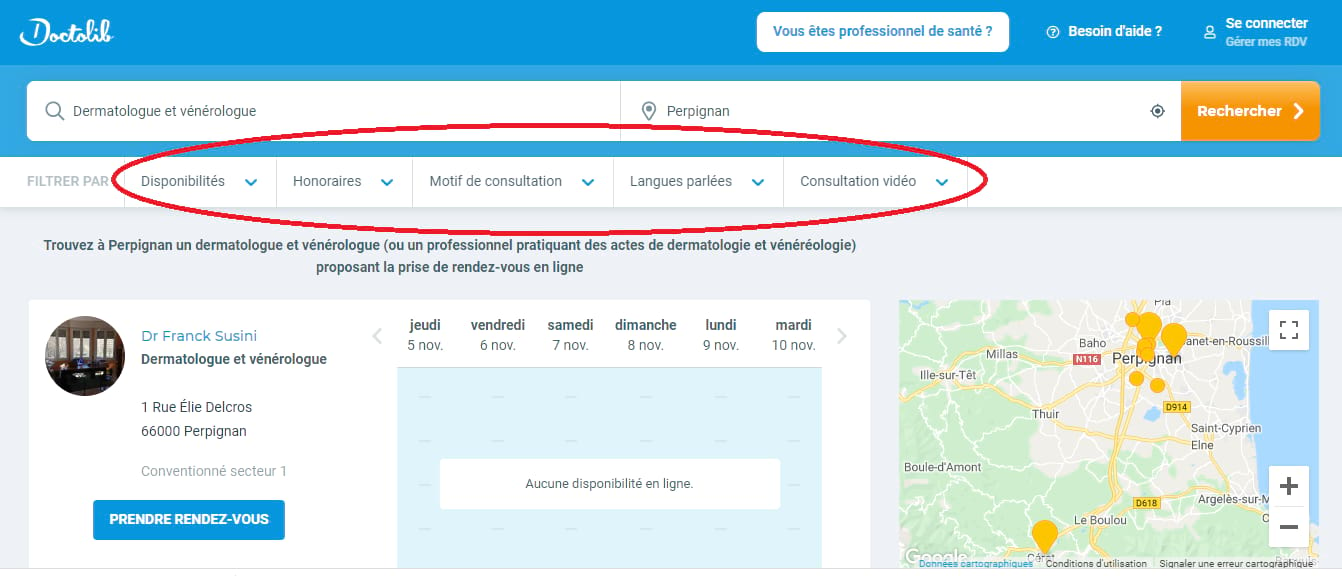 Once you have found your medical professional, simply click on them to be taken to their individual page, where you can then make an appointment, either in person at the medical centre (cabinet) or via video conference.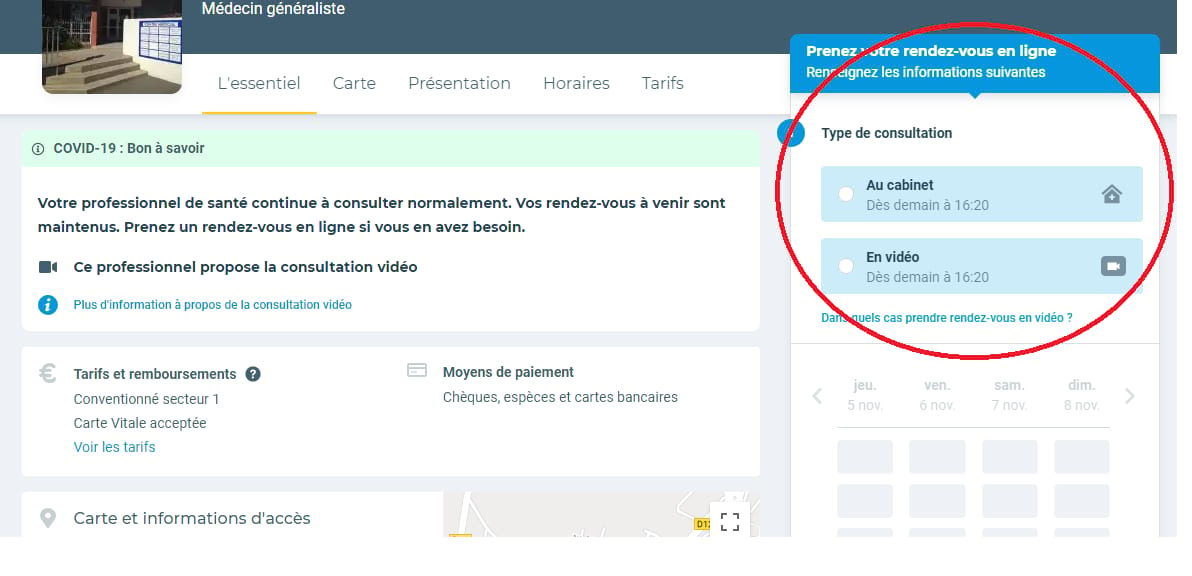 You will then be shown a list of available appointments, simply click on the one that best suits you. Use the left and right arrows to scroll through the days/weeks or, to see more options, click 'VOIR PLUS D'HORAIRES'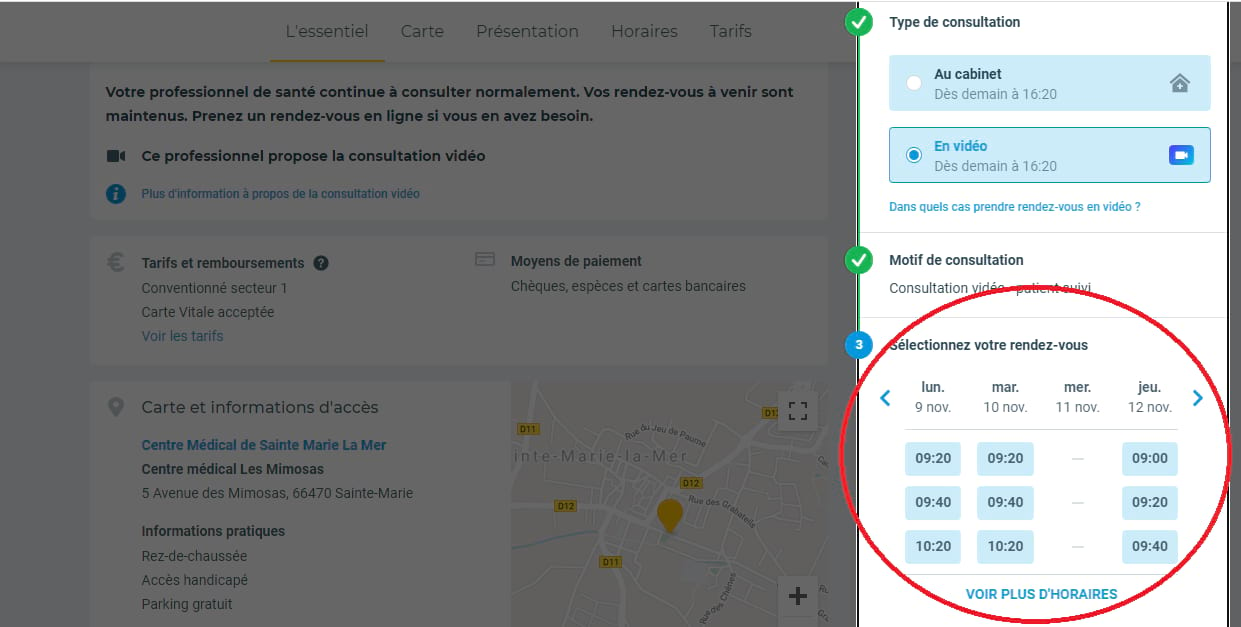 After selecting an appointment, you may be required to confirm that you are not a new patient and/or informed that for patients with Covid 19 symptoms, certain restrictions apply. These will differ depending on the professional you are going to consult.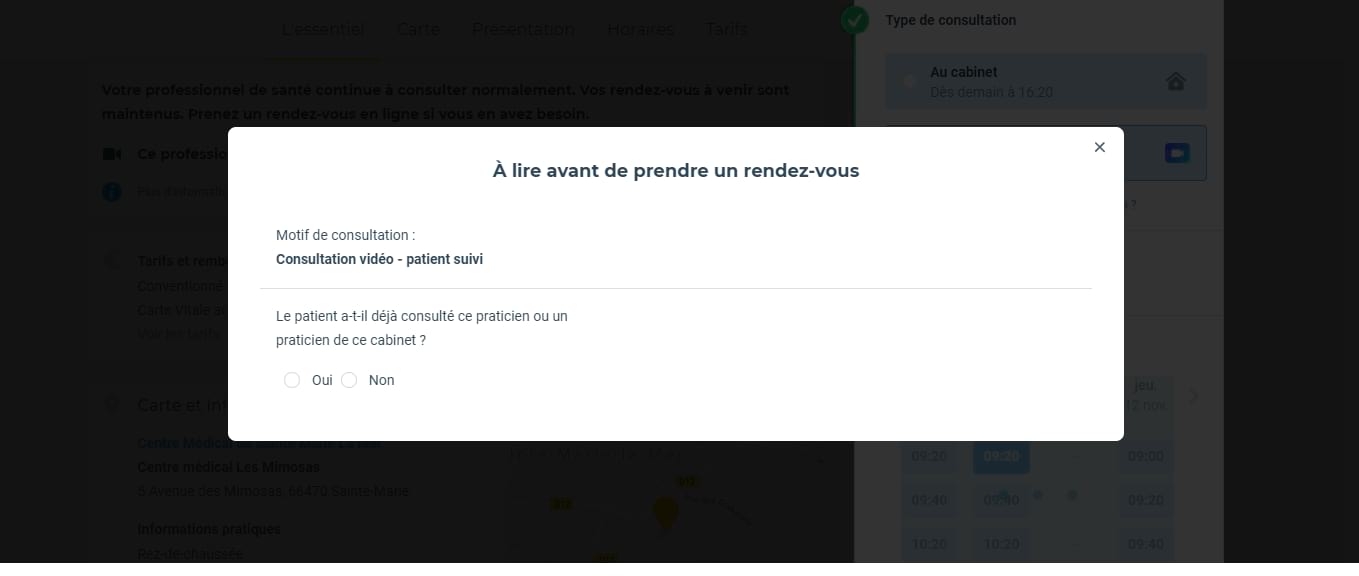 If you are reading this article, the chances are you do not already have a Doctolib account and so, before your appointment can be confirmed, you need to sign up.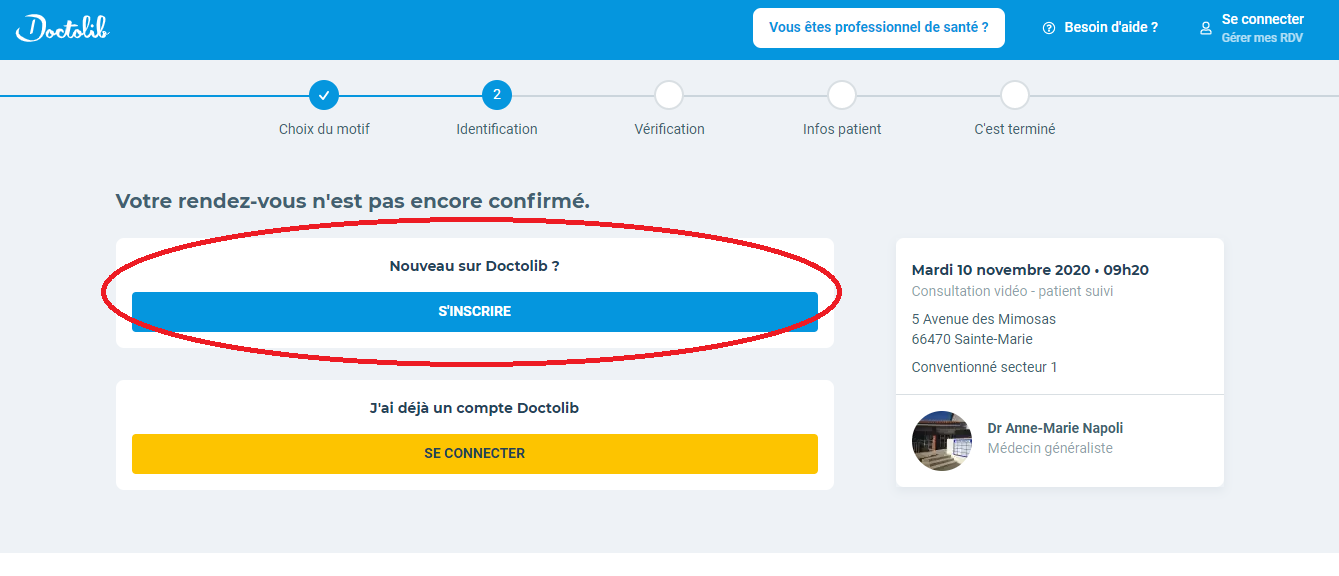 Simply fill in your contact details (telephone number, email address, confirm email address and password) then tick the box to accept the terms of use.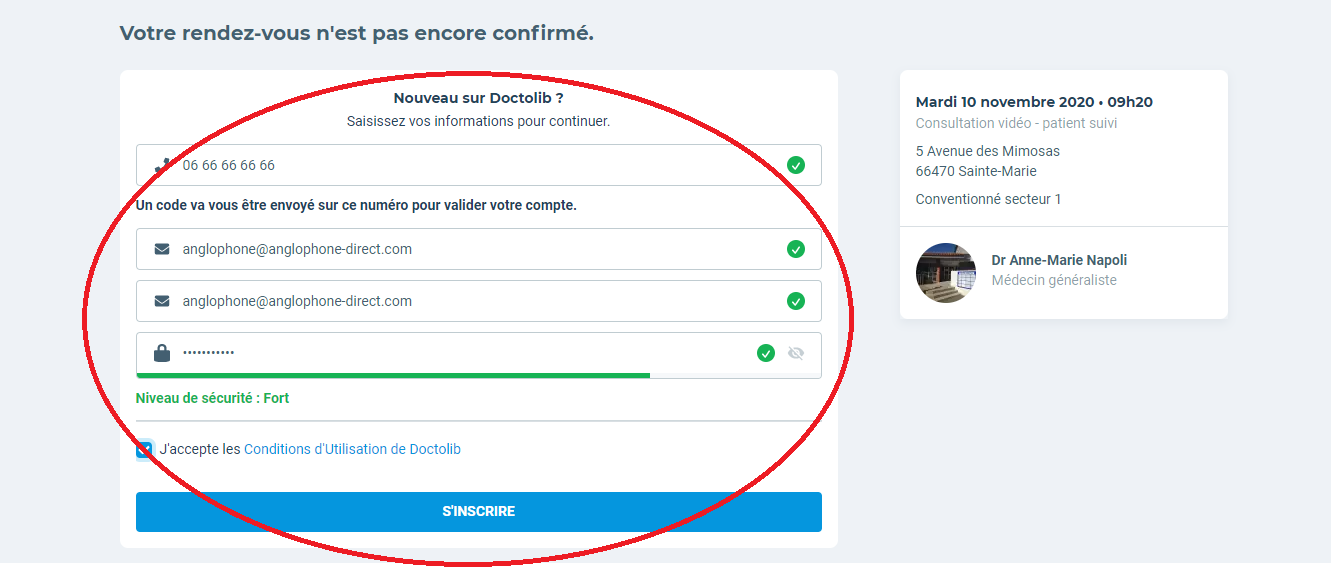 A data protection notice then flashes up that you need to accept to continue with the process.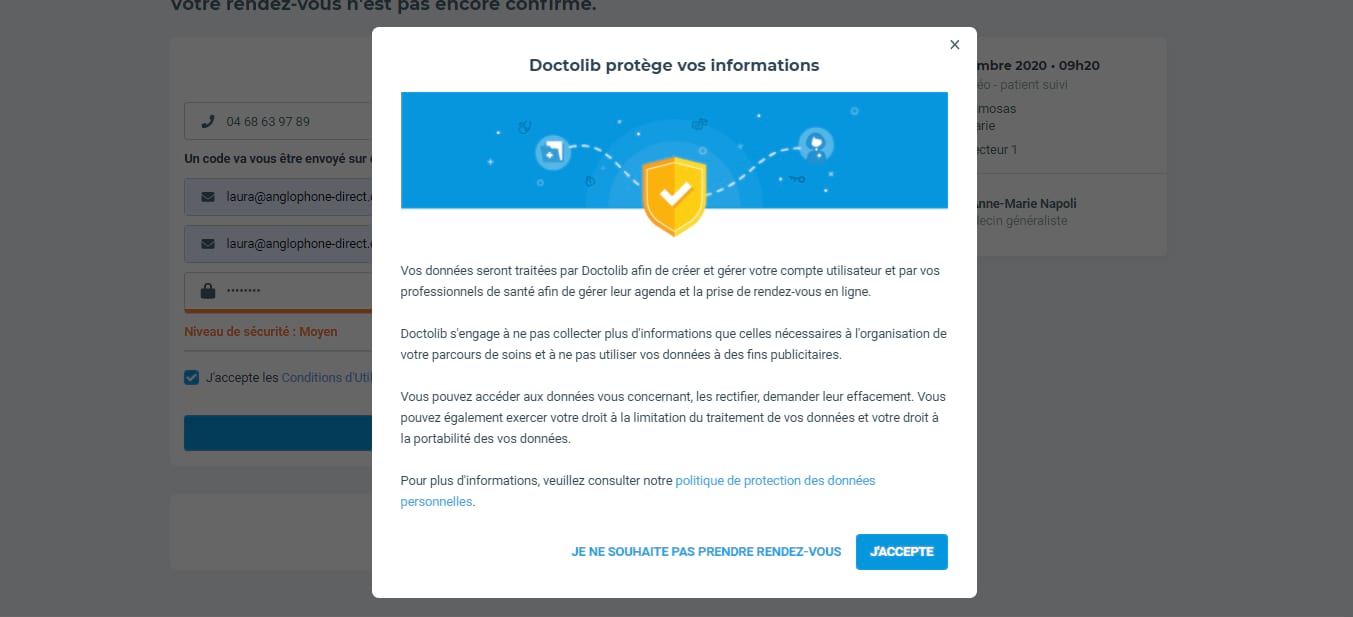 Once into your account, you then need to provide patient information, either for yourself, or for a loved one if you are making an appointment on their behalf. To do this, select 'AJOUTER UN PROCHE' and fill in the form with their details.
Certain medical professionals may have additional screening questions, Covid or otherwise. that you need to complete before moving to the next stage.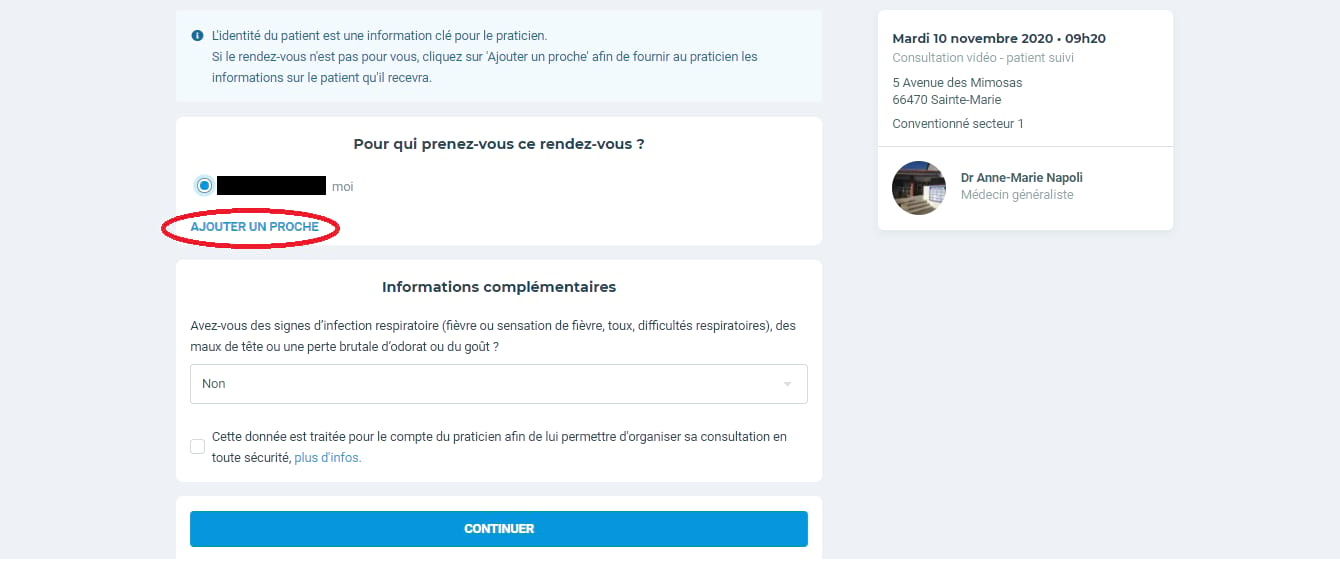 You then need to provide payment details, although no money will be debited until the end of the consultation. The usual reimbursements from your social security an mutuelle will apply. For those who do not usually pay upfront for medical appointments, the doctor or specialist will not validate the payment at the end of the consultation.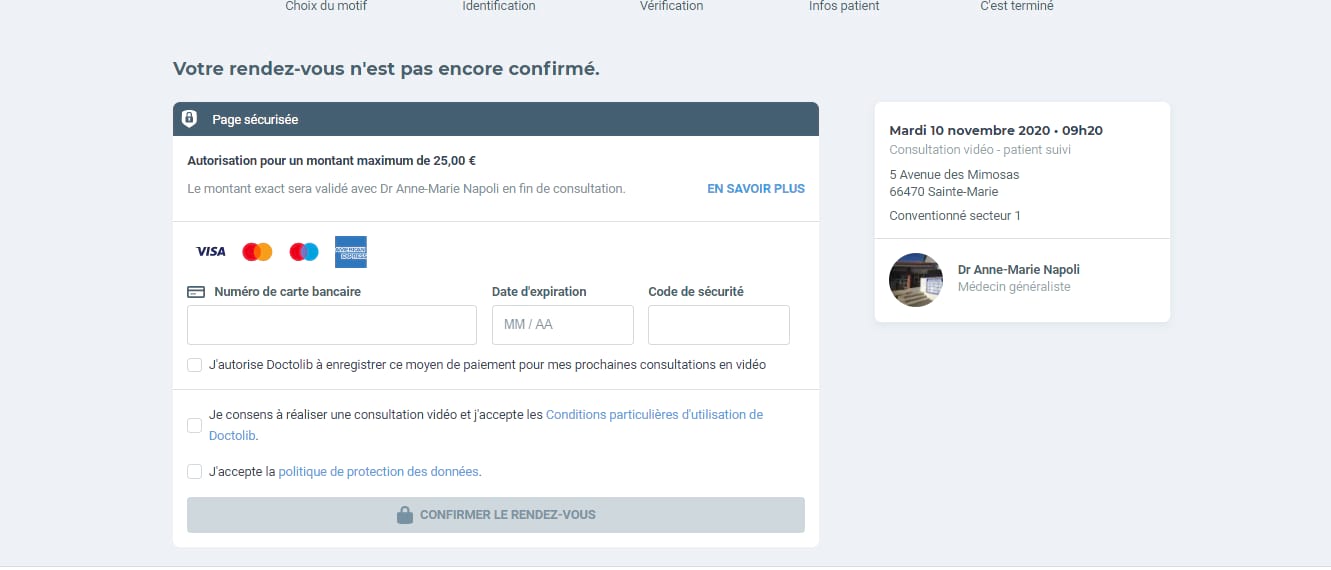 Once you have confirmed your payment details, you will see a screen confirming your appointment. You will also receive confirmation by email and/or text message depending on the information you have entered.
The consultation
10 minutes before your consultation is scheduled to begin, you will receive a secure link via text message. If you do not receive the message, or you do not have video capabilities on your phone, you can access the link from the Mes rendez-vous section of your Doctolib account using a computer.
The consultant will then explain what you need to do and provide any of the necessary paperwork (prescriptions etc.) via email and within your Doctolib account. They can also post you paper versions if you prefer.
Any notes and information will then be uploaded automatically to your Dossier Medical Partagé, if you have one set up.
IF YOU HAVE CONSULTED A MEDICAL PROFESSIONAL VIA VIDEO CALL AND WOULD LIKE TO SHARE YOUR EXPERIENCES, EMAIL US AT laura@anglophone-direct.com