LAST UPDATED 2021 SO EXPECT CHANGES. IF YOU HAVE ANY NEW INFORMATION TO ADD, PLEASE DO SO AT THE BOTTOM OF THE PAGE IN COMMENTS
---
Travelling to the Perpignan area by air from the UK, Ireland and other destinations
Although it is inconvenient that Ryanair operates a summer-only schedule to the UK from Perpignan airport, we are fortunate in the Pyrénées-Orientales that we have a number of other airports close by.
If you're looking to get to Perpignan and the surrounding area by air, we have done a round-up of all the options available within around 2.5 hours' drive of the Pyrénées-Orientales in both France and Spain. You'll also find below information on the best ways to get to them from the Pyrénées-Orientales by train, bus and car.
If you're looking for information about Perpignan airport, have a look here.
To consult the routes which are currently operating, take a look at our airport news page.
Carcassonne airport

Carcassonne airport serves Occitanie's most visited historical city. You can see its fairytale castle turrets from the main road as you drive east from the airport towards Perpignan. The drive to Perpignan from Carcassonne airport is around 1 hour 15 minutes, traffic permitting. Usually flights to London Stansted operate year round so it's a good option for those needing to get to and from the UK over winter.
Ryanair fly from Carcassonne offering routes to and from London Stansted, Manchester, East Midlands, Edinburgh, Dublin, Cork, Porto and Brussels, depending on the time of year.
Click here for up-to-date airport news.
Getting to and from Carcassonne airport
Bus/Train.….you can travel to Carcassonne railway station from almost any station in the Pyrénées-Orientales, but will usually need change at Narbonne. There is a shuttle bus from Carcassonne station that connects with each flight departure and arrival. Single fare 5€.
Car.……The airport is right by junction 23 of the A61 autoroute and well signposted. There are three car parks: short, medium and long stay, and a week in the latter costs 40€. You can book in advance via the airport's website.
Check out this link for a more leisurely option if you have time to spare!
Béziers airport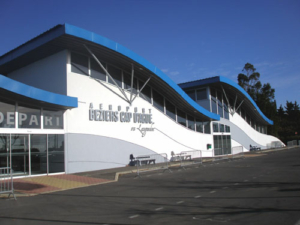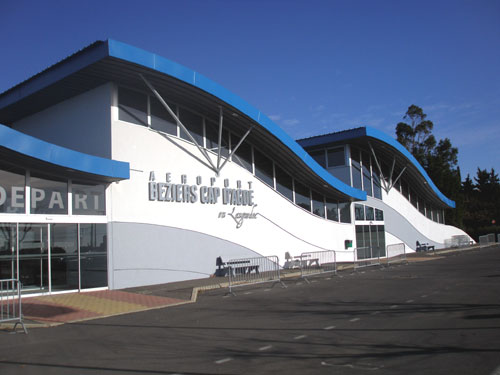 Béziers airport is a small regional airport currently served solely by Ryanair. Routes (seasonal) include Paris Beauvais, Düsseldorf Weeze, Edinburgh, Brussels, Bristol, London Luton, London Stansted and Manchester. Drive time from Perpignan is around 1 hour 15 minutes.
Click here for up-to-date airport news.
Getting to and from Béziers airport
Bus/Train…….All trains from stations in the Pyrénées-Orientales to Montpellier and beyond stop at Béziers. There is a shuttle bus from the station that connects with each departing and arriving flight. Single fare 1€60.
Car. …..the airport is close to junction 35 of the A9 autoroute. There is ample parking right next to the terminal which costs 40€ per week. Parking tariffs are online here.
Montpellier airport
Montpellier airport is a little further away than Carcassonne and Béziers but still only around 1 hour 40 minutes drive from Perpignan. You might be surprised at the number of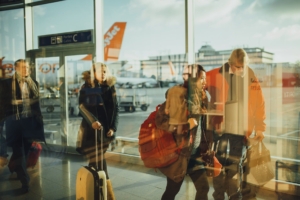 destinations accessible directly from Montpellier. Easyjet fly direct to Gatwick all year, and summer flights operate via British Airways to Heathrow and Aer Lingus to Dublin. Other destinations with a range of airlines including Volotea, Chalair, Air France, Air Algérie, Transavia, Norwegian and Scandinavian Airlines fly internal routes to Corsica, Bordeaux and Lille as well as to Algeria, Belgium, Denmark, Germany, Greece, Italy, Luxembourg, Morocco, the Netherlands, Portugal and Spain. For a full list of current destinations check out the airport's own website.
Getting to and from Montpellier airport
Bus/Train…….Many trains stations in the Pyrénées-Orientales go to Montpellier. A shuttle service operates from the Boulevard de l'Aéroport in Montpellier and from Montpellier Sud de France Railway Station. It is line 620, takes about 15 minutes and costs €1.60 (free for under 5s)
Car. …..the airport is close to junction 29 of the A9 autoroute. There is a free drop and go area as well as 3,000 parking spaces in short, medium and long stay car parks close to the terminal. Parking tariffs are online here.
Girona airport
Girona airport is around a 1 hr 20 minute drive from Perpignan and even more convenient from more southerly parts of the Pyrénées-Orientales such as the Albères and Céret. Ryanair announced its intention to close the airline's base in Girona airport in January 2020, blaming the decision on falling profits and the delay in the delivery of the grounded Boeing 737 MAX, that left the company with 900 more pilots and crew than it needed, adding that Girona was not profitable in the winter season. Instead, they seem to have increased flights – very confusing – but it's a good destination from the P-O and at present you can fly to at least 15 destinations from Girona.
Getting to and from Girona airport
Bus/train ……… Girona airport is not easily accessible from the Pyrénées-Orientales by public transport anymore. A train from Perpignan will take you to Girona station, the easiest option from there being a taxi at around 40 euros (price not confirmed).
You can also take a bus to the airport from Girona's bus station, which is not far from train station. Girona Buses run every hour & travel time is 26 minutes. Check bus schedules here.
Flixbus run a service directly to Girona airport from outside Perpignan station. Prices are reasonable but the timetable can be constrictive.
Car.…….The airport is right by junction 8 of the AP7 motorway. Several car parking companies exist both on and off the airport, and the official on-airport car park do regular promotions. For example, at the time of writing, a prebooked stay of 7 to 20 days costs a flat 42€.
Barcelona airport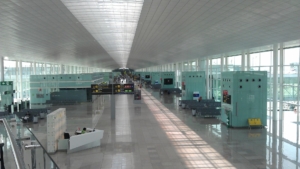 Barcelona airport is a major international hub with long haul flights to numerous destinations all over the world as well as multiple daily flights to various UK airports and Dublin.
Getting to Barcelona airport
Train……. The new Barcelona Metro line L9 now serves both Terminal 1 and 2 but only from stations south of the city so is of limited use if coming from Pyrénées-Orientales. The suburban train R2 Nord runs from Sants station in the city every half hour, but only serves Terminal 2. There are only daily four trains from Perpignan direct to Barcelona Sants station, but unfortunately the earliest of these arrives Sants at 12.38 and the latest departs Sants at 16.45. A better bet is Figueres Vilafant (AVE) station which offers an almost hourly service to Sants from 06.30 to 21.00 daily. More information here.
Bus….. The Aerobus runs from the Plaza de Catalunya in Barcelona city centre all day every 5 minutes to Terminal 1 and every 10 mins to Terminal 2. There is a free green shuttle bus between terminals.
Car.…… Barcelona airport is on the south of the city just off the C31 autovia. I find that, generally, easiest access is via the AP7 toll road, continuing round the city onto the A2 autovia as far as the C31. Reckon on 2h15 mins from Le Boulou.
Parking options at Barcelona are numerous. As a rule of thumb, the nearer the airport terminal, the more you'll pay, but even at popular times you should need to pay no more than 8€ per day. I recommend looking at the official airport site, as there are often deals and promotions (right hand side of the page). For example, at the time of writing, a prebooked 20 day stay in the multi-storey car park at Terminal 1, which is just 3 minutes walk from the terminal, was only 75€ !
Another option, particularly if you are catching an early flight is using one of the four local hotels that offer free shuttle buses direct to the terminals. You can leave your car free by the hotel, and usually rooms are available booking in advance for about 70€. Try www.booking.com for details.
READERS' COMMENTS ON BARCELONA
"Flixbus run a regular direct service from BCN T2 to Perpi gare routier for as little as 17€".
"Not so good out of season and not convenient for all UK flights. Great for me last December."
"My son got one that connected fine with his UK flight in December. Worth checking the schedules."
"Vueling fly to London Gatwick and Dublin from Barcelona"
GENERAL COMMENTS
"Toulouse by train from Perpignan is easy enough & if you get the fast train quite quick"
Car sharing with Blablacar
Blablacar is another option for getting to any of these airports. It's always worth checking the app to see if anyone is listing a trip at times which match up with your flights. Sometimes drivers are willing to make a detour to drop you directly at the airport so it's always worth asking.
Disclaimer: we make every effort to keep information on airports close to Perpignan and flight information as up-to-date as possible but you are advised to check all information is current before travelling. If you come across any out-of-date information, please send us an email and let us know.