French Presidential Elections 2022
Last week, we gave you a break down of the French political what's what and who's who among the front runners. But there's nothing more British than backing the underdogs, so here's our P-O Life introduction to the outsider candidates.
Remember, there won't be any official candidates until March, when these hopeful guys and gals will have needed to secure 500 supporters from among French elected officials to be given the go-ahead.
Extreme left
Nathalie Artaud, Lutte ouvrière – economics and management professor in the Paris region, Artaud has been an activist with the workers' party since she was 18.
Anasse Kazib, Révolution permanente – a railway worker, Kazib is a big unionist and has played a leading role in recent popular protests such as the Gilet jaunes movement.
Philippe Poutou, Nouveau parti anticapitaliste – this former factory worker was laid off following closures in 2019, at which point he dedicated himself to politics in Bordeaux. During the 2020 local elections, he formed an alliance with the less-extreme France insoumise (Jean-Luc Mélenchon).
Radical left
Fabien Roussel, Parti communiste français – born of a communist family, Roussel was a TV journalist before turning to politics. He went the other way to Poutou, taking a stand against la France insoumise during the 2020 elections.
Centre left
Anne Hidalgo, Parti socialiste – better known as the Mayor of Paris, Hidalgo is struggling to repair the party's dwindling reputation, having lost a lot of voters to Macron in 2017.
Christiane Taubira, DVG – DVG stands for Divers gauche and is the label given to leftist candidates with no particular party affiliation. Taubira's caused a bit of a stir with her fellow DVG'ers, by confirming she met with Yannick Jadot to discuss an alliance.
Ecologists
Yannick Jadot, Europe Ecologie les Verts – starting his career with Greenpeace, Jadot was a European deputy in 2009. During the EEV primaries, he only just pipped his opponent, Rousseau, to the post, with 51% of the party vote.
Antoine Waechter, Mouvement écologiste indépendant – a cofounder of les Verts in 1984, Waechter left the 'Greens' to found the MEI in 1994. He was unable to secure the 500 supporters needed to become an official candidate in the 2017 elections.
Jean-Marc Governatori, Cap écologie – Governatori has been an unsuccessful candidate for various green parties at both local and national elections since 1997, championing small businesses and animal rights.
Centre
Gaspard Koenig, Simple – philosopher and author, Koenig is a self-proclaimed son of the 18th century "Lumières" philosophers (Voltaire, Diderot, Rousseau etc.). After the first lockdown, Koenig travelled across Europe, from Bordeaux to Rome, on horseback!
Extreme right
Jean Lassalle, Résistons – famous for his hunger strike against the closure of the Toyal factory in the Vallée d'Aspe, and sexist allegations during the #balancetonporc (French version of #metoo), Lasselle defends agricultural interests, among others.
Antoine Martinez, Volontaires pour la France – a retired airforce soldier, Martinez leads the militant right group that formed in the wake of the 2015 terrorist attacks to fight against "the Islamisation of France".
Nicolas Dupont-Aignan, Debout la France – Eurosceptic and "Gaullist", Dupont-Aignan was previously a member of the centre right Républicains but created his own more extreme party in 2007.
Florian Philippot, Les Patriotes – a former member of the Front National, he created his own party in protest against Marine Le Pen's desire to rebrand the FN, which he believed was the reason for her defeat in 2017.
A reminder of where everybody is sitting in the February polls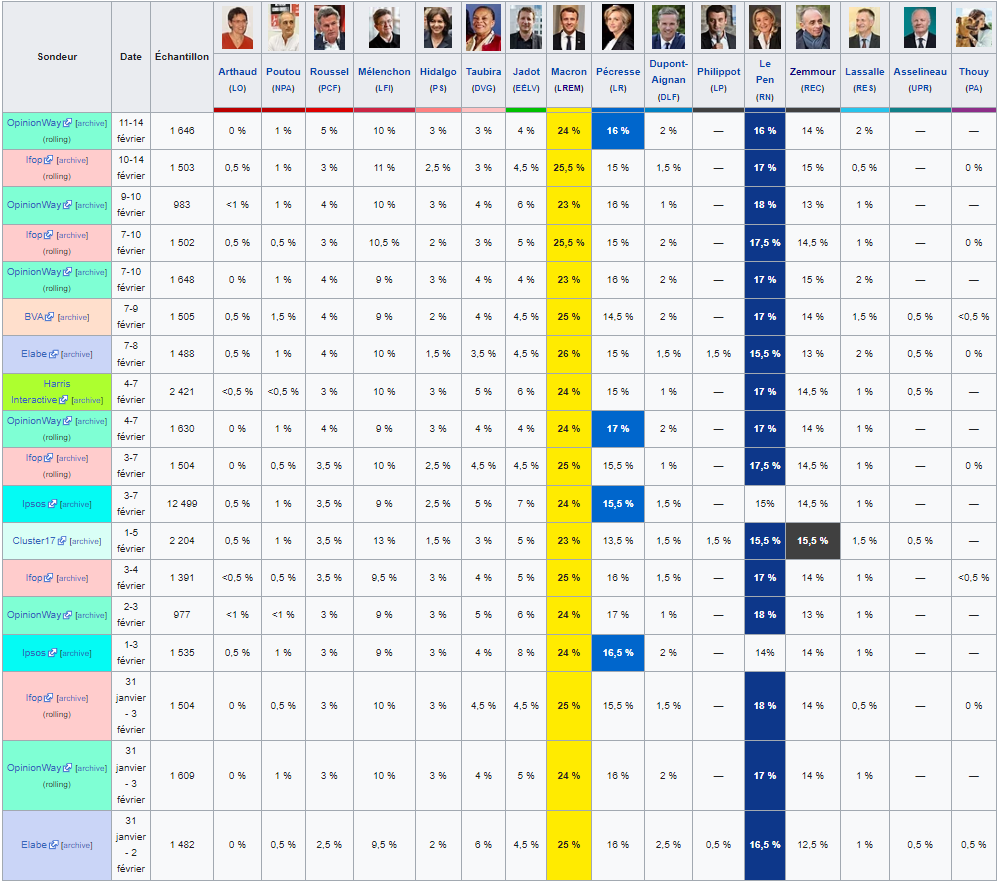 A reminder of the key dates
Friday 4th March
This is the closing date for candidates to register themselves in the race. It is also the deadline for voters to register on the electoral roll, so if you're planning on voting, don't wait too long!
Friday 11th March
The official list of candidates will be published by the Conseil constitutionnel, following verification of their eligibility, their 500 supporters, and of course, that their dossier is complete … et oui, c'est l'administration française!
Monday 28th March
The official election campaigns are launched, with parties hitting the road, and our screens to secure as many votes as possible. There are strict rules to ensure equal air time for each candidate.
Sunday 10th April
The first round of the presidential elections. Polls close at 8pm. All but the two candidates with the most votes will be eliminated.
Sunday 24th April
The second round. The two candidates from the first round go head to head. All eligible voters, regardless of who they voted for in the first round, can vote again.
Friday 13th May
Unlucky for some? This is the very latest that the office can be handed over to the newly elected president.
Find out more about the election process here.