An excellent circular walk of approximately 4 1/2 hours with 550m of ascent. The walk offers wonderful views of the Corbières ridges and valleys and beyond. Walking boots essential on the rocky, sandy paths. Walking poles helpful. Route offers shade in some parts. Waymarking is red and white. One part of crest is very exposed and needs great care. Not recommended in high winds.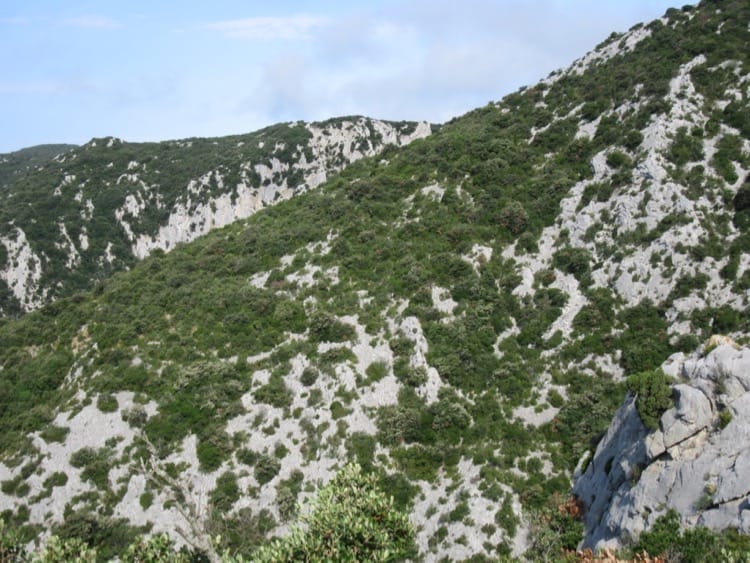 Access: map IGN 1:25,000 Tuchan; Massif des Corbières 2447 OT
GETTING THERE
Take the D117 direction Foix from near Perpignan airport. Follow this road via Estagel and Maury. At St Paul de Fenouillèdes turn right following signs indicating Les Gorges de Galamus.
Once out of the town, after several bends on the climb, look out for an emerging piste on the right – tree marked with red and white GR symbol and with a yellow route board on opposite side of the road. (Piste is point of return on GR 36)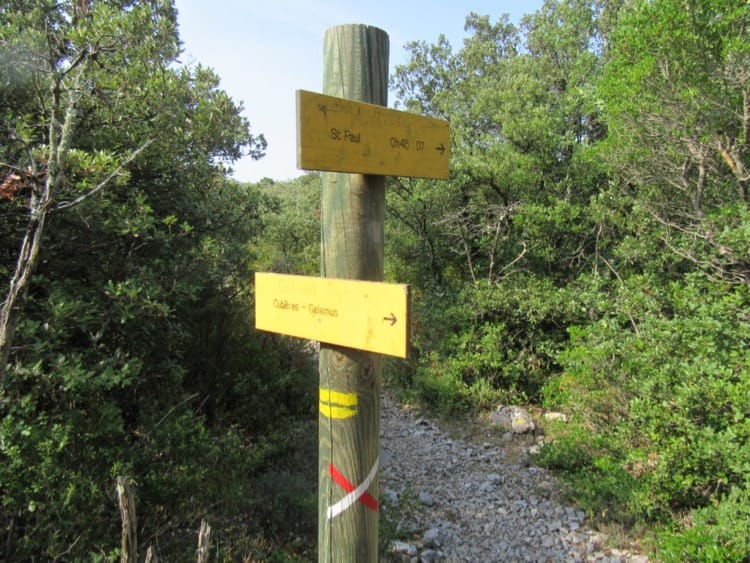 Turn round and park on space at side of road just below the piste. If you reach a second piste to right of a sharp left- hand bend you have gone too far and are near the start of the ascent. Any trouble parking, proceed to car park at the Gorges de Galamus and walk back down the road – but it will be quite a long way up the road at end of walk.
Start of walk.
Walk up the D7 for 10 mins to find start of path on right, just round the left- hand bend. GR de Pays, Tour de Fenouillèdes.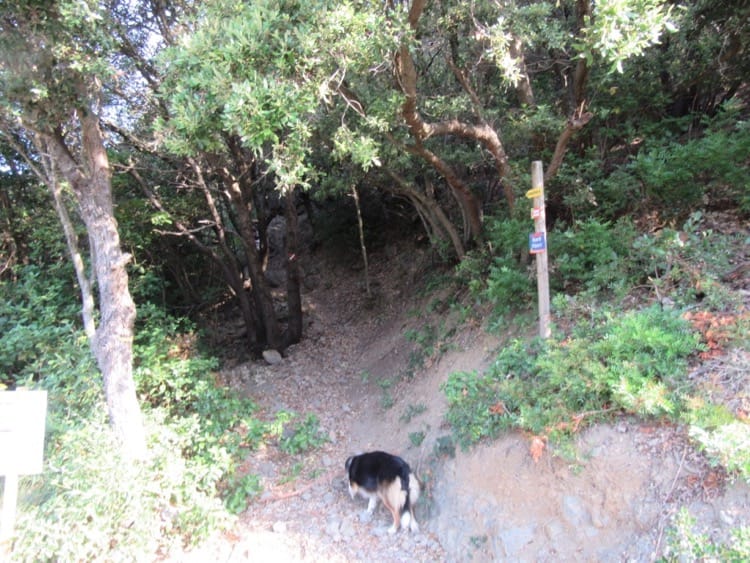 Path climbs steadily upwards in direction Gorges de Galamus. Note blue markers indicating how many metres climbed.
Ignore path on left into woodland and continue upwards, swinging north, to soon contour round a parallel gorge. The cliffs of Gorges de Galamus can be seen to left and main car park can be seen at one part. Scenery is typically rugged, like much of the Corbières.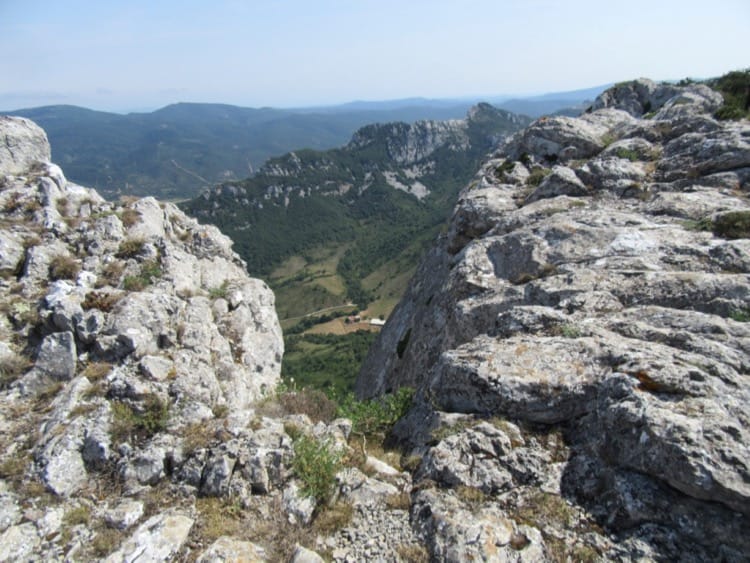 At the top of the gorge and 1h 15 mins into walk turn right at a T junction of paths.
Enter shady woodland and continue gradual ascent, with more views unfolding across the Agly valley and over to the sea. A few steeper sections up the pace of height gained to emerge at the crest (514metres). Approx 1h 50 mins to this point.
Follow the path along the crest, drop a little then climb again to emerge finally at a dramatic rocky area with vertical cliffs on left. Take great care crossing this section. Look out for eagles and look down into the valley if you dare, without going near the edge!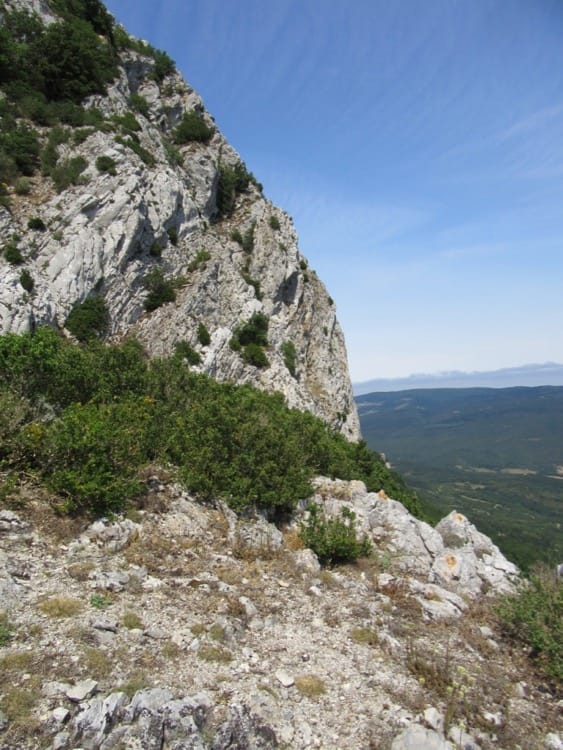 Path starts downwards at end of the exposed area and goes behind the mountain. Great care is needed. It is steep and first passes over boulders and rock before dropping over smaller stones and soil paths to emerge at the end of the range of precipices! Look right to see Chateau de Peyrepertuse on the next range of mountains.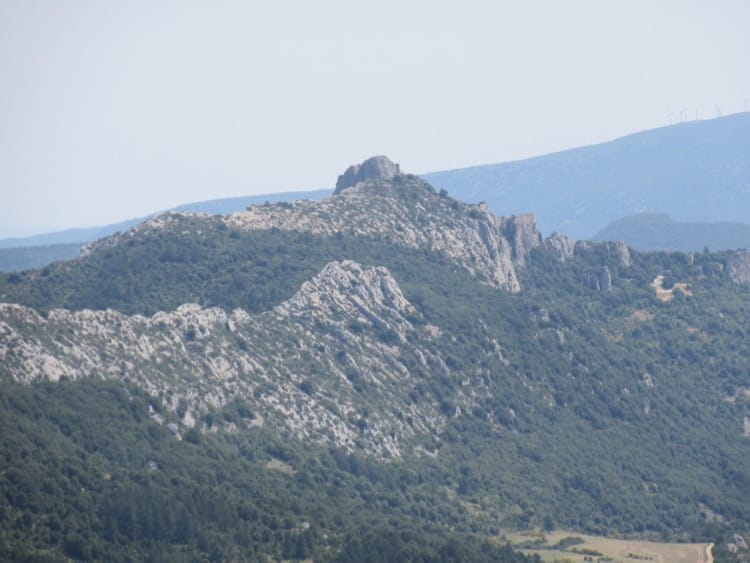 Continue downwards to emerge on a green valley. Proceed a few hundred metres along the level path. Note a path ahead leading left to right across the grass. At a suitable place cross the grass to meet this path rather than continuing to the meeting point of the 2 paths.
Turn right on this path – the GR 36 – to enter woodland. Follow the GR all the way back to the D7 and your parking place – about 1 hr.
After woodland the path becomes more rocky, following the left hand side of a valley, working its way ever downwards to eventually emerge on a piste, 300 metres before the road. You will be serenaded by the sound of cicadas in summer!
Refreshments are available in St Paul de Fenouillèdes and at the Gorges de Galamus (in season). If you have not visited the Gorges do take the opportunity to do so, or return on another day as they are a wonderful sight.
If you do return for a day drive, emerge at the other end of the Gorges take a right turn to enter a fertile valley and travel along past the Chateau de Peyrepeteuse, Cucugnan (if you can bear to drive past without taking a look at the charming village) and Chateau de Queribus, to emerge at Maury on the D117.
Don't fancy a walk today?
Pas de problème, you're in Côtes de Roussillon Villages country.
Drop the hikers off at the start of the walk and head off in search of a dégustation or two? (Of course, a non tasting driver is recommended.)
And what better time of year to taste these robust, spicy reds, reflecting the hot, sunny, windswept land from which they spring?
Return to the old Roman town of Saint Paul de Fenouillet to begin your wine circuit and take direction Ansignan on the D19 (D619) towards Lesquerde.
The scenery as you leave Saint Paul, direction Ansignan, is stunning and dramatic, passing through 'Clue de la fou', a deep and vertiginous gorge carved for centuries by the waters of the River Agly.
Pass pools of clear water, running under ancient Roman stone bridge and eroded rock formations nicknamed 'les marmites de géants' (the giants'cooking pots). And there's magic in the air as legend tells that this is where fairies came to do their laundry.
Several possible circuits will take you past rolling vineyards, passing through small villages, all with wine cellars, caves co-operatives offering plenty of great tasting opportunities.
Find out more here.