Out for the Day…..in the tracks of the Tour de France
Hands up if the thought of exercise brings you out in a rash, and the most calories you have burnt recently came from lifting that ice cold bottle of beer to parched lips! OK.
Put your hands down and use them to grab hold of the bull by the horns….or the bike by the handlebars. It's definitely time to dust off that old push bike (or treat yourself to a shiny new one) and get back into cycling mood 'cos cyclists and non cyclists alike are dancing a jig here in the P-O this summer!
Why? Because if you follow the much loved Tour de France . you'll probably remember that in 2021, fast and furious, stage 15, started chez nous in Céret and finished in Andorra.
So you won't be surprised to hear that our July day out follows the same route that those intrepid heroes will be cycling this July. Why not follow the route in stages before, after or even during the race, with plenty of hotels, restaurants and campsites on the way to rest your aching bottom?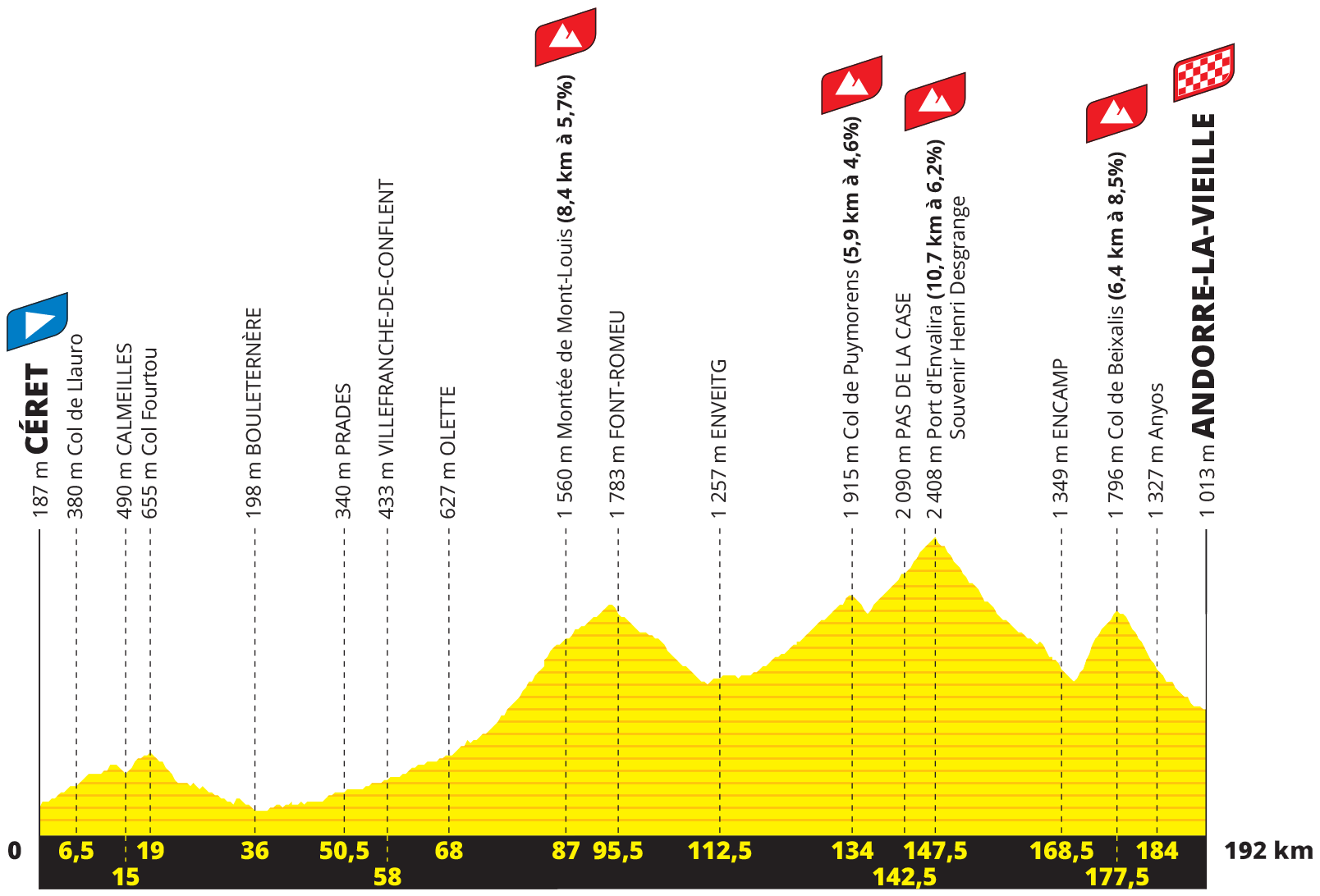 Start
Our tour begins in Céret, cherry capital of the Vallespir, with it quaint, cobbled streets, ancient ramparts, pretty squares, lively shops, restaurants, and bars, and art and music museums. Picasso loved it; so will you!
The weekly market, held every Saturday morning beneath the hundred-year-old plane trees that line the streets of the town centre, is one of the best in the area. Locals and tourists alike are drawn by the very 'Frenchness' of it, the strains of accordion or jazz mingle in the warm southern air with artisan made goat's cheese and paella 'à emporter', and the café trottoirs overflow with people watchers.
Find out everything you need to know at the Tourist Office in the Rue Ferréol, with seating for visitors, tablets to surf and a cellphone charging station where you can plug in your phone, head off to lunch, and return later to retrieve it fully charged.
Then…
From Céret, à not-so-strenuous uphill climb of 15 km for our valiant cyclists should see some fierce battles to take the lead as they head towards Oms, then onwards and upwards along oak lined roads with fantastic glimpses through the trees of panoramic views. Pass Calmeilles, tiny, immaculate pedestrian village, with interesting Romanesque church, first mentioned in 959.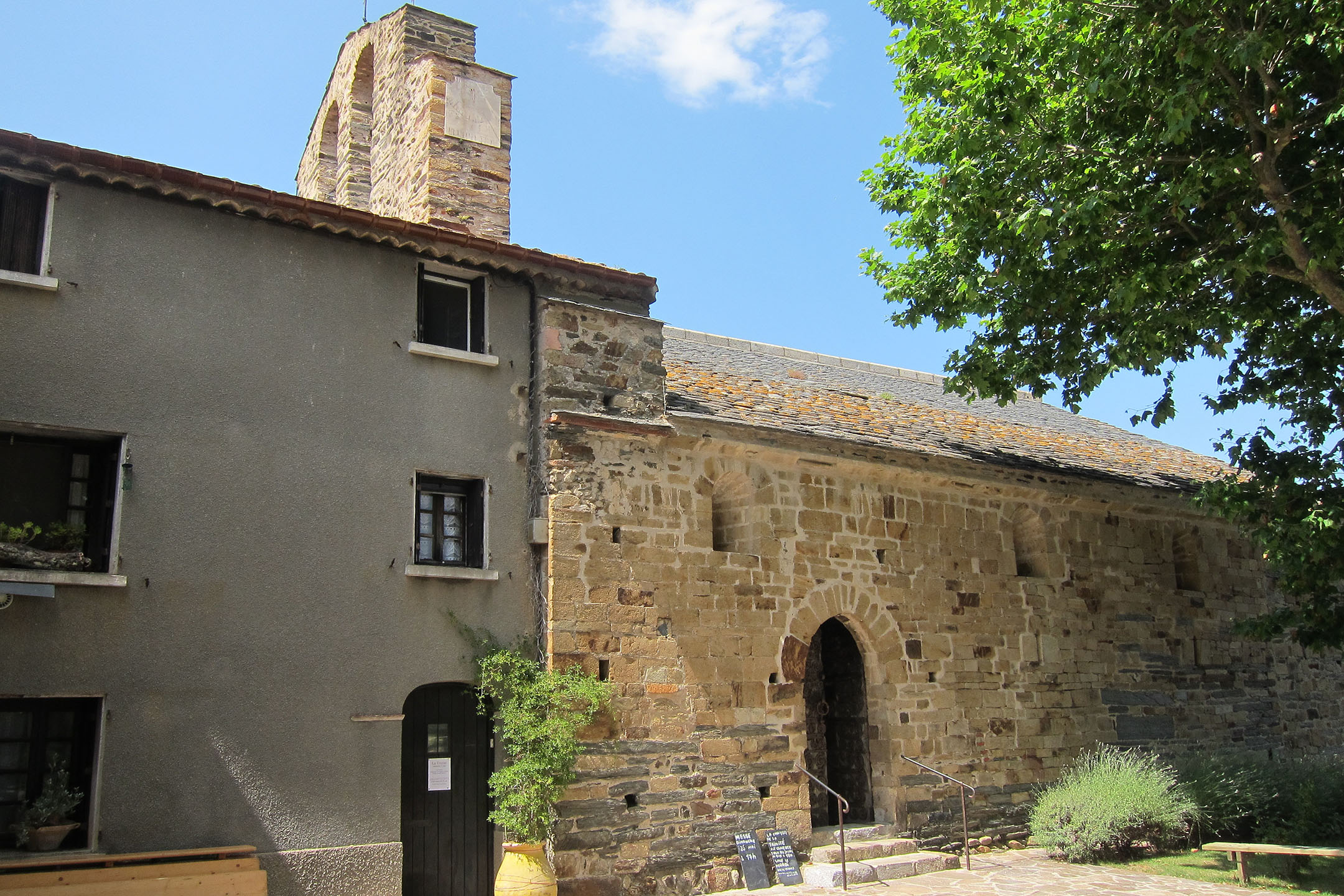 Keep going!
Continue climbing until you arrive at the Col du Fortou crossroads (655m), with signs indicating straight on for Ille sur Têt or left towards Amélie. We will be going straight on, direction Ille towards Bouleternère, but you may wish to take a little detour to the right, down a narrow road, to the tiny hamlet of Prunet. Blink and you will miss it. Clustered around a minuscule 10th century church beneath a couple of two hundred year old oak trees in whose branches peacocks roost, the graveyard has some fine examples of traditional wrought iron crosses.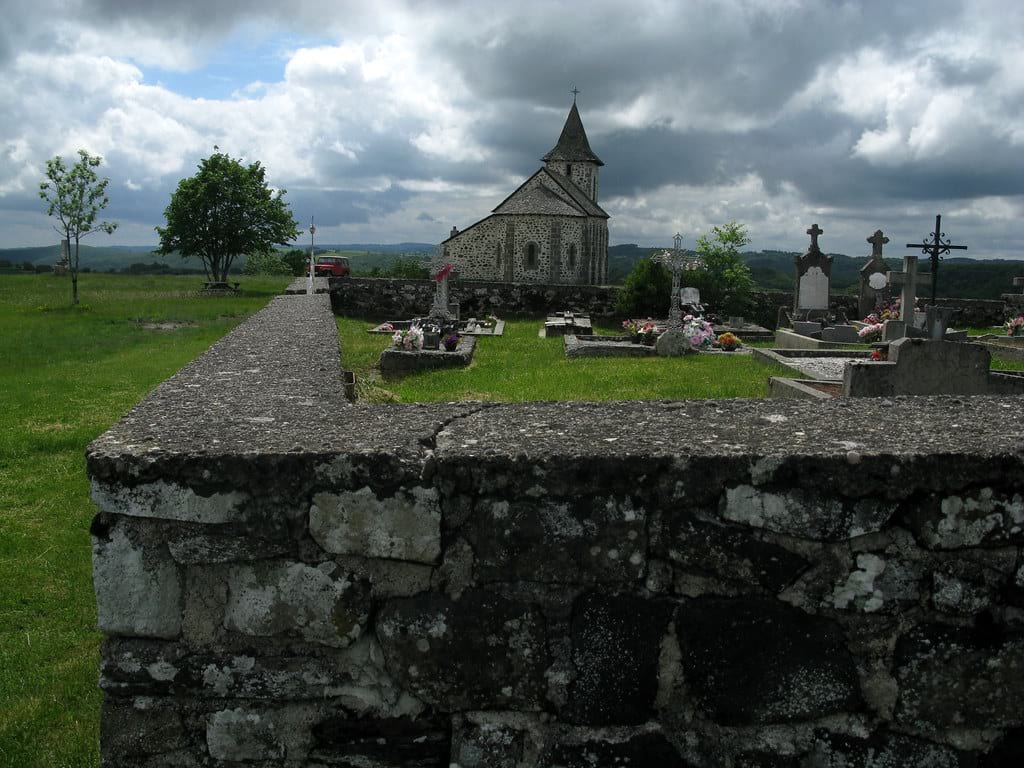 From Bouleternère (198m), we head for Prades, passing Vinça, and its impressive 'plan d'eau' on the right and a pleasant lake and beach where you can swim, hire pedalos, trampoline, jump up and down on the bouncy castle……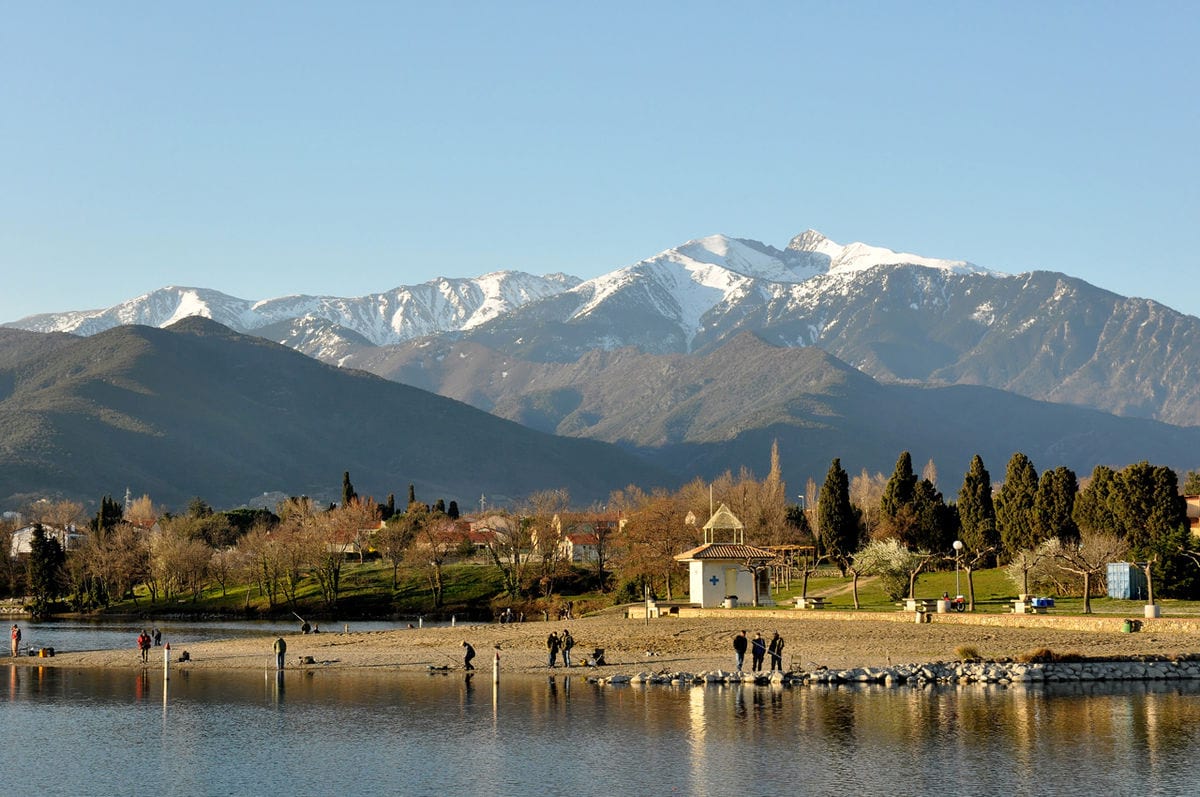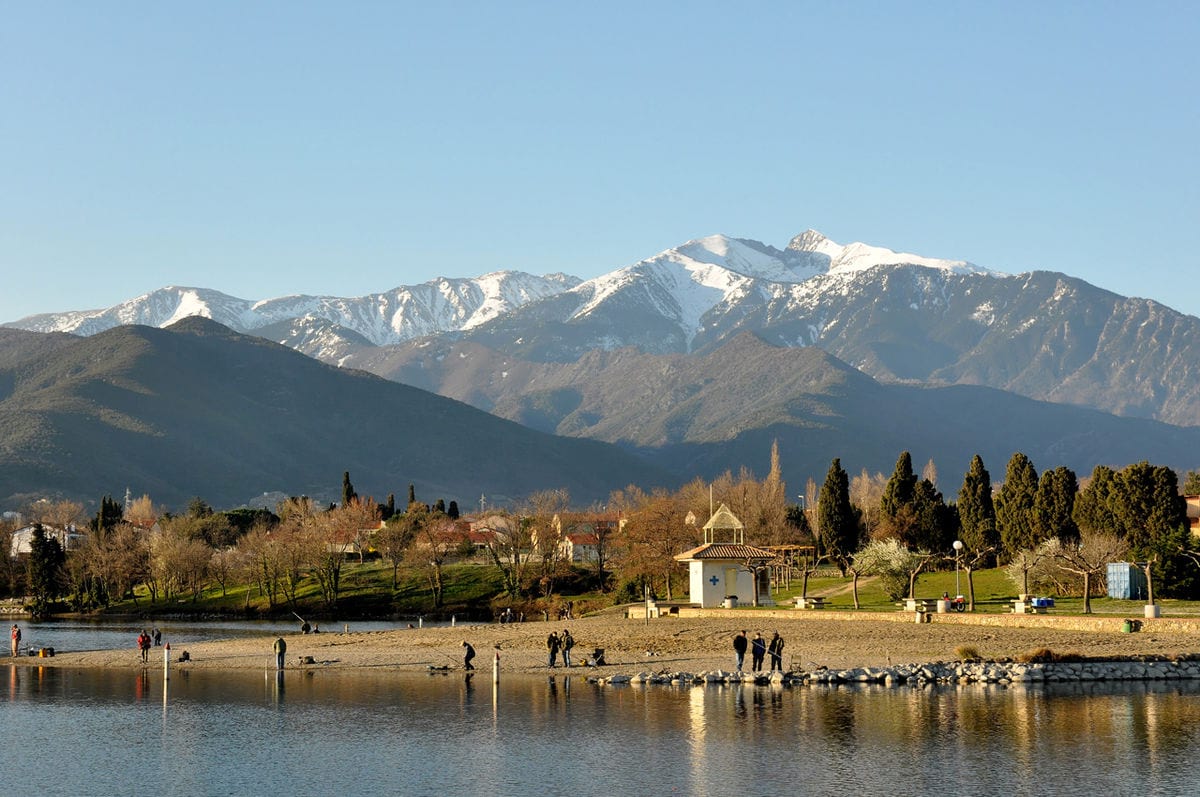 Les plus beaux villages de France
On past pretty Eus with its narrow, be-flowered, cobbled streets joined by ancient vaulted passageways, the imposing 18th century church of St Vincent, perched on a rocky peak, old rampart to walk around with panoramic views of the Conflent Valley.
Prades
Prades (340m) next, capital of the Conflent, land of cooler air and contrast, rich in culture and history, from its snowy peaks, its wild and and mountainous terrain, its stunning lakes to its many pretty and peaceful villages. This bustling and lively market town is clustered around the large church of St Pierre, with its dramatic Sunyer altar pieces, and a starting point for all levels of exciting sporty adventures!
On we pedal!
Tour de France cyclists probably won't be thinking of sight seeing, but delightful Villefranche de Conflent (433 m), a perfectly preserved fortified medieval town with ancient ramparts, is well worth the stop. Just two main pedestrian-only streets with art galleries, souvenir shops and local craft shops, you can also buy handcrafted lucky witch dolls, 'poupées sorcières', as befits the legends of magic and witchcraft surrounding this region, steeped in history and superstition.
Getting hot and bothered between the excitement of the competition and the Conflent sunshine? Just across the road from Villefranche, 'Les Grottes des Canalettes', are an exciting network of spectacular caves to cool you down, following a qualified guide along specially adapted bridges and walkways, deep into the heart of the Massif du Canigou.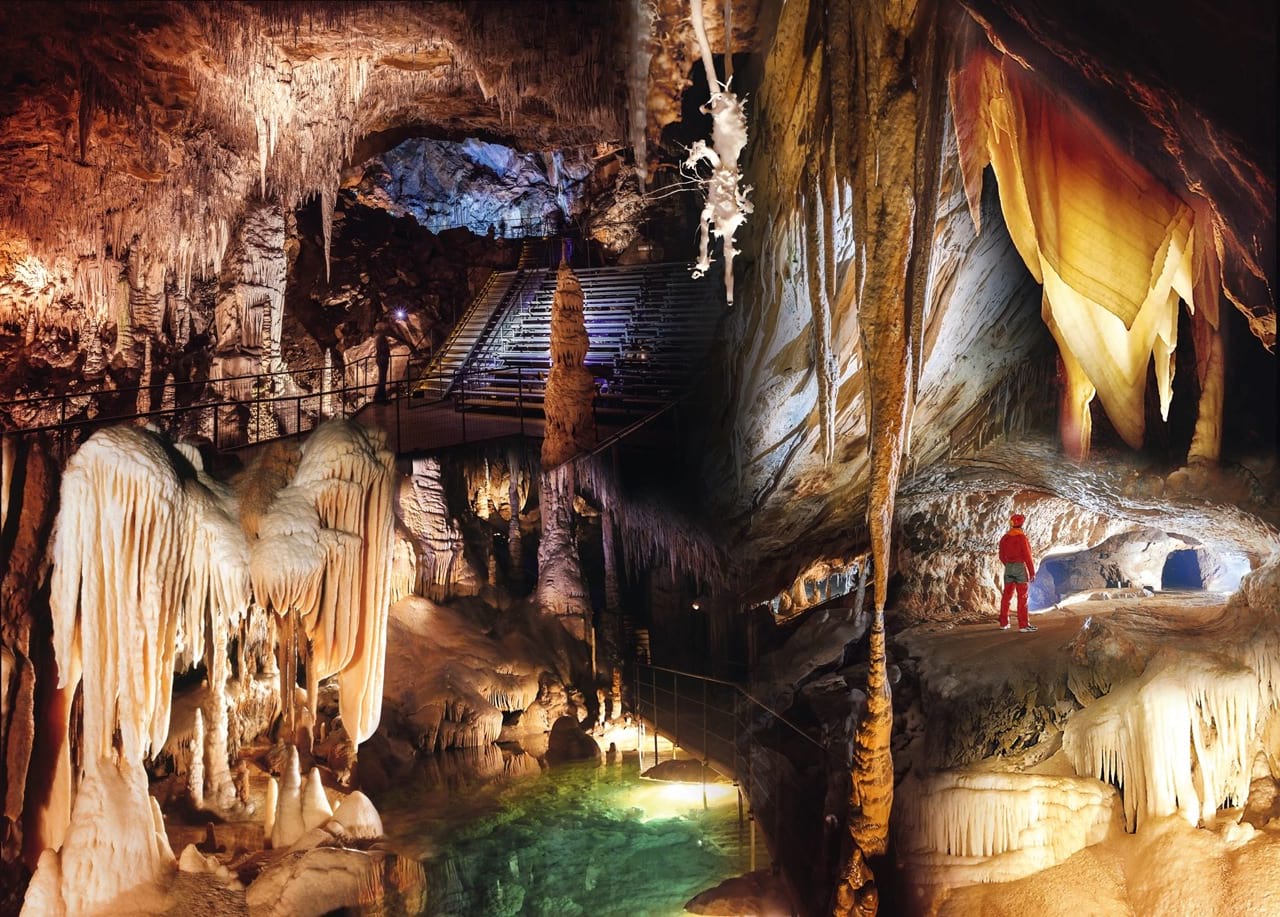 Vernet les Bains is also well worth the detour off to the left of the main tour route, passing through Corneilla de Conflent, once home to Guillem Ramon, Count of Cerdagne. Only a tower remains of his palace but the rather splendid looking church has some fine examples of Catalan Romanesque art and the whole village has an olde worlde charm.
Vernet itself was a highly fashionable 'station thermale' at the start of the XX century. Today, it is a pretty Catalan village and spa, recommended for respiratory and rheumatic disorders, with bars, restaurants and casino, its steep, narrow, flower decked streets, leading to the XII century church of Saint Saturnin attached to the castle.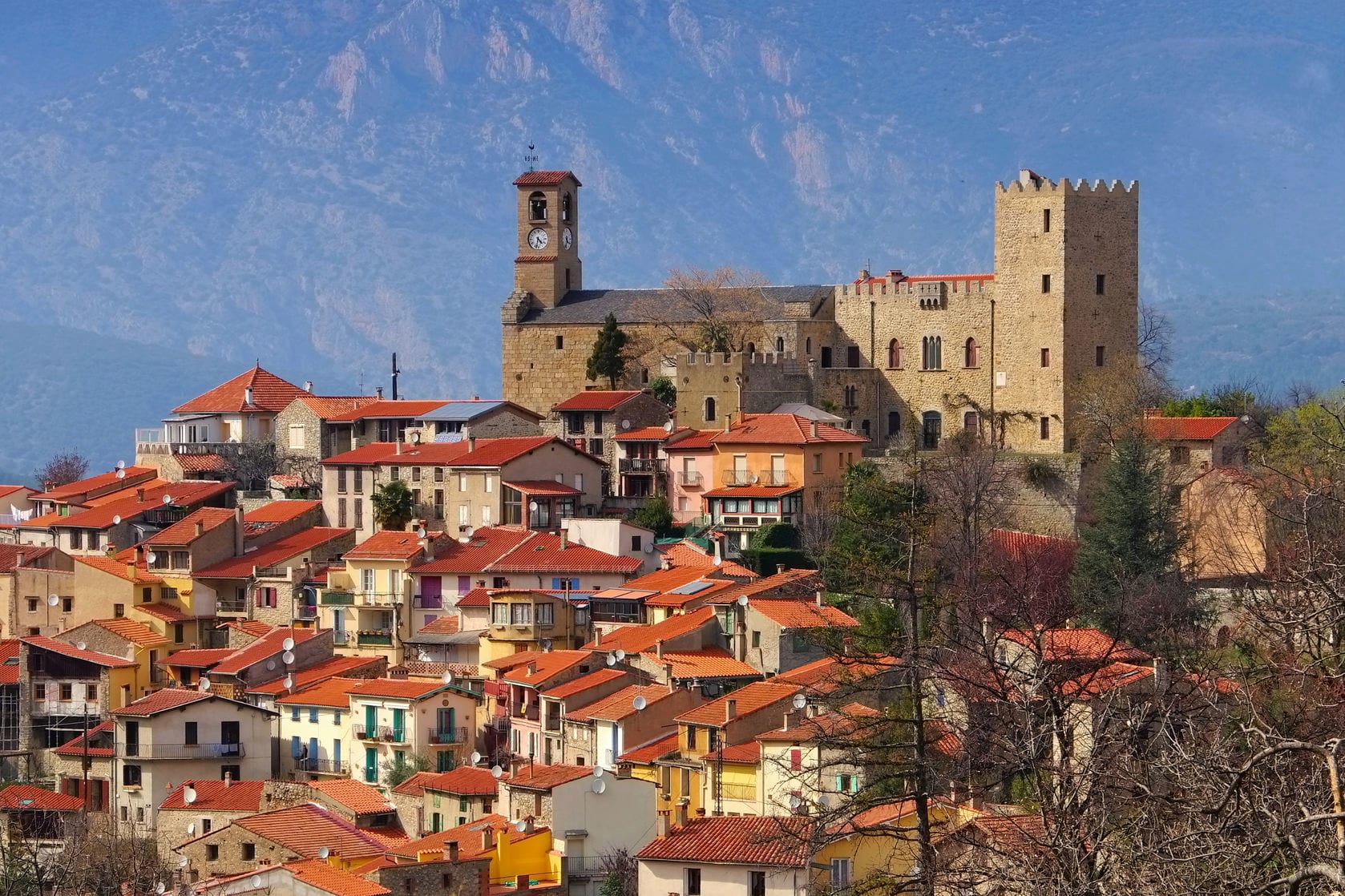 Enough detours for now, there's racing to be done
Back to the main route and riders come up against the first real climb (8.4 km at 5.7%) as they approach Mont Louis (1560m), the highest fortified town in France. Renamed Fort Libre during the French Revolution, the ramparts and fortifications are intact, and a stroll around the walls makes a pleasant walk with stunning views.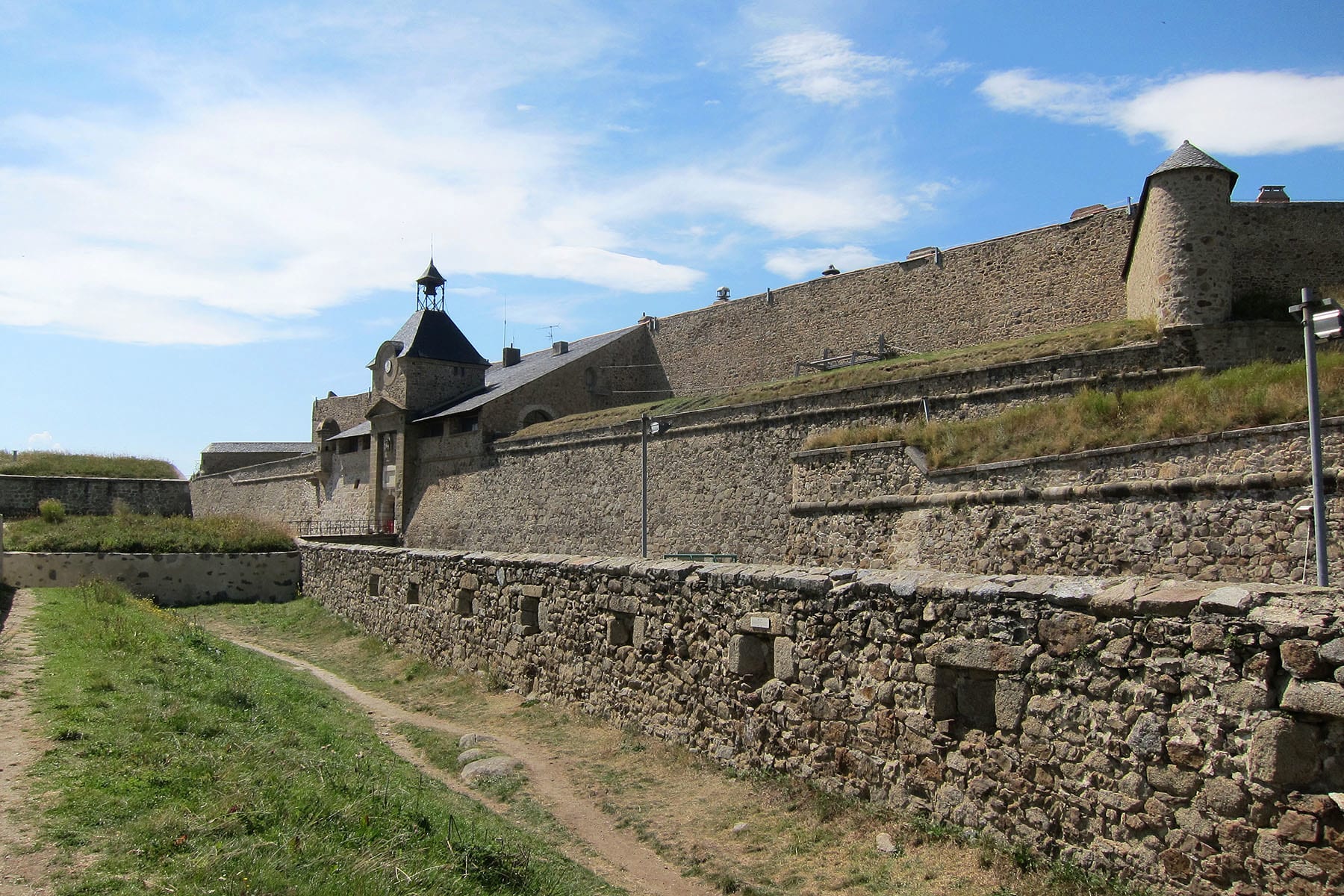 You can also visit the Puits des Forçats (Convicts' Well), with its enormous wheel that supplied water to the site, the first solar furnace in the world, and the church dedicated to St Louis, with its series of Roussillon baroque altarpieces dating from the 17th and 18th centuries.
Fancy going commando? Mont Louis is also home to the 'Centre national d'entraînement commando', training elite troops in commando techniques and endurance of physical and mental stress in combat situations.
And if you decided not to ride up to Mont Louis on your bike (!) you can make your day by taking the little yellow train there from Villefranche de Conflent, and pampering yourself at the nearby natural hot springs of Saint Thomas, lunching within the historic walls after a gentle stroll around the ramparts.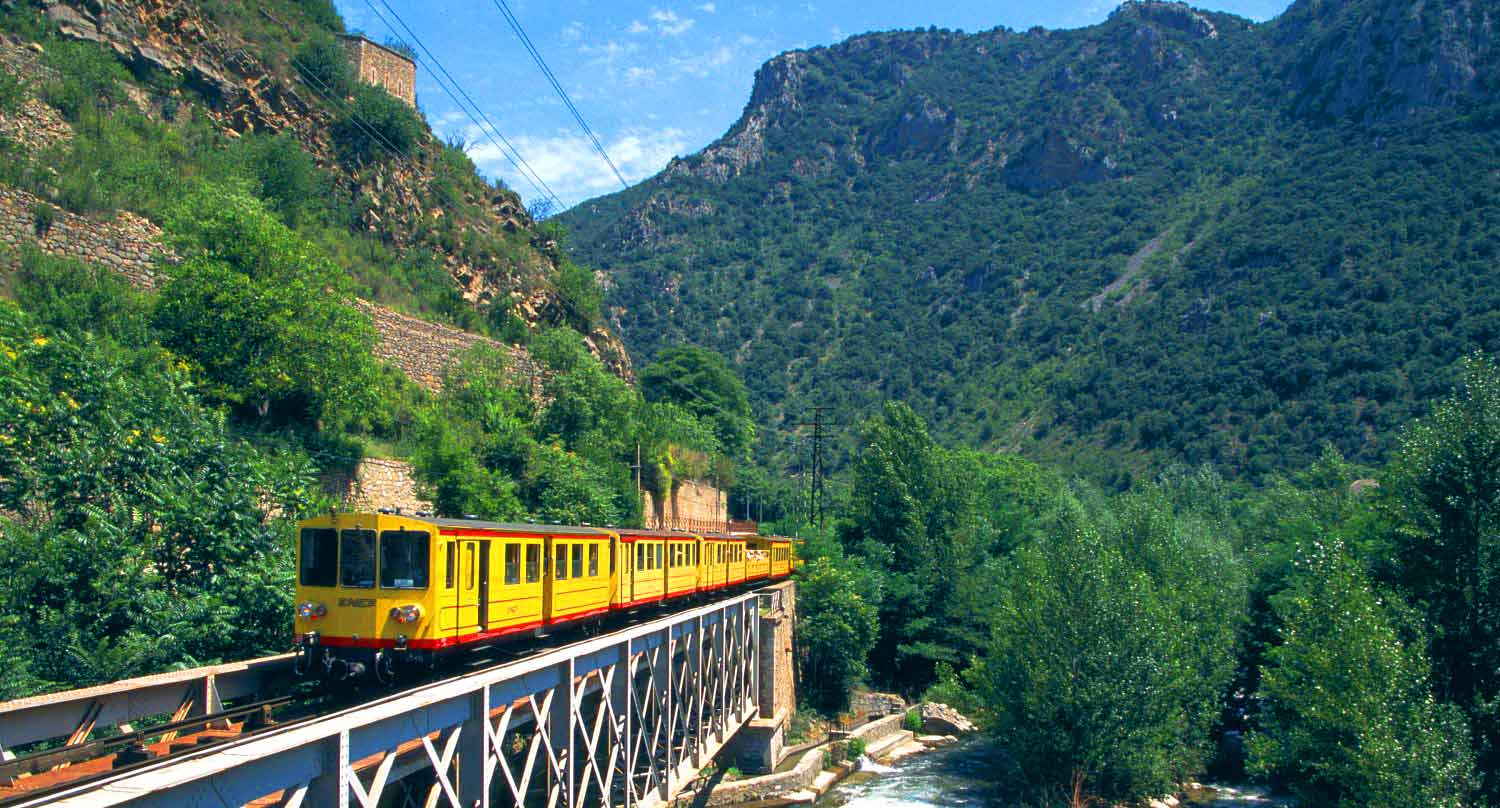 Going up!
Back on your bikes (or climb back into the car), direction Font Romeu at 1783 metres.
Modern and lively winter resort, but equally lovely in the summer, with its casino/cinema/disco, plenty of hotels, bars, and restaurants, and pure relaxation at the natural hot baths at nearby Llo, Dorres or St Thomas, particularly welcome if you've just cycled up from Perpignan! Nature and art collide in the museum without walls, the highest outdoor art gallery in Europe, or visit the world's largest solar furnace.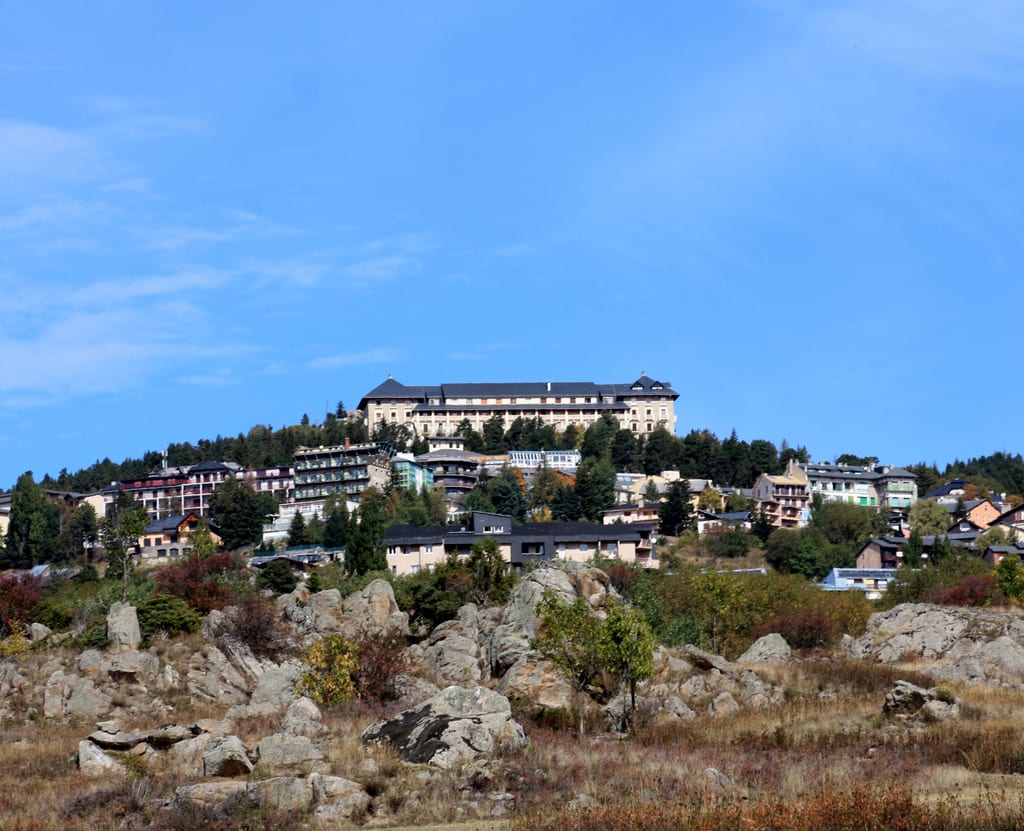 Bottom sore yet? Nearly there!
Head now towards the Col de Puymorens. High mountains form the frontier with Andorra, huge granite boulders and small waterfalls provide a stunning backdrop as the road winds its way up to the 1900 metre col, before plunging down towards Andorran Pas de la Casa, once nothing but a single shepherd's hut overlooking the pass. You might find it changed a little!
Bypass this busy tax free haven and purpose built border town (unless you're desperate for cheap booze and other duty free delights), and take the Port d'Envalira, the highest road in the Pyrenees, 2408m above sea level.
If you still have the energy, head down towards Soldeu, Canillo and Encamp along the Collada de Beixalis mountain pass (1,790 m), and down through Anyós towards Escaldes-Engordany, before arriving on Sunday 11th July at the finish line in Andorra la Vella, capital of the Principality of Andorra and highest capital city in Europe.
Nearby Latour de Carol is the last station stop of the Yellow Train, if you've come up the easy way from Villefranche de Conflent.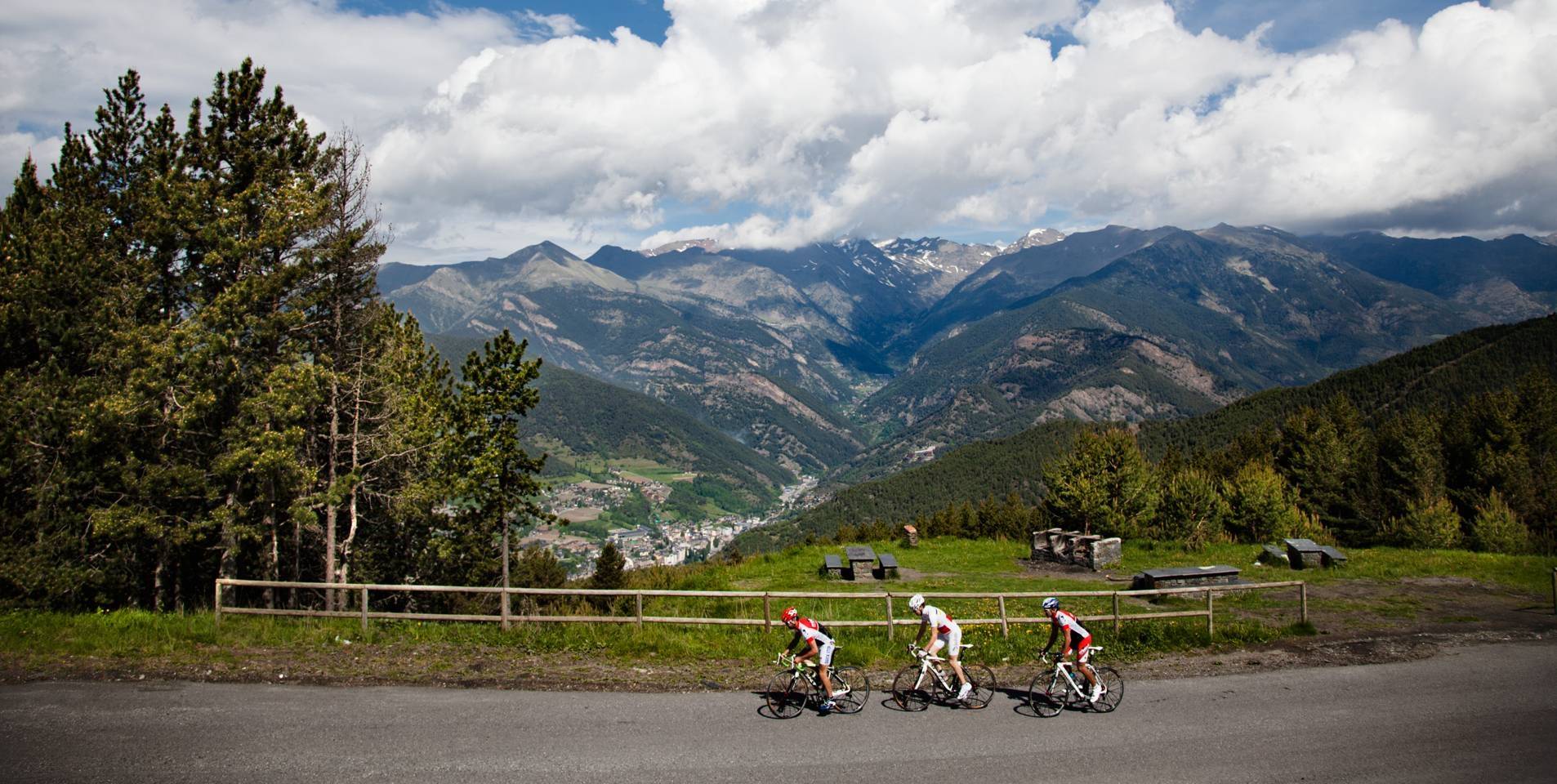 Phew! We made it. Are you still with me?
Whether you follow the Tour on your bike, car, train, bus or just on the telly, you will be constantly surrounded by the stunning scenery of the beautiful Pyrenees-Orientales. Enjoy.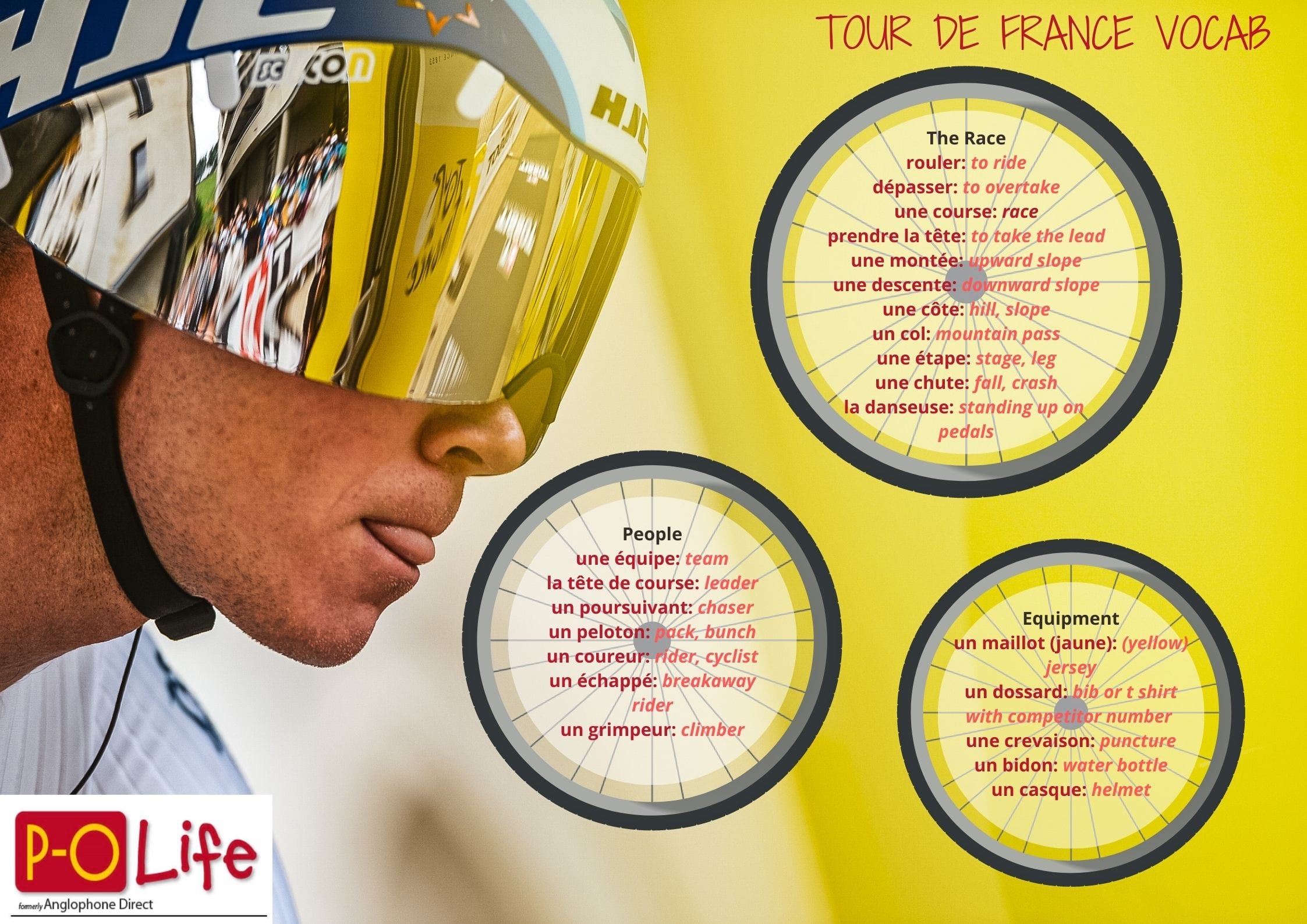 List of road closures on Sunday 11th July
From 9am
RD 115 around Céret
RD 615 between Céret and the Col de Llauro
RD 618 and RD 16 between the Col de Fourtou and the RN116 at the Bouleternère roundabout.
RN 116 from the Ille sur Têt east junction to the entrance of Prades
RD 916 between Ille sur Têt and the Bouleternère roundabout
RD 916 crossing Prades
RN 116 between Prades and Mont-Louis/La Cabanasse
RN 20 between Ur and the Puymorens tunnel
RN 320, RN 22 to the Pas de la Case border at 8.30am
Puymorens tunnel from 9 am to 5 pm minimum
Closure from 11am
RD 118 at La Cabanasse/Montlouis between the RN116 (Brousse roundabout) and the roundabout with the RD618
RD 618 between Mont-Louis and Font-Romeu at the junction with the RD10F
RD10F between Font-Romeu and Egat
RD618 between Egat and the RN20 at Ur
Refreshments
Cav knows better than anyone that keeping hydrated and energised is key to a champion's performance. Here are just some of our tips for keeping you raring to go along the route.